Exactly like it sounds – SW Evening Shadow is a perfect replica of a shadow that presents such a cool and intriguing feel to any living space.
Unlike other cooler tones, there is some magic here that this color absolutely displays.
Well, let me tell you – this color is a dream!
With a subtle touch of blue undertones, this paint plays the best of both worlds – and of course, on the cooler side.
It can be classified as bluish gray or sometimes grayish blue.
Furthermore, it is not too dark given the depth it provides – so, giving you an advantage anyway for the small or medium-sized rooms.
It exhibits a crisp texture overall, while releasing a few colder vibes to help your space feel 'at ease'!
But remember, it is not too cool to make you feel uncomfortable!
(You can read through in detail on my article about Grays and Blues)
So, did you stumble upon this color on your Sherwin Williams swatch?
Are you planning to incorporate a tinge or two of this color – somewhere here and there?
Well, you must go ahead, but before – have a read through this detailed color review that will help you make informed decisions!
So, without a delay – let's get onboard with this crispy paint color.
Maybe reach out for your favorite cup of coffee, as well!
Sherwin Williams Evening Shadow SW 7662 Details and Specifications
If you flip through the swatches of this manufacturer, you are quite likely to observe various pastels and neutrals that are similar to SW Evening Shadow.
And the tricky part is – how do you identify between them?
Well, that is because of the underlying theories and specifications related to the paint color.
So, first and foremost, I would recommend you analyze the Light Reflectance Value or the LRV's of the paint color.
(And you can easily find the value at the back of your paint swatch or the Sherwin Williams website)
This value helps in determining how light or dark the paint color is!
So, the value here is 60 – which means it is quite medium to light-toned!
(Remember, greater the value – lighter the paint color)
Another tip: If you want to easily try out Evening Shadow to see how it will show, you can with a peel-and-stick sample from Samplize. Pick up your samples here!
Secondly, it is important to get acquainted with the RGB and HEX Values – which are as follows!
Red = 201
Green = 204
Blue = 205
HEX Value = #c9cccd
Now that we have read through the color specifications, let's read on to some of the practical aspects and applications of this timeless neutral paint color.
How Does This Color Feel in Space?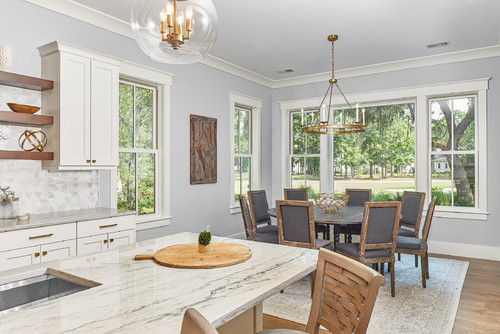 This color plays quite crisp, cool, refined, shear, and bright when used in space.
You can't be doubtful about it!
So, I highly recommend you use this paint in the west or east-facing rooms since the cool touch can neutralize the direct incoming warmth!
You can also use this paint in the warm and tropical areas that crave a touch of crispness in their space!
Furthermore, another advantage this color plays is that it helps make your space look large and comparatively more spacious!
And that happens by simply pushing away the walls through its high reflectivity!
How Does Light Affect the Color?
Light always has a major role to play on a specific paint color.
For instance, ample natural light in a room with SW Evening Shadow walls is going to look brighter and lighter!
So, just in case, if you have ample light – You can either consider using this paint color or even go for a shade darker!
But, on the other hand, if your space doesn't receive ample daylighting – this paint color is still absolutely good to go!
Since, it will anyway make your space feel bright – you can definitely use this.
Secondly, you can even play with artificial lighting here – maybe add a warm-toned light to neutralize the coolness of the paint on the walls.
If you further add warm-white lighting, it will tend to look yoff-white, which should be a great plus point.
I'll have to say again, the absolutely coolest way to check a color like this out in your home is with a wall sample from Samplize. Buy yours here.
What are the Best Coordinating Colors?
There are a couple of rules and restrictions associated with this paint color.
You simply can't pair it with any random color – and that is why you should read this section quite carefully!
So, choosing a color palette becomes one of the favorite tasks to do!
In this case, I would recommend choosing either a monochromatic or a contrasting color palette.
However, remember to balance the saturation of these paint colors.
So, if you are looking for a monochromatic palette, I would recommend the following colors:
SW 7661 Reflection – see my full guide on this one here!
SW 7663 Monorail Silver
SW 7664 Steely Gray
On the other hand, if you are looking for a contrasting theme, I would highly recommend incorporating greys, blues, whites (the best), yellows, and taupe.
You can also use rusty oranges as an accent!
So, to enlist a palette, I would recommend the following paint colors:
SW 9176 Dress Blues
SW 6338 Warming Peach
SW 6379 Jersey Cream
In the case of ceilings, trims, and moldings – I would recommend using SW Pure White or SW Extra White to further exhibit a refined look.
SW Evening Shadow Vs Similar Colors
There are quite a few similar paint colors to SW Evening Shadow!
Whether you prefer a cool-toned neutral or a warm-toned neutral, or else a neutral with specific undertones – looking for similar colors is a great way to finalize the paint.
However, note that they may differ in undertones or reflectivity!
Let me brief two closely related paint colors – SW 7071 Gray Screen and SW 6232 Misty.
Evening Shadow Vs Gray Screen
Sharing the rooted undertones, SW Gray Screen inclines towards the blues as well.
On the other hand, SW Evening Shadow is clearly a grayish-blue color.
With an LRV of 59, this paint falls on the medium to lighter end of the scale – ths, giving a deeper texture, overall.
Order peel and stick samples of these colors here to help you compare these colors in your own living spaces.
Evening Shadow Vs Misty
SW Misty is a blue neutral that feels quite refreshing and bright!
It differs from the other on the basis of undertones – mainly!
With an LRV of 64, this paint color is the lightest of them all – offering major advantages on all the ends.
Try out the looks of these colors in your own home with a some temporary wall samples. You can find them here!
Where to Use Evening Shadow?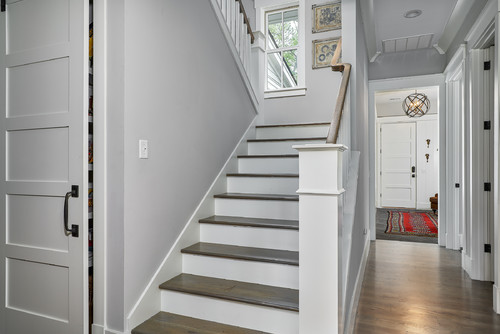 SW Evening Shadow has the potential to look absolutely fabulous in your home.
Whether it is the hallways, bedrooms, exteriors, or even kitchens – this color plays a great role.
This paint color makes a great option for traditional, transitional, French country, farmhouse, Contemporary, Coastal and Modern interior design styles.
Let's discuss how to incorporate this paint color in your home!
Evening Shadow in Living and Dining Rooms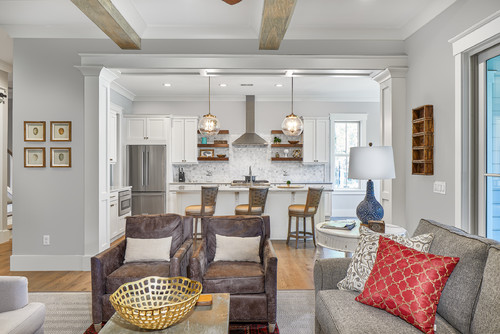 SW Evening Shadow is a great option for the living and dining room along with the hallways.
It exhibits a cooler feeling in your space so, if you are craving for a colder environment – this color is absolutely good to go.
The best hue and materials to go with this paint color are walnut and pine woods with even glass and various textural metals.
They make a great pair with SW Evening Shadow so if you are planning to refurbish the floors – you can definitely choose hardwood floors.
You can choose a metal base linen couch along with off-white accent chairs and throw a large pile rug to further add a cozy touch.
Using in Kitchens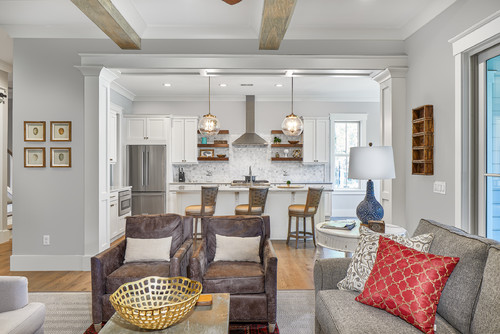 Definitely yes!
You should not hold back.
You can either paint the cabinets in this cool-toned color or choose oak or walnut hardwood cabinets along with this color playing the backdrop!
Furthermore, you can even add wooden or nickel pull handles and chrome finish fixtures.
For the island countertop, you can choose white veined marble or even black in some cases.
Evening Shadow in Bedrooms and Bathrooms
I love how the room above flaunts off the use of SW Evening Shadow on the walls of the nursery!
Bedrooms deserve a subtle paint color like this cool-toned neutral.
So, if you specifically want to use a typology like this – you should go ahead!
You can pair it with black metal or wooden frame beds and a wooden headboard focal wall.
If you want a contrasting palette – you can paint the focal headboard wall in either blues or burnt oranges.
To further feel fresh and bright, you can add some indoor plants to the sides of your beds or on the nightstands.
Using on Exteriors
This paint color is a great alternative for exteriors.
You can pair it with either grey or black trims, moldings, and door and window frames.
For Spanish-styled Southern homes, this color is definitely going to look majestic!
What's the Best Way to Sample This Color?

So now my favorite tip when it comes to testing out a versatile color like Evening Shadow – go and order a peel-and-stick sample from Samplize.

They've created an awesome way to sample colors with real paint, but no mess. Simply stick on your paint sample instead of having to get a test can of actual wet paint.

For only a few dollars you get a good sized square to throw up temporarily anywhere you want to "try" on your color, other similar colors, and any possible coordinating hues you like. It's great!
So, how do you want to use this color in your homes? Interiors or Exteriors?
Now that you have all the secrets – are you excited about painting your home in Evening Shadow?
Should there be any questions or thoughts, let us know in the comments below!