Ever wondered how some bold and daring black painted spaces can feel so intimate? Are you ever confused about whether a color is dark gray or black?
Well, don't worry! It happens to everyone – even me! There are a number of times I get confused between two colors and wonder what their true hue is.
One such paint color is Sherwin Williams Cyberspace, which looks black but is actually quite a dark shade of gray.
It looks absolutely beautiful and sophisticated in homes that desire a bold backdrop!
So, if you want to blend in some grays while still wanting to create some darker contrasts with black – it will be smart to choose this paint color.
It is an extremely dark-toned paint color with deep blue undertones. Yes! Blue!
Now, where did that come from? Well, that's true – Cyberspace even exhibits a blue tone when used on the walls that get excessive natural light.
In short, this paint color is a chameleon!
It tends to change its appearance depending on the total light received!
Don't worry! I am going to unveil all the information related to this paint color. After reading this blog, you will exactly know how to best make use of this color.
So, let's get it started!
Sherwin Williams Cyberspace SW 7076 Details and Specifications
Now here is where you have to be extra careful! Before choosing a paint color like Cyberspace, it is essential to understand what the color truly has to offer.
There are quite some basic theories and specifications linked with a paint color. And trust me, it might end up being a mess if you disregard these values.
So, first and foremost – Light Reflectance Values or LRV's of the paint color definitely needs to be determined.
You can find the value at the back of the paint swatch!
So, the LRV of Cyberspace is 6!
Yes, it is definitely dark. Remember, lower the value – darker the paint color!
Another tip: If you want to easily try out Cyberspace to see how it will show, you can with a peel-and-stick sample from Samplize. Pick up your samples here!
This value will now help you determine where to use the paint color. Secondly, it is important to read through the RGB and HEX Values that will help you understand what truly the color is composed of.
Red = 68
Green = 72
Blue = 77
HEX Value = #44484d
Now enough with the technical and scientific information, let's get started with the practical aspects of this beautiful and timeless color.
How Does this Dark Color Feel in a Space?
You are quietly likely to feel either of the ways with this paint color. Firstly, if used correctly, it will feel absolutely luxurious and elegant. Or in the other case, it may feel suffocated and uninviting.
And that is why I say playing with such colors could be intimidating and challenging.
You need to use this color in larger spaces so as to feel luxurious since due to its low reflectivity, the walls tend to appear closer and make the space look enclosed and smaller.
Or else, if you really want to use this paint in a smaller space, I recommend only using it in a lesser amount – may be as bases and accents.
How Does Light Affect the Color?
Light has some role to play here! Mainly, not just making it look lighter but also exhibiting the true undertones of the paint color.
In the presence of excessive light, this paint color may tend to look more bluish-gray and apparently a little lighter. Whereas in the absence of light, this paint color may appear more black and much darker.
You can also alter the mood by strategically placing the artificial lighting pieces. Maybe a grand piece of chandelier with warm white light can brighten up your space!
I'll have to say again, the absolutely coolest way to check a color like this out in your home is with a wall sample from Samplize. Buy yours here.
What are the Best Coordinating Colors?
Choosing the perfect complementary colors is definitely a must thing to do. Since this paint color has extremely low reflectivity along with an utter cool backdrop, it is important to choose paint colors that are slightly warmer and extremely lighter!
Remember, balance and harmony are extremely important factors in a space.
So, considering the undertones, I believe the best to-go colors would be whites, off-whites, cool blues, warm yellows, lighter beiges, and even taupes.
You could either choose a contrasting or a monochromatic color scheme. Let's discuss what best to choose!
To name a few, have a look here for a monochromatic palette:
SW 9162 African Gray
SW 7074 Software
SW 7075 Web Gray (see my full SW Web Gray review here!)
Now, let's choose the contrasting color palette choices:
SW 7074 Passive
SW 7517 China Doll
SW 7676 Paper Lantern
In the case of ceilings, trims, and moldings – I would recommend using SW Pure White to further achieve a creamier look or else if you want a crisp look, choose SW High Reflectance White.
SW Cyberspace Vs Similar Colors
There are no two colors exactly the same – there may be some features that set them apart!
Similarly, if you are looking for alternatives – the two paint colors that share the most similarities are SW Sea Mariner and SW Mount Etna.
Let's discuss what both of them have to offer!
Cyberspace Vs Sea Mariner
This interior-only paint color has an LRV of 7 making it an extreme dark-toned paint color – just like Cyberspace.
However, this paint color tends to have a navy bluish shade and may only appear black in very certain conditions. You can absolutely use this paint color as it appears very luxurious and majestic on walls.
Order a stick-on sample of Sea Mariner here to help you compare these colors in your own living spaces.
Cyberspace Vs Mount Etna
Sherwin Williams Mount Etna is another beautiful paint color with deep blue and green undertones. It sorts of exhibits a luxurious appearance with a major focus on darker emerald, green shades.
This paint color has an LRV of 6! Although, you can truly know all the differences when you actually place them all against each other!
Try out the looks of these colors in your own home with a some temporary wall samples. You can find them here!
Where to Use Cyberspace in Homes?
This is one of the best questions to answer! Now that we have discussed all the aspects of the color, the details, specifications, its practical aspects, color scheme, and similar colors – it is now time to decide where to use it in homes!
I would say – ANYWHERE! As far as you limit the use – you can creatively use them anywhere!
This timeless paint color has no restrictions when it comes to a particular interior design style – so, again – another plus point.
Let's see how to incorporate this paint color in your homes!
Cyberspace in Living and Dining Rooms
I recommend this paint color in homes that are grand and majestic with double-heighted ceilings and much larger spaces.
You can even use it in hallways that are comparatively wider and much larger in size. Moreover, you can pair this color with warm whites, yellows, taupes, and beiges to feel cozy and inviting at all times.
Secondly, you can also pair it will cool whites and blue to give a soothing experience in your living and dining rooms.
Using in Kitchens
Especially if you have an open space plan concept, I recommend incorporating this paint color in your kitchens.
Whether it is the cabinets or the back wall, either ways, Cyberspace is a beautiful option in kitchens.
Remember to pair with a white marble countertop, some classic golden-tinted lighting pieces and pull handles, backsplash tiles, and white paint!
I promise the authenticity and beauty it would look like!
Cyberspace in Bedrooms
If you are looking for a daring experience in your bedroom, this is good to-go paint color. Moreover, do remember to consider the sizes and perspectives of this space.
Secondly, if your bedroom is small, just paint the accent wall or the headboard wall in this color and let the rest of the walls and furnishings be in absolute white.
You can also add tinges of yellows and burnt oranges to create a flabbergasting appearance.
Using on Exteriors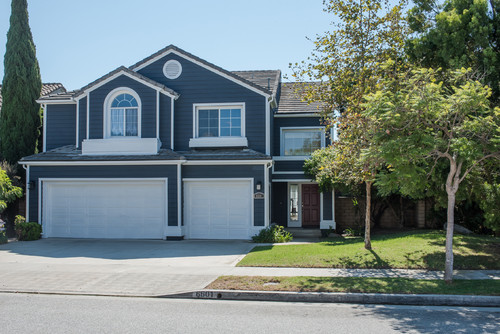 This color is a good fit for Contemporary as well as Victorian-style homes. You can absolutely use it to add a touch of luxury to the exteriors itself!
Make sure to pair it with whites and off-whites on the trims, moldings, and door and window frames.
You can also use terracotta red either on the roof or the immediate surroundings to further refine the look of your homes.
What's the Best Way to Sample This Color?
So now my favorite tip when it comes to testing out a versatile color like Cyberspace – go and order a peel-and-stick sample from Samplize.
They've created an awesome way to sample colors with real paint, but no mess. Simply stick on your paint sample instead of having to get a test can of actual wet paint.
For only a few dollars you get a good sized square to throw up temporarily anywhere you want to "try" on your color, other similar colors, and any possible coordinating hues you like. It's great!
So, how do you want to use this color in your homes? Interiors or Exteriors?
Now that you have all the secrets – are you excited about painting your home in Cyberspace? Should there be any questions or thoughts, let us know in the comments below!