Sage green is one color category that is lately gaining a ton of attraction in the interior design industry.
Of course due to obvious reasons – serenity, calmness, and helping your space bring an inch closer to nature.
Knowingly or unknowingly, this earthy hue of nature tends to relax you and set you free from any kinds of stress and anxiety.
And believe me, when it comes to tranquilizing – you simply can't hold back from this true sage green paint color.
Yes, Sherwin Williams Clary Sage is a muted and subdued sage green paint color that feels quite soft, calm, and relaxing – much like SW Sage that I review here!
It has ample depth to give a sense of character, and at the same time, make your space feel quiet and warm.
With the deep undertones of yellow and gray-green, this color is not very cool and crisp – rather, a perfect tinge of warmth that you would crave in your space.
So, how excited are you to incorporate SW Clary Sage in your home?
I can guarantee a number of spaces this color is bound to look astounding in!
No – I am not going to reveal that right now – so, sit back and relax!
And it's time to enjoy the journey to this authentic sage green paint.
Sherwin Williams Clary Sage SW 6178 Details and Specifications
What makes this particular sage green color stand out from the rest of them?
Well, it is the concept of color theories, details, and specifications.
Just when you want to choose a paint color for your home, you must read through the underlying values and theories to truly understand the hue.
So, first and foremost, let me introduce you to the concept of Light Reflectance Values or the LRV's that determine how light or dark the paint color is.
You can easily find that value at the back of the Sherwin Williams paint swatch!
Here, in this case, the LRV of Sherwin Williams Clary Sage is 41.
And that means it falls on the medium and darker end of the scale – not too dark nor too light.
(Lesser the value, the darker the paint, on a scale of 0-100)
But you must know that even if the color falls on the medium end – it feels totally light and refreshing at all times.
Now, if you want to try out Clary Sage on your walls ahead of time, you can easily with a peel-and-stick square from Samplize. Give them a try now!
Secondly, other important associated terms are the RGB and the HEX Values.
Red = 172
Green = 173
Blue = 151
HEX Value = #acad97
Now that is enough with the technical and scientific information, let's get started with the practical aspects of this sage green Sherwin Williams paint.
How Does This Color Feel in a Space?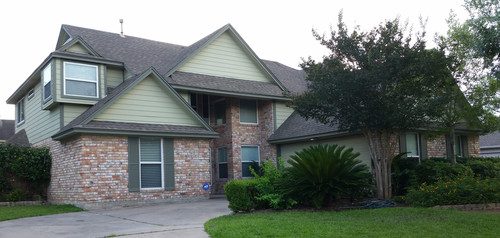 You can never go wrong with this sage green paint color!
Even though it feels dark and bold, in a way, this color will always make your space feel refreshing and calming.
However, you have to be slightly considerate around the size of the space as well as the natural incoming daylight.
Apart from this, SW Clary Sage will always make your space feel warm, cozy, closer to nature, refreshing, and subtle.
It will calm you and at the same time, make you feel energetic and enthusiastic. If you only want the former mood but like this hue, check out SW Contented, which is more of a gray-sage green.
On the other hand, this color will also relatively make your space feel smaller by simply pulling the walls closer.
Hence, time to make a careful choice!
How Does Light Affect the Color?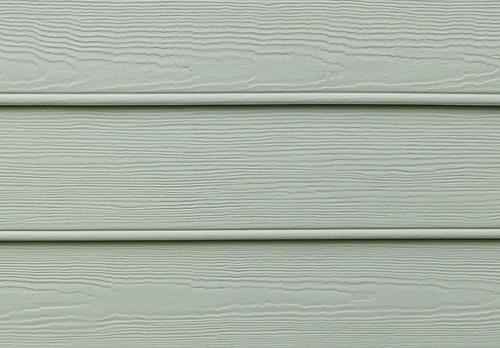 Natural light and SW Clary Sage go hand in hand!
So, the more light you give to this paint – the better it is for the space to feel bright and refreshing.
Since it has a medium reflectivity value – you have to ensure that there's ample incoming natural light.
Else, the room is bound to feel dull and dingy.
In case you have a small room that receives little natural light – it's ideal not to consider the paint on the whole or else sprinkle only on the accent wall.
Furthermore, in the north-facing rooms, this color will play a great role! It will especially neutralize the cool incoming air with the warmth of the paint.
You can even add warm white saturated light in the form of chandeliers, wall sconces, and floor lamps.
Want to see what Clary Sage looks like in your own living space? Pick up a wall sample now from Samplize!
What are the Best Coordinating Colors?
Creating color palettes can be quite a fun task to do.
So, it's crucial for you to choose the best complementary colors in order to define a palette that looks 'in-place'!
Some greens are comparatively easy to deal with.
On the other hand, some greens require a lot of experimentation to figure out the best complementary color palette.
With this sage green paint, it's ideal that you pair creamy whites, lighter beiges, taupes, lighter greens, and ample metallic gold accents.
So, I am going to enlist the two most popular color schemes here – monochromatic and contrasting.
Monochromes are generally great for modern and contemporary setbacks. On the other hand, Eclectic and Farmhouse play well with contrasts.
You could use any of them depending on the interior design scheme and your personal preference.
So, here are a few of the colors I would recommend for a monochromatic palette!
SW 9128 Green Onyx
SW 6179 Artichoke
SW 6180 Oakmoss
On the other hand, here are a few of the colors I would recommend for a contrasting color palette!
SW 6413 Restoration Ivory
SW 7004 Snowbound
SW 6107 Nomadic Desert
For your ceilings, trims, and moldings – SW Extra White or SW Pure White in itself makes a great option!
SW Clary Sage Vs Similar Colors
SW Clary Sage doesn't deserve alternatives.
Yes, truly!
It's so beautiful, muted, and timeless that there is no other sage green that can replace the true and authentic beauty of this paint.
However, if we compare – the two colors closely related are SW 2860 Sage and BM HC-114 Saybrook Sage.
Let's see how they differ.
Clary Sage Vs Sage
Even though these two colors are from the same color category – the undertone differences are huge.
SW Sage has slightly more yellow than green. Yes, can be very closely related to the earthy hues of nature!
It has an LRV of 42 – which makes it almost equally darker and deeper as compared to the former paint color.
To see how these look in your home, get some large rectangular samples and try on your walls with different lighting sources.
Clary Sage Vs Saybrook Sage
Meanwhile, BM Saybrook Sage is a notable sage green paint color with major greens reigning the palette.
Yes, the yellow undertone too exists – but in a very limited amount.
With an LRV of 44.86 – this color is the lightest of them all.
To truly experience and compare these colors in real-time be sure to buy some stick-on samples and test them in your home.
Where to Use Clary Sage?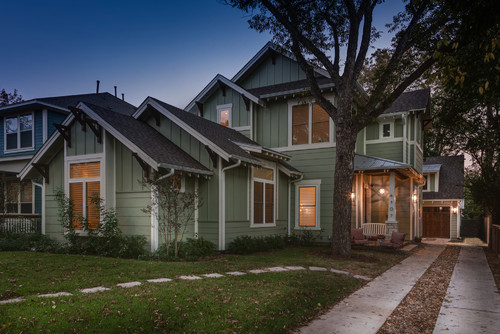 Sherwin Williams Clary Sage can be used anywhere in your home!
And why not? Since this color has that certain vibe that can be used everywhere!
So, whether it is the kitchen cabinets, the living room accent wall, the home office, or the staircase hallway – you can absolutely use this paint wherever you feel like!
Let's see where and how to incorporate this paint into your home.
Clary Sage in Living and Dining Rooms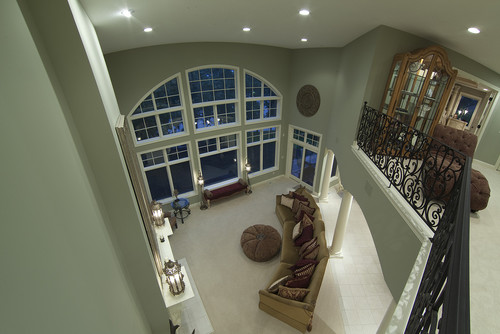 SW Clary Sage would make a wonderful statement in the common rooms like the dining and living room.
You can either use it on the accent wall or simply paint all the walls in this sage green color.
Furthermore, try merging this color with wooden wainscotting or accents on the cabinetry, furniture, and floating shelves.
In terms of whites, I recommend picking SW Alabaster for the trims, moldings, and other features.
On the upholstery, you can choose off-white or light gray linen with even a tinge of natural woven textures like rattan and wicker.
Using in Bedrooms
This color is made in heaven! (Well, heaven and nature, same thing!)
And especially when it's a personal space – you can definitely make the most use of this paint color.
Painting the accent wall in this color is ideal for a smaller room or room with little light.
Furthermore, add a light green, white, and burnt orange accents on the throw pillows and comforter.
Don't forget to style a jute rug and several wooden textures to make your room further look cohesive.
Lastly, don't forget to style an indoor plant or two!
Clary Sage in Kitchens
What a wonderful statement this color would make in the kitchens!
Definitely a yes for the kitchen cabinets.
Add creamy whites on the backdrop wall, white backsplash tile (or choose a yellow one for the contrast), and ample wooden textures on the furniture and shelves.
To add a touch of luxe, you can even consider golden-tinted pull handles and knobs.
Using on Exteriors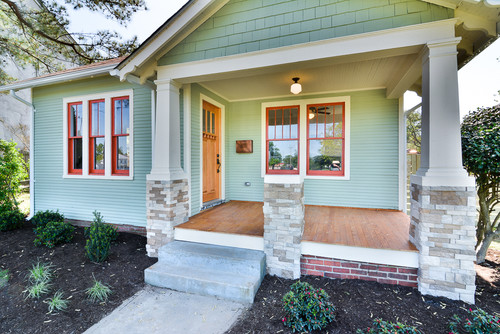 Especially for the Coastal, Caribbean, transitional, traditional, and ranch-style homes, this paint on the exteriors is bound to add a statement of style.
You can play with gray Spanish interlocking tiles on the roof and crisp white paint for the trims and moldings, door and window frames.
Furthermore, if you have porches and columns – either choose white paint or natural stone wainscotting.
In case you want to add an eye-catchy statement – add bold red or mustard on the entryway doors and window frames.
How to Best Sample This Color?
Here's my favorite tip when it comes to testing out a color like Clary Sage – go and order a peel-and-stick sample from Samplize.
This little company has nailed down the best way to sample colors much more easily. Simply stick on a 12″" x 12″" square instead of having to get a small can of actual wet paint on your walls.
For a few bucks you get a big enough sized sample to evaluate anywhere you want to ""try"" on a paint color and any possible coordinating hues you like.
It's temporary, so move it around and test location and lighting options.
So, how do you want to use this color in your homes? Interiors or Exteriors?
You see – this is one easy color to deal with!
Now that you have all the secrets – are you excited about painting your home in Clary Sage?
Should there be any questions or thoughts, let us know in the comments below!