Ever searched for a blue that is bold, dense, rich, and sophisticated at the same time?
Maybe something like navy blue?
Well, today I am going to be addressing a dark blue paint color that is seriously a must-try!
Sherwin Williams Charcoal Blue is winning a lot of hearts – and I am sure it will do the same for you as well.
It is dark, bold, and proves to be extremely luxurious.
And if you look around, many of the high-end hospitality and residential sectors incorporate this hue as part of their branding.
Symbolic of utmost strength and splendor, this paint is a go-to choice for upscale beachside villas, ocean-view bungalows, and even your weekend home or city apartments.
(If you're not so lucky to have such residences, you can certainly carry this look into your family's home and feel the experience there!)
And you know what the best part is – it will absolutely transform the look and feel of your home.
So, if you are looking to add a feel of elegance – you can need only to add a even a pinch of this color to your living space.
However, considering its boldness and darkness – it might be slightly challenging to pair it with a compatible hue.
But we'll get into that in a bit…
So, without any delay, let's get on board with this beautiful blue paint color.
Sherwin Williams Charcoal Blue SW 2739 Details and Specifications
Before picking a paint color, it is important that you understand the underlying theories and specifications.
So, you know the reason what makes this paint so magical and elegant?
Well, this section will answer why!
So, every paint is unique and different – even though they tend to look similar!
And that is why you need to first understand what the color is comprised of, its properties, and what it truly has to offer.
To make it easier for you, here are a few terminologies that you must consider.
Firstly, look at the back of your paint swatches to determine the Light Reflectance Values or the LRV's of the paint color.
This value helps in determining how light or dark the paint color is.
Remember, the lesser the value – the darker the paint and vice versa!
So, the LRV of Sherwin Williams Charcoal Blue is 6. And that means it falls on the lighter end of the scale!
Oh, if you want to just try Charcoal Blue so you'll know just how it'll look, you can easily with a peel-and-stick sample from Samplize. Order some samples now!
Secondly, other important associated terminologies are the RGB and HEX Values that further tell us what the color is made of.
Red = 61
Green = 68
Blue = 80
HEX Value = #3d4450
Since now that we have discussed the technical and scientific information, let's get started with the practical aspects of this opulent blue Sherwin Williams paint.
How Does this Color Feel in a Space?
Sherwin Williams Charcoal Blue makes your space feel crisp, bolder, enlightened, dashing, and extremely courageous.
Due to its low reflectivity, it tends to pull the walls closer while making your space look smaller and confined.
When talking about climates, especially for the warm and tropical states – this color is absolutely good to go!
But I wouldn't restrict you from using it in colder areas as well – since it is sort of neutral!
Lastly, you can always use this paint with a lighter paint to strike a balance.
How Does Light Affect the Color?
Light has a major role to play here – whether artificial or natural!
So, here is a little something to look forward to!
Look around and observe – how much natural light is your room receiving?
What are the compass directions of your room?
This color is bound to make your space feel enclosed and smaller!
Well, if you are blessed with ample of it – simply use this color in your rooms that face any of the directions!
Yes! That is one great benefit – since it has a tinge of cool and warmth both – you can absolutely use it in any climate!
Furthermore, for creating a particular dramatic effect – you can always add warm white and cool yellow lighting!
To truly see what your home's environment and lighting will do here, try out a real paint sample. It takes out the guess work!
What are the Best Coordinating Colors?
Now that we have analyzed what the color truly has to offer and what it feels like along with the reflectivity values, it is time to pair it with the best complementary hues.
You have the option to either choose from a contrasting or a monochromatic color palette.
Make sure to analyze the color carefully so as to not mess up with your space later!
Depending on your interior design style, it is important to create a sense of balance and harmony in the space.
So, here are a few of the colors I would recommend for a monochromatic palette!
SW 7071 Gray Screen (see my review here)
SW 7072 Online
SW 7074 Software
On the other hand, for a contrasting color palette, I would recommend the following paint colors that you could incorporate:
SW 6129 Restrained Gold
SW 6231 Rock Candy (see my review here)
SW 6255 Morning Fog (see my review here)
For your ceilings, trims, and moldings – I would recommend using SW Pure White to further achieve a creamier look or else if you want a crisp look, choose SW High Reflectance White.
SW Charcoal Blue Vs Similar Colors
Even though I wouldn't recommend – but if you are looking for a paint color alternative – Sherwin Williams has formulated a few blues to choose from.
The two most closely related are – SW 6244 Naval and SW 7076 Cyberspace.
Let's see what differs all of them!
Charcoal Blue Vs Naval
Another beautiful bold blue – Sherwin Williams Naval is symbolic of utmost sophistication and elegance.
With an LRV of 4, this paint is comparatively darker than the former. However, know that this paint is comparatively more saturated than Charcoal Blue.
Similarly – you can pair it with golds, whites, and beiges for a great stark contrast.
Learn a ton more in my SW Naval review here.
Order wall-stick samples of these colors to help you compare colors in your own space.
Charcoal Blue Vs Cyberspace
SW Cyberspace requires more depth and character as compared to Charcoal Blue.
With an LRV of 6, this deep blue paint color feels grayish-blue in certain lighting conditions.
It can also feel dark gray and black if used in a space with minimal natural light!
Get more acquainted with SW Cyberspace in my article on it here.
Do yourself a favor and grab some stick-on sample sheets of these two colors and see what looks best in your home.
Where to Use Charcoal Blue?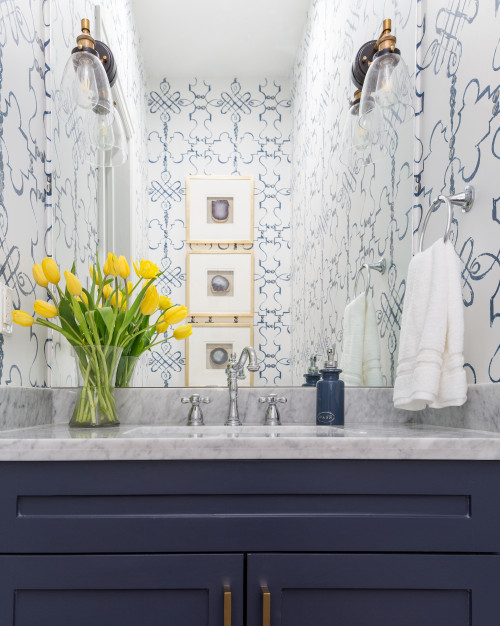 Charcoal Blue is a great option for living rooms, family rooms, kitchens, hallways, bedrooms, and exteriors!
In case you have a home gym or home office – don't hold back from using this paint.
Furthermore, this paint is a great option for Modern, Mid-Century, Eclectic, Glam, Hollywood Glam, Contemporary, and Minimalist interior design styles.
Let's see how you can incorporate this color in your home – and specifically how!
Charcoal Blue in Living and Family Rooms
If you have a double-heighted space with ample natural light – this is a great bold blue to be used.
You can use it as an accent wall and pair it with creamy or crisp whites (depending upon choice and weather), and tons of golden tints.
In the case of a fireplace, try using black glossy marble or white exposed brick to create a flabbergasting experience.
Hardwood floors are a plus – but in a small space, they might get overwhelming and congested!
Using in Kitchens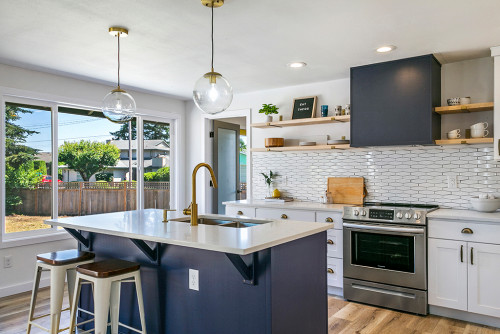 Charcoal blue kitchens are my favorite!
You know why?
Well, they offer the opportunity to be paired with golden tints, chromes, rose-gold, nickel, as well as brass in the form of pull handles and fixtures.
Try stark white paint on the backdrop wall and white backsplash tiles and marble countertop.
Charcoal Blue in Bedrooms
Use this paint on the accent wall behind the headboard wall.
You can pair it with whites and neutral upholstery as the bedsheets and comforter.
Furthermore, try using white or grey blackout curtains along with a majestic brass-tinted metal chandelier!
Avoid painting all the walls in this specific paint.
Using on Exteriors
Absolutely yes!
Although know that it will tend to further fade away the darkness while adding on the warmth to the color.
You can pair it with crisp whites, or even lighter grays through decorative moldings, door and window frames, and trims to add a character to your home exteriors.
This color is an amazing option for Victorian, Modern, Georgian, Modern Farmhouse, Craftsman, and Mid-Century modern-styled exteriors.
So, how do you want to use this color in your living spaces? Interiors or Exteriors?
Great Paint Sample Tip!

Here's my favorite tip when it comes to testing out a color like Charcoal Blue – go and order a peel-and-stick sample from Samplize.

These guys figured out a great way to sample colors much more easily. Simply stick it up instead of having to get a small can of actual wet paint.

For a few bucks you get a nice sized square to throw up temporarily anywhere you want to "try" on a paint color and any possible coordinating hues you like. Too cool!
Now that you know a bit more – are you excited about adding Charcoal Blue to your decor?
Be sure to check out my complete rundown on many more SW blue paints here!
Should there be any questions or thoughts, let me know in the comments below!