Taking inspiration from the culinary herbs and the mint family, this refreshing paint color is a great way to introduce nature indoors.
Think of an earthy and organic vibe – and then let this color play a fundamental role in your space.
Unlike other green paint colors, this specific hue has a certain charm that can play beyond aesthetics.
Yes, trust me – this paint color offers a ton of advantages and benefits!
At the same time, you can't risk playing casually with this paint color. (Don't worry – I am going to gradually reveal all the tips, tricks, and secrets)
So, what's the color all about?
Sherwin Williams Basil is a dark organic green paint color that dates back to a natural, organic, and earthy vibe.
Have you ever fancied a fresh, bottle green-colored dress, accessory, or an inspiration from the home decor pages on Instagram?
Yes, this paint shares a ton of similarities with an authentic bottle green paint.
So, how excited are you to incorporate this paint in your home?
This color review will exactly help you figure out if this paint is the one for your home or not! Shall we get started?
Sherwin Williams Sea Salt SW 6204 Details and Specifications
You are quite likely to find a couple of other organic green lookalikes on the paint swatch.
Colors like SW Rosemary fall in the same color category but feel too grayish-green whereas this paint is comparatively stark green.
However, the only way to differentiate between those two colors is the details and specifications.
Well, most of the homeowners end up ignoring these values – but, I must tell you that you shouldn't!
This is what will help you make informed decisions, in the long run.
So, first and foremost, let me introduce you to the concept of Light Reflectance Values or the LRVs that determine how light or dark the paint color is.
You can easily find that value at the back of the Sherwin Williams paint swatch or even the website!
Here, in this case, the LRV of Sherwin Williams Basil is 15.
And that means it falls on the darker end of the scale – but not too dark.
(Remember, lesser the value, darker the paint)
If you're not quite sure how this color will work in your home, you should definitely try it on for size by ordering a peel-and-stick sample from Samplize.
Secondly, other important associated terms are the RGB and the HEX Values.
Red = 98
Green = 110
Blue = 96
HEX Value = #626e60
Now that is enough with the technical and scientific information, let's get started with the practical aspects of this green Sherwin Williams paint.
How Does This Color Feel in a Space?
Sherwin Williams Basil is a dark-toned green paint color that can dominantly add a sense of character to your space.
If the paint is new for your room, I assure it's going to transform the overall vibe and ambiance.
And let's not forget – the low reflectivity of the paint is responsible for creating an illusion of a smaller space.
Thus, if you want to create a little, cozy haven – this color is definitely something to have an eye on!
At the same time, it feels cool and crisp – so, it's good to go for warmer regions as well.
How Does Light Affect the Color?
Sherwin Williams Basil and natural light go hand in hand.
So, the more light you give to it, the more enhanced and vibrant the color will appear. (And vice versa)
Another pro tip: Always examine the paint color swatch in different lighting conditions in different rooms before coating a brush!
And do you know why I say that?
Well, that's because the same paint color will appear different in different rooms (due to different compass directions)!
So, it's quite likely to appear warm and cozy in the south or west-facing rooms. On the other hand, it will appear cool in the north-facing rooms.
On the other hand, artificial light can also be added to create the desired aura!
Warm and bright lighting plays quite well.
One way to help find out how this color looks in your home is to buy some temporary wall samples and put them up wherever you want to paint. You can get these easily from Samplize.
What are the Best Coordinating Colors?
Now comes one of the best topics to talk about – color palettes and color schemes!
Since you are now planning to use this paint color in your home – I must tell you, choosing a cohesive color palette is important.
(otherwise, your space might look all messed up and misleading)
So, you could either amalgamate colors of the same family to create a monochromatic palette or choose a fun-loving contrasting color palette that creates a sense of depth in your space.
For an organic paint color like Sherwin Williams Basil, you can best pair it with burnt oranges, creamy and true whites, lighter grays, browns, and beiges!
Talking about materials, you can absolutely use natural textures like rattan, cane, jute, and wicker!
Firstly, I am going to enlist paint colors to be used for a monochromatic palette.
SW 6191 Contented – see my guide here!
SW 6192 Coastal Plain
SW 6194 Privilege Green
You can definitely mix and blend all of them through paint colors, decorative accents, and upholstery!
Secondly, I am going to enlist paint colors to be used for a contrasting palette.
SW 6197 Aloof Gray
SW 7512 Pavilion Beige
SW 6203 Spare White
In the case of ceilings, trims, and moldings – I would recommend using SW Pure White and SW Extra White to further protrude this color!
SW Basil Vs Similar Colors
Even though there shouldn't be a need – but I must tell you that SW Basil in itself is a very authentic and pretty green paint color!
You shouldn't be looking around for alternatives! (Trust me on this, unless you're looking for some different SW green paint colors like these)
However, just in case you are, the two colors closely related are BM 700 Enchanted Forest and SW 6187 Rosemary.
Let's see how they differ!
Basil Vs Enchanted Forest
Another dominant earthy green paint color, Benjamin Moore Enchanted Forest has green and brown undertones.
In a way, it feels deeper and quite textural. It also appears bluish-green in certain lighting conditions.
With an LRV of 14.33 – it equally feels dark and rich. Also check out Farrow & Ball's Green Smoke for a slightly more dusty green.
To see how these look in your home, get some large sample sheets and try on your walls with different lighting sources.
Basil Vs Rosemary
Yes, these two colors share a ton of similarities as well as differences.
First and foremost, the undertones and appearances are what differs the most!
The latter paint color has a deep gray undertone – making it feel slightly less a green paint color.
Check out my full review on this color here!
With an LRV of 14 – these three colors share similarities in the reflectivity values.
To truly experience and compare these colors in real-time be sure to buy some stick-on samples and test them in your home.
Where to Use Basil?
Sherwin Williams Basil can be used in any space that needs a visually appealing character, a sense of depth, and absolute drama.
So, whether it's the kitchen cabinets, exteriors of your home, living room walls, focal furniture frame, or wall moldings – this earthy green paint color can play absolutely delightful.
Let's discuss how to incorporate this paint color in your home!
Basil in Living and Dining Rooms
SW Basil in the living room will play quite refreshing, rejuvenating, and blissful.
However, you have to be very careful if the living room is smaller in size or receives very little natural light.
That way, the space can feel quite dull and dingy.
So, ensure to paint the accent wall in this color and further add a white paint like SW Alabaster on the adjacent walls.
Meanwhile your furniture could be beige or white with a blend of light gray as a base on the accent furniture upholstery and throw pillows.
Using in Bedrooms and Home Offices
I would love to splash this hue on the accent wall of your bedroom.
Furthermore, adding natural textures like rattan, wicker, jute, and cane on the planters, baskets, and wall hangings is a great way to imbibe a natural and organic feel.
You can also add white sheer curtains, shag area rug, and a couple of checkered and plaid patterns to complete the palette.
In the home office, you can consider adding wooden textures on the table as well as floating shelves.
Lastly, don't hold back from adding a couple of indoor plants in the corners.
Basil in Kitchens
Basil in the kitchen will make a wonderful statement.
So, you can choose to paint the cabinets in this color and further add creamy whites on the backdrop wall.
In the case of smaller kitchens, you can choose to add greens on the lower cabinets and white on the upper.
This way, you get the best of both worlds.
Furthermore, add golden-tinted and brushed brass-finish on the knobs and pull handles.
Using on Exteriors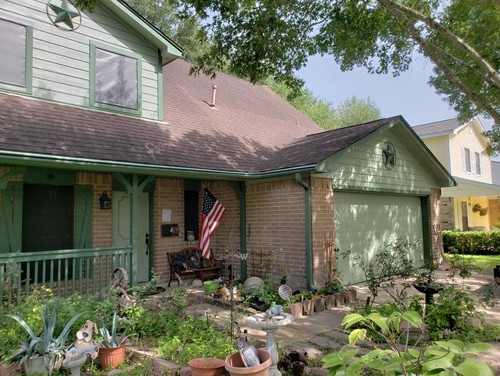 Playing with SW Basil on exteriors could be quite a tricky yet interesting thing to do.
You need to assure pairing it with lighter shades like lighter sage green and lighter gray to create a cohesive yet attractive exterior color palette.
So, keep in mind to use beiges, off-whites, whites, and darker grays!
But a plus point is that you can use any shade of stone if you are planning to use it!
Best Way to Try Out This Color?
I have to share one of my favorite tips when testing out colors like Basil – go and order a peel-and-stick sample from Samplize.
This company has an amazing way to sample colors super conveniently with real paint.
Simply stick up a temporary square sample of it and avoid the whole paint and roller mess (at least until you're ready!).
For a small amount of money you get a giant ""sticker"" you can place up in the space you're painting. You can also try out coordinating colors as well. It's great!
So, how do you want to use this color in your homes? Interiors or Exteriors?
Now that you have all the secrets – are you excited about painting your home in Basil?
Should there be any questions or thoughts, let us know in the comments below!