Yellows are symbolic of energy, happiness, creativity, and enthusiasm.
They symbolize the sun and its energy – all in one!
So, if you're planning to remodel your home and looking forward to trying an energetic paint this time – yellow could definitely make the cut!
I wouldn't recommend a very heavy and bold yellow as too much of this good energy can cause discomfort, and you want to continue the love of working in and coming back to your home.
So, Sherwin Williams Banana Cream is one light and (controlled) bright yellow I would recommend. It will add a touch of enlightenment and creativity to your homes or workspaces.
It is a light-toned, warm color that could be used as a base or even an accent in some cases!
However, let me tell you, if you're planning to use yellow in your space – you must be aware of its how's and where's about it!
Yes! This color is not easy.
So, sit back and relax. I will tell you how, when, and where to use this color in your homes!
And especially, with what!
Even though there are rules and restrictions here, but I am sure your walls will absolutely come beautiful and crisp!
Sherwin Williams Banana Cream SW 6673 – Details and Specifications
Every color has a story to tell – like I always say.
There are different ways of mixing and blending, light or dark, tones, tints, and shades associated with a paint color.
And let me tell you, never ever choose a paint color without knowing its roots and basics!
This information is what helps you determine where to use the paint color.
Exactly, which walls and rooms, whether interiors or exteriors, and the story goes on and on!
So, most importantly, acquaint yourself with a term called Light Reflectance Values or LRV's that help in determining how light or dark the paint color is.
For Banana Cream, the LRV is 75!
Which is pretty light (the greater the number – the lighter the paint color)!
Because paint colors can change in different environments, I recommend you also just try Banana Cream out at home with a peel-and-stick sample from Samplize. Order some samples now!
Similarly, other important values to know are RGB and HEX Values.
Red = 245
Green = 222
Blue = 175
HEX Value = #f5deaf
Now that we know about the scientific information, let us get our hands-on practical aspects and usability of the paint color.
How Does Banana Cream Feel in a Space?
Banana Cream feels actually like a BANANA CREAM! (Do you like banana creams?)
Anyway, this paint color feels lighter and brighter in a room with ample natural light.
If you want to induce a sense of energy and optimism in a space – Banana Cream is a good way to go!
Also, since it's a warm paint color, I would recommend colder states and regions to use this paint color as it may feel warm indoors while it's snowing outside!
Definitely, a no-no for warmer states as it might overwhelm you which on the longer run is not good for your mental state!
I would highly recommend using this paint color in home gymnasiums and work-out areas where you actually want to feel energetic anytime you visit!
How Does Light Affect the Color?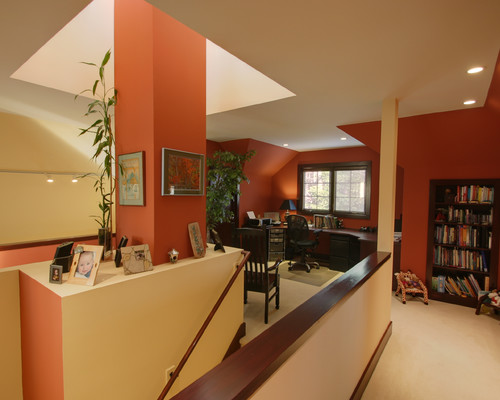 Here, BC appears darker in absence of ample natural light.
Light has a major role on Banana Cream!
So, you need to be careful about where you want to use this paint color!
In north-facing rooms, it might look more crisp and its original color whereas, in the south-facing rooms, it might appear yellower and sometimes, even dark beige!
Although to balance out the proportion and appearances, you can always play with artificial light to even the light temperature you're aiming for.
I'll say this again – get some wall samples to try on this color in your own home and confirm if it'll work or if you need to try something else.
What are the best Coordinating Colors for BC?
Now comes the next important task – what to pair the banana cream with?
It is important to balance the color tones, temperatures, and saturations to even out the color scheme in your home for a much cohesive look.
Of course, you could either go for a contrasting or a monochromatic palette – the design choice is all yours.
So, in terms of the monochromatic palette, I would recommend you the following:
Jonquil SW 6674
Pollen Powder SW 9014
Afternoon SW 6675
I personally wouldn't use this palette in my home as it is "too" much yellow for me but if you really admire yellows- nothing should hold you back!
Another palette I would recommend is:
Dusty Heather SW 9073
Double Latte SW 9108
Gardenia SW 6665
Since it's a warm paint color, you must pair it with greys, purples, blues, and greys to achieve the best possible color scheme.
Using lighter yellows would be a great option too. Keep a note of that!
In the case of trims and moldings, choose a warm off-white such as SW Alabaster or the more crisp SW West highland White.
Sherwin Williams Banana Cream Vs. Similar Colors
There is no harm in looking for alternate colors!
Some appear lighter, or darker – but the color remains the same. Hence, if you are looking for Banana Cream similar colors, you could consider two of these- SW 6379 Jersey Cream and SW 6680 Friendly Yellow!
Banana Cream Vs. Jersey Cream
With an LRV of 75 for both Banana Cream and Jersey Cream, these colors share the most similarities.
They are both light-toned, however, Jersey Cream appears to be more light with little pastel touch. It has deep gold undertones and looks more refreshing and crisp than Banana Cream.
Order a wall-stick sample of Banana Gream here to help you better compare these colors in your own house.
Banana Cream Vs. Friendly Yellow
SW Friendly Yellow is an "Interior-only" paint color with absolutely fruity appearances.
It is pure light yellow with an LRV of 76 that makes it the most lighter paint color in all.
In excess natural light, this color appears even more lighter and brighter and to almost light pastel in some conditions.
However, before you choose these paint colors, I would highly recommend buying real-time swatches and paint samples to determine the exact difference between all of them.
Also, don't forget about buying real-time samples to determine the tonality of the paint in your home's lighting. Pick samples up from here.
Where to Use Sherwin Williams Banana Cream in Homes?
As I said, Banana Cream is a lighter-toned paint color so you can use it anywhere in your homes as far as you pair it with the best opposites and even-out the look.
This color is highly preferable for traditional, transitional, French Country, and even Eclectic and Art Deco interior design styles.
You can use it creatively by forming intrinsic patterns blending various warm and cool tones.
So, let's see where you can use this paint color!
In Living Rooms
Absolutely yes! But make sure the direction your living room faces.
You can pair brown-toned curtains and drapes, neutral upholstery and fabrics and off-white rugs with slightly contrasting throw pillows, blankets, and ottomans.
I wouldn't recommend painting all your walls in Banana Yellow. Instead – just leave the focal one there and you should be good!
Banana Cream in the Kitchen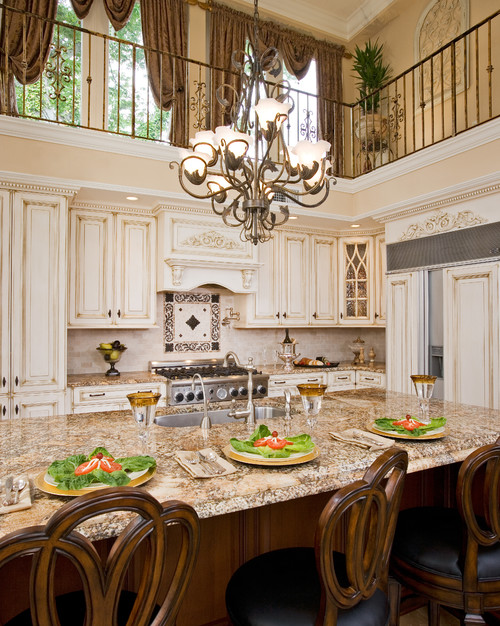 Above, a traditional-styled kitchen highlights how beautiful BC can be in the mix.
If you have an open concept kitchen plan, you can go for yellows – actually even if the kitchen is enclosed – don't shy away from Banana Cream!
You can either paint the walls in Banana Yellow and the cabinets in stark white or vice versa.
In bright, lively kitchens – banana yellow proves to be the best!
You can use brushed steel fixtures and pull handles to add an accent.
Also, just in case if you have hardwood floors – it would make a great match!
Banana Cream in the Bedroom
Bedrooms are your most personal spaces.
I personally wouldn't recommend a yellow paint shade in your bedroom because I prefer the bedroom to be more calming and serene and not very energetic!
But if you love yellows, you can create it as an accent in the form of accent pillows and drapes or blanket covers. Or use this paint color on a small piece of DIY painted furniture and accessory decor items.
This way, you can use neutrals on the walls and have the best of both worlds.
Banana Cream on Exteriors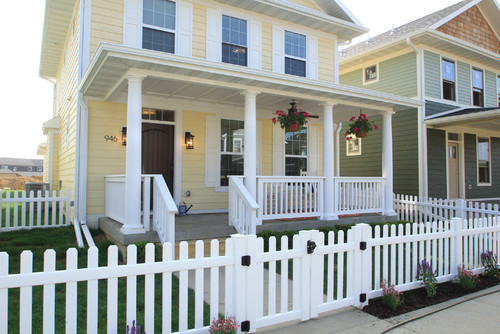 SW Banana Cream on the Exteriors pairs well with white trims.
Yes! Yes! Yes!
Actually, I have seen many homes in Florida where yellows are a major façade paint color!
If you like a Caribbean-like theme, yellows and such brighter shades make a really good match!
Just pair them with black, greys, or white door and window frames, trims, and moldings to achieve the best appearance.
I Recommend Sampling Banana Cream!
If you're on the fence and need a bit of convincing, try this color on for size by ordering a peel-and-stick sample from Samplize.
These are my favorite way to test colors in a space and to see how they work with other coordinating colors.
It doesn't cost all that much, and you can temporarily place these handy 12″ x 12″ squares that are true to color around your house. I love them!
So, are you on board with the Banana Cream? Do you like how it tastes? Do let me know in the comments below about your experiences and stories as I would love to hear about them!