Beiges and grays have always run a parallel race!
Some prefer grays while some beiges – but a color that attracts the qualities of both the tones is 'Balanced Beige'.
Neither too warm nor too cool – this shade of beige offers a perfect sense of 'balance' in your home.
However, when scaling the saturation, it definitely aligns more towards the warmer end of the scale.
On average, half of my clients are drawn towards the subtle shades of beiges – and do you know the reason?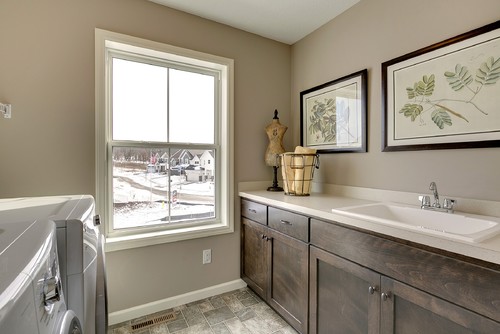 Well, that is because of the absolute beauty and timelessness offered by this bold and authentic paint color.
So, if you are looking to add a touch of this paint to your home – you must definitely go ahead!
But before that, I would like to reveal some secrets that will further help you make informed decisions.
Here, in this article, I will reveal what the color truly offers, how it feels, its specifications, details, complementary hues, and similar color alternatives.
So, sit back and relax!
Maybe reach out for your favorite cup of coffee as well.
Sherwin Williams Balanced Beige SW 7037 Details and Specifications
Before picking a paint color, it is necessary that you come across its details, specifications, and underlying theories and facts.
Remember, every color is unique and distinctive from the other – even though they appear similar.
Moreover, even the screens can be deceiving – so, I recommend you visit the nearest Sherwin Williams store to examine the true hue.
So, first and foremost, let me introduce you to the concept of Light Reflectance Values or the LRV's that determine how light or dark the paint color is.
You can easily find that value at the back of the Sherwin Williams paint swatch!
Here, in this case, the LRV of Sherwin Williams Balanced Beige is 46.
And that means it is a medium to darker-toned paint! (Mostly, medium-end)
One GREAT way to test a paint color to see what it'll do in your own home, is to order a sample from Samplize. You can pick one up for Balanced Beige!
Secondly, other important associated terms are the RGB and the HEX Values.
Red = 192
Green = 178
Blue = 162
HEX Value = #c0b2a2
Now that is enough with the technical and scientific information, let's get started with the practical aspects of this beige Sherwin Williams paint.
How Does this Color Feel in a Space?
Sherwin Williams Balanced Beige is bound to make your space feel heavy, bold, characteristic, and authentic when used in your living spaces.
I recommend you use this paint as an accent rather than a neutral or a base.
It is bound to make your space feel warm, cozy, and extremely welcoming!
And with an accent wall like this – your home is bound to make you feel comfortable as well.
So, for all the northern states and colder regions – this color is a great option for your homes as it tends to add a warmer vibe to make your homes feel cozy at all times.
When using in the interiors, I recommend painting the north-facing and south-facing walls in this particular color – the reason being obvious balance!
Try avoiding this paint in the east and west-facing rooms since the paint is too warm to get all uncomfortable!
How Does Light Affect the Color?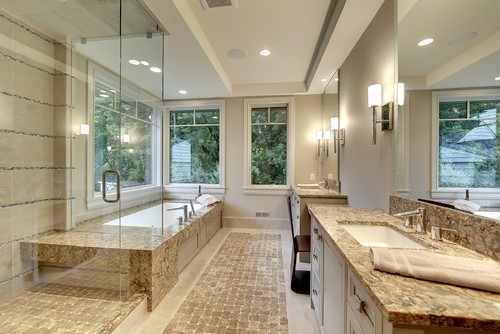 Light always has some role to play in this color.
Undoubtedly, excessive natural or artificial light will make your space seem larger than it actually is.
However, I recommend implementing this paint only in rooms with excessive natural light.
Artificial lighting is something that I wouldn't recommend here – and especially the warm yellow and warm white lighting.
On the other hand, with the absence of light, it may appear darker – so not good to go at all.
If you want to really see how this color will play in your space and with other colors, get some wall samples from Samplize.
What are the Best Coordinating Colors?
I am sure this is what you are waiting for!
Well – I too am!
So, it is crucial to choose the best seamless complementary colors in order to define a palette that looks 'in-place'!
It is true that you simply can't pair any color unless you understand the above-mentioned LRV and RGB terminologies.
So, I am going to enlist the two most popular color schemes – monochromatic and contrasting.
You could choose any of them depending on the interior design style and the scheme.
So, in this case, the best colors to go are literally creamier whites, beiges, lemons and mustards, sky blues, lighter grays, and taupes.
So, here are a few of the colors I would recommend for a monochromatic palette!
SW 7038 Tony Taupe (see my SW Tony Taupe review here)
SW 9174 Moth Wing
SW 7039 Virtual Taupe
On the other hand, here are a few of the colors I would recommend for a contrasting color palette!
SW 7551 Greek Villa
SW 6120 Believable Buff
SW 6006 Black Bean
For your ceilings, trims, and moldings – SW Extra White or SW Pure White in itself makes a great option!
SW Balanced Beige Vs Similar Colors
There are tons of other alternatives to replace Sherwin Williams Balanced Beige!
However, know that none of them can exactly replace this color.
Now that you know the secret – they might either differ in undertones or reflectivity.
So, regardless of that – the two colors closely related are SW 9602 Studio Beige and SW 7512 Pavilion Beige
Let's see how they differ.
Balanced Beige Vs Studio Beige
These two colors have a lot in common.
However, know that the latter has quite noticeable deep red undertones.
Also, it may feel extremely warm if used in the west-facing rooms – so keep a note to avoid it there!
It has an LRV of 46 – thus falling on the medium to the darker end of the scale.
Order a wall-stick sample of Balanced Beige here to try this color on for size.
Balanced Beige Vs Pavilion Beige
A beautiful beige, it shares tremendous similarities with the SW Balanced Beige.
With deep warm red undertones – the color feels weighted upon, cozy, and extremely dark when used in a room with little natural light.
It has an LRV of 48 – thus, falling on the medium end of the LRV scale.
Grab real paint, stick-on samples Balanced Beige and Pavilion Beige here to see how the color will look in your living spaces.
Where to Use Balanced Beige?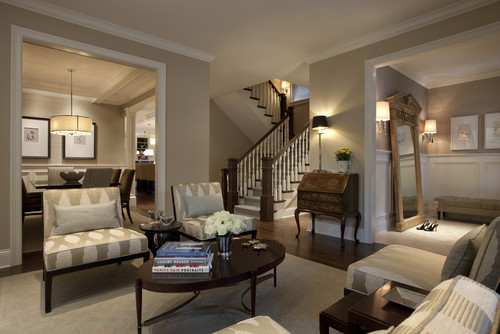 To achieve a perfectly 'balanced' warmer touch, this color is probably one of the best options to be used anywhere and everywhere in your home.
Whether it is the hallways, bathrooms, kids rooms, nursery, living room, dining room, family room, kitchen, exteriors, or even the bedrooms – you can use it everywhere!
Especially for the interior design styles such as Modern Farmhouse, Modern, Contemporary, Traditional, Transitional, and Bohemian, this color would be good to go!
Try avoiding it in Coastal, Floridian, and Caribbean-style interiors since it can offer a very warm appeal.
Let's see where and how to incorporate it in your home.
Balanced Beige in Living and Dining Rooms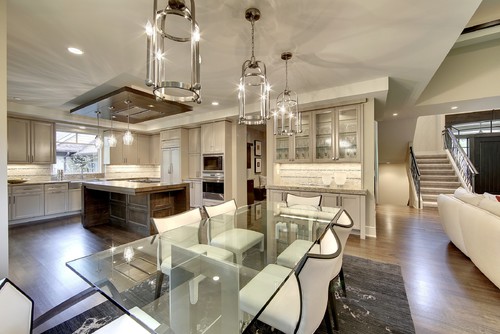 Absolutely yes!
You can choose this color as an accent wall on one of the focal walls in your living area.
Remember to pair it with lighter upholstery and wooden (oak and walnut) toned textures to further complement the palette.
You can also choose to go modern and sleek by picking tons of glass and metals to create a flabbergasting backdrop!
Also, if you have staircases and railing – try to prefer metallic and glass ones here.
Last but not the least, add ample mirror pieces and plants to invite positivity and a wholesome vibe!
Using in Bedrooms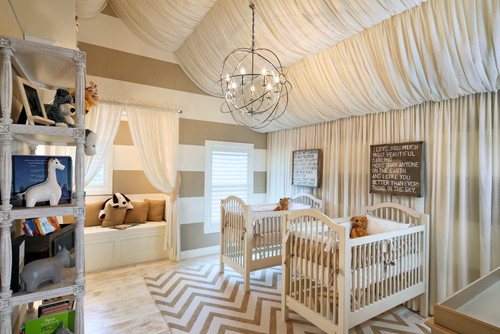 If you like the feel of traditional warmer bedrooms – you should definitely have this color!
Furthermore, add matte black lighting fixtures in the form of table lamps and pendant lights to add an eye-catchy accent.
When it comes to duvets and fabrics, try to choose more subtle hues with cotton and linens to further brighten up your room with this dark backdrop.
Balanced Beige in Kitchens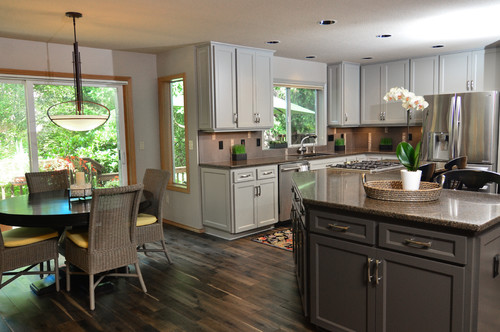 Quite an interesting backdrop – if you may like.
And especially if you have a taste for monochromes – you can choose beiges and whites here!
So, you can also pair it with chrome or nickel-finished fixtures, oak or stark white cabinets, and lush hardwood floors.
Furthermore, you can also use white-veined marble or black glossy granite to create a stark contrast!
Using on Exteriors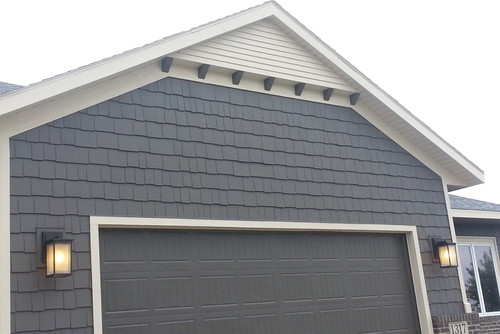 Whether you have a Spanish style, Modern, or Contemporary, this paint on the exteriors is bound to add an inviting, welcoming, and warm character to the facades.
You can either add whites and off-whites as an accent or go vice versa for the trims, moldings, and door and window frames.
And, don't hold back from using brown or Spanish roof tiles and natural stone wainscotting.
How to Best Sample This Color?

When it comes to colors like Balanced Beige, which can show in many different ways, you should definitely order a peel-and-stick sample from Samplize.

These folks came up with a genius way to sample real pain without having to go to the store, pick up a can, then paint it on.

For not much money you get a good sized square to put up anywhere in your house where you want to "try" on a paint color along with any possible coordinating hues you like. Love this!
So, how do you want to use this color in your home? Or perhaps, you can check out other favorite Sherwin-Williams Beige paint colors to consider mroe options.
Either way, you're not on your way, armed with lots of great knowledge on SW Balanced Beige.
Should there be any questions or thoughts, let us know in the comments below!