Grays have definitely become the "new-cool" of the era!
I have never known a gray that is not timeless, sophisticated, or magnificent.
For the past few years, grays have also been defined to be the utmost symbol of luxury, and flexibility.
When in doubt, grays are your answer!
Similarly, one such color I absolutely adore is Argos by Sherwin Williams.
Being a mid-scaled color with neither too dark nor too-light properties, it has slight blue and green undertones that can be easily identified if observed closely.
So, in short, it is a cool gray paint color with not many restrictions imposed.
You can use them absolutely anywhere in your homes and offices – as a base or a neutral.
Mostly, as bases!
These Walls make a perfect Transitional Design Style look
However, if you are looking to learn more about the color – I have listed down some basic information that is going to be helpful if you plan to choose SW Argos!
It definitely is stylish but on the other hand, has a few limitations that need to be taken care of!
Don't worry!
We have got your backs!
So, are you excited to know more about what this mysterious gray has to offer?
Sneak a peek below!
Sherwin Williams Argos SW 7065 Details and Specifications
Knowing the theory behind colors is important!
Remember, each color has a story to tell!
So, are you ready to dig into Argos?
Well, starting with the Light Reflectance Value (or LRV) of Argos is 51.
This value determines how light or dark the color is depending on the total amount of light reflected.
On a scale of 1 to 100 – 100 being the lightest.
So, extracting information from the above values, it is surely a given that Argos is neither too dark nor light.
And so, it doesn't restrict you from getting used to a single particular function in a particular space.
Want to try this color out without having to paint your wall? Use some nifty peel-and-stick samples: Pick one up now from Samplize!
Let us look at the other specifications for this neutral paint color.
RGB and HEX Values are as follows-
Red = 189
Green = 189
Blue = 183
HEX Value = #bdbdb7
I know this is all too scientific and you want to directly get to the point now! So, let's have a look at how the color affects your space!
How Does Argos Feel in a Space?
Argos is responsible for brightening up your space.
With a tinge of blue, green, and even silver sometimes, it is absolutely possible that the color gives your space a new look – every now and then!
This color acts as a perfect base in your room with slightly darker accents at some points.
You can definitely use this color if you are not looking for something as dark as SW Peppercorn or as light as SW Extra White.
And that is why I said that you are not restricted by any chance when using this color.
How Does Light Affect the Color?
Argos is another chameleon on my list!
Yes!
It does keep changing its looks based on surrounding themes and the kind of light falling in the space.
When used in North-facing rooms – Argos appears to be more silverish-blue due to the absence of sunlight!
Meanwhile, in the south and east-facing rooms, Argos may feel warmer with that bright touch of sunlight.
Similar is the situation with specific temperature lighting in home.
So, you need to be careful about what mood you want to set in your homes!
Warm whites and warm yellows are definitely more cozy while whites and cool whites are institutional!
As I already mentioned, do yourself a favor and get some wall samples to test out this color and any others. The stick-on kind are a no-brainer from Samplize, and will give you some answers ahead of time. Get yours now!
What are the Coordinating Colors for Sherwin Williams Argos?
Sarah from The Yellow Cape Code made a chevron design using the SW Argos paint strip
Choosing the perfect color to complement Argos could be daunting and challenging.
You need to take care of the complementary color temperatures and tones, tints, and shades to best choose the aligning theme.
You could either use the monochromatic or contrasting color theme to use the most of Argos.
Monochromes are quite trendy these days, so here are a few recommendations that you could consider-
Passive SW 7064
Gray Matters SW 7066
Tin Lizzie SW 9163
Keep in mind, if you paint the trims and moldings – go for SW Pure White (creamier look) or SW High Reflectance White (crisper look).
If you have a colorful spirit and you like several shades and tints in your home, go for a contrasting theme. The colors most likely to go with Argos are-
Natural Linen SW 9109
Cyberspace SW 7076 – see full Cyberspace review here
Rock Candy SW 6231 – see full Rock Candy review here
To make it easier for you, try to blend in the color with sage greens, whites, and dark greys or blues.
Now you see, it is really not that difficult!
Blending colors could be absolute fun too!
Sherwin Williams Argos Vs. Similar Colors
It is likely for you to find similar alternatives for grey!
Since grays are so timeless and due to their reflectivity – there are various shades and tints to be discovered.
One such common similar example is SW 7057 Silver Strand and SW 7653 Silverpointe.
Argos Vs. Silver Strand
Lighter and brighter than Argos, the LRV of Silver Strand is 59.
This is a neutral gray with slightly green undertones.
In ample natural light, depending on the surrounding theme and colors, Silver Strand may seem to be greenish!
Here is my complete guide on Silver Strand, if you want to learn more.
Buy some wall samples of each of these colors to easily compare them right in your home.
Argos Vs. Silverpointe
This is a perfect lighter alternative to Argos.
With an LRV of 64, this color seems white and silver when exposed to ample natural lighting.
It is crisp and clean, with a high neutral backdrop. Here is my review of SW Silverpointe to learn more!
I would highly recommend buying real-paint samples to examine the actual differences between the different paints.
See how these colors compare real time with stick-on wall samples from Samplize.
Where to Use Argos in Homes?
Argos can be absolutely used ANYWHERE in your home!
This color is highly suitable for design styles like Transitional, Farmhouse, Contemporary, Modern, and Coastal.
You can also use slight blues, sage greens, whites with this color.
Whether it's an entrance hallway, living rooms, family rooms, bedrooms, bathrooms, or kitchens – Argos is definitely going to grab the attention of your guests.
However, you need to take care of the color schemes of each space you plan to use it in.
While choosing colors, you also need to take care of the materials and textures!
So, are you excited?
Let's have a look at how Argos can be used in your homes!
Argos in Living Room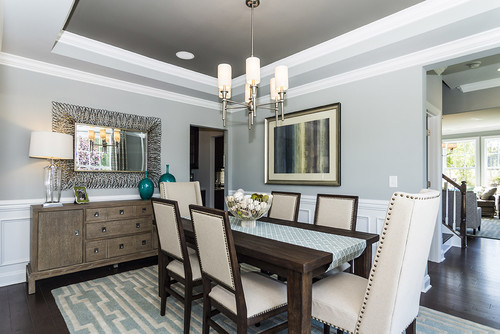 If you embellish Argos in your living room walls, make sure to paint the trims in SW Pure White.
You could either use wooden hardwood textures as floating shelves or as furniture frames!
While fireplaces are the focal points of the living room – you could either use exposed brick or glossy black marble to finish the fireplace area.
Your furniture could either be beige or white leather or fabricated!
Use patterned throw pillows to perfect the overall look!
Argos in Kitchens
White cabinets best complement the SW Argos as shown over at Troy and Lindsey's family blog.
Soothing kitchens are the best kitchens!
If you are planning to paint the walls in Argos, make sure to paint the cabinets white!
Use terrazzo or white marble countertop and silver or black finished hardware.
Argos in Bedrooms
Blogger Margauxs from Jolly Little Times painted their bedroom walls in Sherwin Williams Argos
If you want a cozy look, Argos is not a great option!
It has a crisp look, so if you are looking for a more tranquilizing space – Argos would be a great option!
Use a white sheepskin rug or patterned rug under the white bed frame for a perfect Argos look.
Argos on Exteriors
Like I always say, this color will tend to look even lighter and brighter in excessive natural light.
With asphalt tiles and shingles, this would be a great option.
Remember to paint the door and window frames in stark white paint!
You Should Order Samples of Argos
Let's face it, good paint isn't cheap. While painting is a relatively inexpensive, good bang-for-your-buck project, picking colors can be hard. You don't want to buy a whole can of something until you know for sure.
So together with the info here, you can literally "see" what this color will look like in your home before you commit.
Getting a peel-and-stick sample from Samplize is the best thing since paint rollers!
If you don't know yet, you can order a 12″ x 12″ square sample with the real paint color on it. Stick it on your wall multiple times and in multiple places to find out exactly if the color is for you.
So, are you excited to use this color in your homes? I am sure Argos would never disappoint you! It will definitely enhance your space. Let us know in the comments below about your experiences with Sherwin Williams Argos!