From neutral colors to bold accents, there are a lot of different ways you can spice up the mood.
And we've all had to struggle with paint options at some point.
It can be exhausting going through all the samples and swatches, but once you get your hands on the right color that makes your walls sing, it's all worth it.
In this post, I've gathered my favorite 15 modern basement paint colors, so you don't have to struggle!
Modern Basement Paint Colors to Die for
It hurts to see basements neglected in renovations or rush with paint jobs that are almost an afterthought.
Let's change that.
A basement can be a glorious space for any home. You can turn it into a game room, a home theater, a reading corner, or just a place to chill.
In any case, the paint choice can make or break the results. For instance, a fiery red can irritate your nerves, and an all-white can get dusty quickly.
So, let's go ahead and take a look at some of the best paint colors for finished basements:
Intricate Ivory
The peachy undertones in Sherwin-Williams Intricate Ivory SW 6350 can make a small, dull basement feel inviting and welcoming!
Plus, it has a semi-glossy finish that makes it resistant to staining and the persistent oil from handprints.
However, you might need to mask any imperfections on your wall before going in with the paint since the gloss finish highlights the problem area.
Cobalt Blue
If you're looking for something with a bold but friendly mood, you might be interested in Behr's Dark Cobalt Blue.
I always picture this shade of cobalt in a game-room where you'd expect to see a few young guys playing music on a guitar. It just has this electric vibe to it!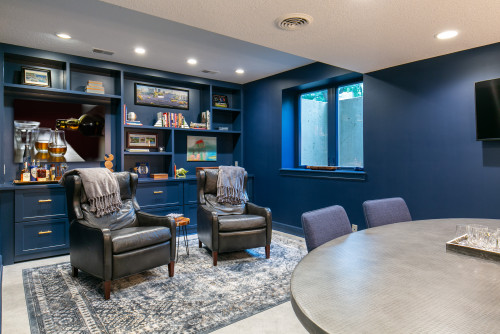 For accents and decor, I would recommend going for white and black with hints of yellow and any kind of teal color to keep it light-hearted and fun-looking.
Gentleman's Gray
Another contemporary option that I love seeing in basements is the Gentleman's Gray 2062-20 by Benjamin Moore.
Unlike the vivid cobalt blue, this shade is much more muted and mature-looking, all while maintaining a bold twist.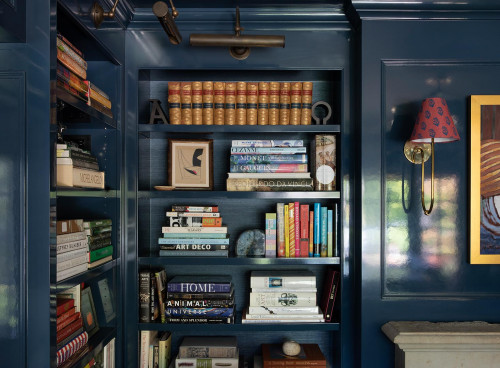 With this shade, you can turn your basement into a corner for me-time with a cozy armchair, some warm lights, and your favorite books.
Afternoon Yellow
When people think of yellow walls, the first thing that comes to mind is probably a vivid color that would be hard to look at.
But that's not the case.
The Afternoon 6675 by Sherwin-Williams is bright but not offensively luminous. In fact, it has almost a hint of calming marigold.
But that's not even the best part!
What I like about this wall paint is how it could give the illusion of natural light, even in a dim basement.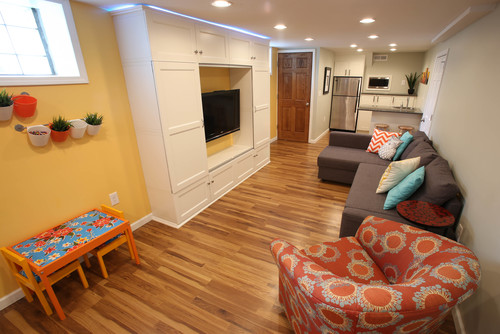 Rock Garden Green
This rich shade reminds me a lot of Valspar's Deep Green Sea. However, for a basement, I'd go with the Sherwin-William Rock Garden SW 6195.
Here's why:
The Valspar one is a tad bit more vibrant. In a basement, you probably want to take it easy with the vivid bare walls.
You can see why this dark shade works particularly well here. This lake house basement has a lot of space, and the hardwood floor is perfectly warm.
London Clay
The London Clay No.244 is one of the warmest browns I've ever seen. It's almost like a milk chocolate finish.
I'd use this shade any given day to make a narrow space feel cozy with a subtle hint of quirkiness.
Take a look here:
With just the perfect splash of color blended in with whites and light tans, you can give your small basement the illusion of natural light.
Mellow Coral
If you want to try out the millennial pink vibe in your basement, the Mellow Coral SW 6324 by Sherwin Williams might be just the thing for you.
I get that it can sound way too girly, but once you get the accents right, it's one of the best paint colors for finished basements.
Take, for instance, this combo:
A fresh pink wall, luscious cream white carpeting, and dark brown fortunate with delicate artwork. Almost divine!
Space Black
It's not Benjamin Moore's darkest shade of black, but it's cool-toned and timeless. Even the name sounds cool!
If you're feeling a bit edgy, you can try a black and white moment. After all, it's one of the most modern basement color schemes.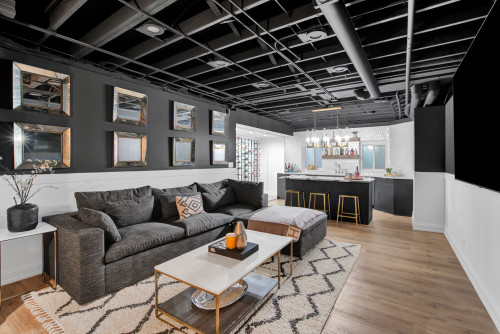 Do you feel even edgier?
I'd say go for all black walls, but you'll have to get creative with the lighting to make it work.
BM Wrought Iron and BM Soot are also worth checking out if you love this look!
Graphic Charcoal
I like to call Farrow & Ball's No.500-6 wall paint the "Glam Gray" because of how luxurious it feels. Of course, you need to top it up with the right accents before you get the best out of it.
Let me explain:
To break up the dark gray, I'd recommend using tans, soft gray, and eve browns, keeping everything stripped back and modern.
However, I'd throw in a vivid yellow or sky blue accent here and there.
Showing off your personality in small but bold items is a neat trick that works for most modern basement paint color ideas. Give it a shot!
Passive Gray
If the charcoal gray is too much for you, I'd recommend soft shades like Sherwin-Williams Argo SW 7065.
Light gray is one of my favorite modern and popular basement paint colors.
So, what's the secret?
This shade just looks so effortlessly tasteful. You don't have to do much in terms of decoration or lighting to tie it up.
Strong White
If you're looking for hassle-free modern basement color schemes, the Strong White No.2001 by Farrow & Ball is just what you need.
"But white paint is bland and lacks creativity!"
Let me change your mind:
Because it's a gray-based cool white, you can pair it with darker shades of gray and light tans. This works particularly well if you have a small kitchen in your basement.
View this post on Instagram
Doesn't it just make the corner look neat and crisp clean? That's the modern Strong White for you!
Lullaby Sky Blue
For a vacation home basement, I always try out coastal colors, and nothing says earthy sea colors like Sherwin-Williams Lullaby 9136 or Sea Salt from Sherwin-Williams.
It's somewhere between green, blue, and gray. However, it still manages to look fresh and not muddy.
How can you look at this perfect shade and not feel like there's a cool breeze bowling across your face? It's just the dreamy coastal vibe you've been looking for!
Skimming Stone
I've worked with people who wanted their basements to be a safe spot, calm, comfortable, and sleek.
If you're one of those people, here's my tip to you:
Try out Farrow & Ball Skimming Stone No.241.
View this post on Instagram
It's the epitome of modern basement color schemes. It's warm, goes well with a variety of colors, and radiates comfort!
Copper Mountain
If you're the type who stacks their walls with bookshelves, memorabilia, and pictures, you might want to try out a rustic vibe with Sherwin-Williams' 6356 Copper Mountain.
It's not exactly brown and not all the way orange, either. It has a copper tinge that adds more mystery than coziness, but I love it anyway!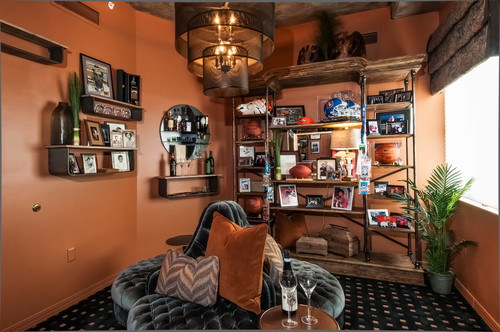 Here's the best part:
Dust will hardly show up on these dark-colored walls!
Dinner Party Red
It's true that fiery red evokes excitement and amps up the energy of the room.
But check this out:
If you go for a warm shade, like Benjamin Moore's Dinner Party, you can go red without overdoing it.
If you go for teal accents, you can make any old reading corner pop!
Final Thoughts
It's hard to say that one color would work best for all basements.
All in all, I'd say you wouldn't go wrong with any of the 15 modern basement paint colors here.
However, I do have a soft spot for the soft grays purely because of how they light up the space and make it seem roomier!