When Christmas comes along, there's a flurry of shopping to be done. But there's one thing you don't have to buy that you can design and create yourself: Christmas table toppers.
There are plenty of ways to jazz up your table during the holidays.
With a little inspiration and creativity you can find your unique style to adorn your dining room table for your guests throughout the season and your special company for Christmas dinner.
To help get you started and stoke your creative fire, we've put together a list of the best Christmas Decorations for tables.
1. Reds and Pinecones Table Setting
Red colors are often correlated to Christmas themes for one, because it's worn by Santa Claus. Why not extend the magic of Christmas to your table by adding red berry wreaths and some bleached pinecones?
The idea is ideal if you have a lot of pinecones in your backyard or around where you live. You can make it a family event on who collects the most pinecones in one outing.
2. Mason Jar Illuminaries
For those of you that enjoy mason jars, here's how you can use them for decorations rather than food storage. This is very simple, but you may want to do this project on your own rather than with your children.
With some tea lights and a hot glue gun, your mason jars will transform into a bright luminary.
Adding pinecones adds to the decoration's general charm.
3. Rustic Garland Setting
Visit source: laurenmcbrideblog.com
This takes the classic twist of the pine wreath. Using a pine garland, you can change your table into a rustic, winter dream. You can decorate the garland with some white candles and silver candlestick holders to give it a woodsy vibe.
Aside from that, you can add some wood blocks to add to the rustic theme of your table. Choose silver linen to complement everything.
4. Musical Christmas Tree Toppers
Visit source: lyckoslanten.blogspot.com
This idea is sure to play your heartstrings. If you are fond of sheet music and have extra sheets that you don't use anymore, you can turn them into musical sheet trees.
By cutting the sheets into triangles and putting them through a stick, you have mini Christmas trees!
Aside from that, use these as name cards for your table if you're hosting a dinner party
5. White, Silver and Blue Themes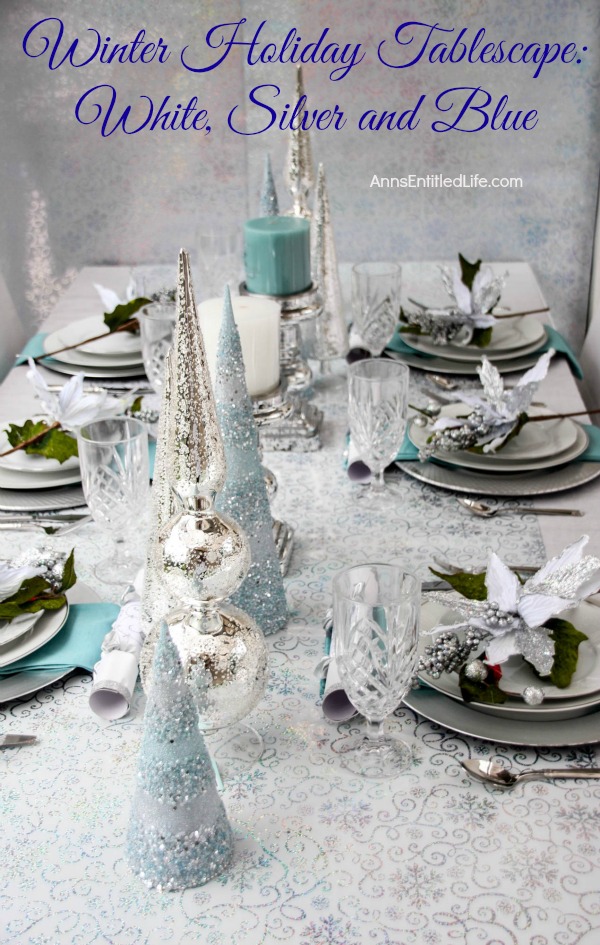 Visit source: annsentitledlife.com
If you want to deviate from the classic red, green, and white themes, then you may enjoy this idea. It's a little more gloomy and subdued than the usual themes but it is beautiful in its own way.
Aside from that, you can enjoy it as it resembles the atmosphere of winter.
Warmth is usually associated with red and green, but cool tones are adequate enough.
6. French Finishing Touches
Visit source: frenchentree.com
For this idea, we go to a more simple yet stunning theme. Focusing on silver and white tones instead of too many colors. Sometimes, with a few silver candlesticks and white napkins, you can have a minimal, yet elegant centerpiece.
The great thing about this idea is that you can add your preferences. Everything you add will show a little more of what is to display.
7. Cozy Centerpieces
Visit source: lizmarieblog.com
When it comes to Christmas, sometimes a cozy atmosphere is better than anything money can buy. Sure, elegance is something to be desired, but there's nothing like the coziness of family.
By displaying some old mugs, and some pine wreath pieces, you can create a quaint design with minimal effort.
In fact, decorating your tables don't have to be grand affairs with expensive Christmas table decorations.
8. Vintage Centerpiece
Visit source: vintagesparklechic.blogspot.com
Nothing quite beats the vintage atmospheres. That's why most cafes enjoy putting eclectic pieces because it spurns something different. In an era of modern and sleeker designs, we suppose it's a need to be fulfilled.
Aside from that, vintage themes have brought itself back into the recent trends. More and more people of this age are using vintage items to fulfill a need for desired effects.
9. Wine Bottle Christmas Lights
Visit source: blogyourwine.com
If you are fond of having a glass of wine, then you may enjoy this idea. You can now repurpose your empty wine bottles into Christmas decorations. The great thing about this is that it looks elegant with only a few fairy lights.
Using mini fairy lights, you can illuminate a bottle to give it a whimsical vibe. The great thing is, it won't cost much.
Conclusion:
Christmas decoration is always fun, whether with family or alone. One should never have to go without Christmas decorations. Sometimes, even doing the simplest decorations can bring out the best in people, and even cheer their spirits a bit.
If you're ever in need of some cheering up, then maybe it's time to do something new. Especially, if you are just the type to purchase centerpieces, try to make your own and see what you come up with.
We only wish that you would enjoy yourself, which is why we compiled the best Christmas decorations for tables.