With the right combination of design elements and style, you can create the most exciting spaces. Enticing home interiors usually have a unique concept, and they focus on color, shapes, textures, and framing.
Bold home interiors create harmony within the seemingly tangled mess of ideas.
Before you try to incorporate a design in your home, consider your house's size and bring in accent colors that pop up the look.
Use a suitable pattern to blend all the elements in a room; you can also add a patterned rug and a statement furniture piece to make it look bold.
Do proper research and identify colors and themes for each room before getting on with the home interior. Pre-planning saves a lot of time and makes it fun to get on your project.
Here are some unique and bold ideas for home interiors:
1. Add A Bold Feature Wall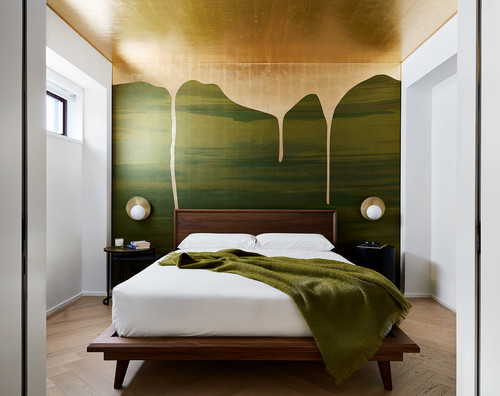 Creating a bold feature wall brings a wow feeling to your space.
Bright flashes of colors are a good pick for the background wall; create contrast or neutralize the area by placing neutral furniture around it.
If you are not a fan of fluorescent accents, go for a darker tone.
Adding a patterned wallpaper makes it bolder. Be careful with picking the decorations that will go in the room and focus on creating a balance in your bold designs.
The feature wall will only look good if you give equal attention to the room's décor and furniture. You can also hang large-sized mirrors, bulbs, or a custom map on the feature wall to create the maximum impact.
You can match your map with the wall or choose a contrast color to bring depth to space.
2. Give A Unique Treatment To Your Windows Doors And Stairs
Lighten up your home interior by paintings your windows, stairs, and doors in captivating colors.
Give some life to your stairs by painting them; you can use a pattern for the stairs too. A bold space boosts your mood; people often refer to their favorite colors as happy colors.
If you have a happy color, you can integrate it into your windows. You will find several window treatment options in the market.
For a bold front door look, you can paint it a unique color and hang a small bell to highlight the door even more.
3. Mix And Match With Colors
For a small space, buy floor cushions in different colors; do not shy away from mixing colors. Colors are fun to play with but retain the room's balance, and add a darker tone central table or side table with it.
It is always about creating a visual treat; you can do the same for your dining chairs. In the dining area, get the dining table and chairs that complement the wallpaper or paint.
Keep the color proportions maintained and do this in one room only. Repetition becomes boring, and bold home interiors look great when each room has a unique layout.
4. Go Monochrome
For some, bringing multiple color themes to their homes is overwhelming. Suppose you are one of them, then try a monochrome look for your living room and bedrooms.
Monochrome is not limited to black and white alone. A perfect scaling of any two colors and shades brings out the best monochrome feel. A monochrome setup always looks sophisticated and bold.
You can also pick your monochrome color type that complements your floor. Select some dark color over-sized furniture for a large living room and install a chandelier to make it more attractive.
5. Add Some Artwork
Art enthusiasts love to purchase artworks from all around the world. You can encourage your local artists by buying their art pieces now and then.
Make a collection and put it on display; a customized shelf will look stylish with all your art and souvenirs on it. You can create bold art wall; select your best landscapes, portrait, or memorable pictures, and get prints in massive sizes.
It is better to consider the size of your house before getting photos. In some areas, a collection of small images will look much better than big prints.
Use diagonal lines while hanging the frames; photographs of animals and birds are an excellent idea if you want to do something out of the box.
6. Install Unusual Hardware
Any hardware piece that accentuates your current color palette and décor is an excellent way to ignite the bold theme.
Look for these pieces at a local market; online shops also have a wide range of unusual hardware. Do some homework before planning to change your home interior to a bold concept.
Visit antique stores to get the thing you have in mind.
7. Consult A Professional
It is tempting to think about a bold design, but the execution is not that easy.
If you have plans for a big project, then consult a professional interior designer to decide about the color dynamics and ways to bring vitality to your house.
Give the designer a house tour and ask for ideas; it is better to ask questions instead of a weak concept. They will carry out the work efficiently and quickly.
The Final Word
Interior designers pay close attention to design elements while creating bold home interiors.
With the right usage of colors, shapes, and patterns, you can also bring a bold look to your home's interior.
Theme walls and other home interior ideas go in and out of style, but you can always get an old-style to life by putting in your creativity. Paint your windows and doors in a color that does not look subdued.
Bright colors bring a comfortable feel to your home; create a mix colored dining space or a floor seating with contrast cushions.
Create a dark outline for your broken and rough-looking window frames.
Bold designs require risk; people feel uncertain about doing the needed changes because they do not want to mess up. Bold designs and interiors are beautiful when you keep a balanced look throughout the house.