New Year's will be here before we know it. We all look forward to it, and it's a moment of excitement around the globe. People gather with their family and friends and welcome the dawn of a brand new day on the 1st of January.
Everyone gets ready with renewed decisions and spirited energy for the next 12 months. Parties are organized with food and drinks and a lot more fun…
But what about decorating your house for the all the excitement?
Are you planning to keep your Christmas ornaments up till the New Year merriment cools down?
Well, you don't have to when there are innumerable ways to have different decorations for New Year celebrations without spending a lot of money.
Try out some of the best décor ideas for the New Year's Eve Celebrations:
1. Confetti Fun
Visit Source: studiodiy.com
Do you have some balloons left over from Halloween or Birthday parties? Well, here's how you make the best use of them.
Simply cover the lower part with decoupage glue and dip into a bowl of confetti.
Make bunches of these and celebrate in style.
2. Wall Haul
Visit Source: weebirdy.com
Bare walls can be the biggest turn off in decking up for celebration, but how can we cover a big surface in a low budget.
Here's how: collect card and paper of different colors, cut them into perfect circles and stick them on to the wall using Blu-tack.
You can follow any pattern according to your imagination and fill the wall.
3. Cube Lights
Visit Source: witandwhistle.com
Lights always add a special beauty to any decoration.
Try this simple DIY by WitandWhistle to make paper cube string lights.
If you have is some paper and a little bit of patience, then you'll have the best string lights for New Year's Eve party.
4. Pom Pom
Visit Source: marthastewart.com
Hanging décor always catches some eye.
So how about making it all DIY? Some tissue papers and scissors with few hours can give you eye-catching pom-poms floating in the air.
You can get the step by step making from Marthastewart.
A. Centre Splendor
Visit Source: lilluna.com
The centerpiece is something that has a lot of importance in all decorations.
In New Year's Eve décor, it is generally the particular New Year that is being displayed.
There are a lot of innovative ways to display it but here's a super simple idea. Get a plastic planter box and paint in any of the metallic colors.
Place floral foam inside and fill it box with ornaments and beads that are mainly silver or gold in color. Now cut out the numbers from a chipboard and glam it up with some glitter.
Attach them to thin sticks and push them into the foam inside the box. There, you have your centerpiece done!
5. Lantern Love
Visit Source: twodelighted.com
Let's create a glittery lantern to be hung for the New Year's Eve festivities.
Cover a round white paper lantern with any color glitter of your choice with the glitter glue and let dry.
Hang them with a string and let them float with all glam.
6. Walk Back The Memory Lane
Visit Source: carlaaston.com
If you're arranging a family gathering and wants to take as a time to reminiscence the past year with everyone, here's a good décor for you to try out.
Gather all the photos you can from the year and take prints of them.
Fill some balloons with hydrogen and attach long tapers to them.
Punch a hole in the photos and tie them to the end of each taper.
Arrange these on the roof above the corner of gathering and let everyone go on a walk down the memory lane.
7. Special Ball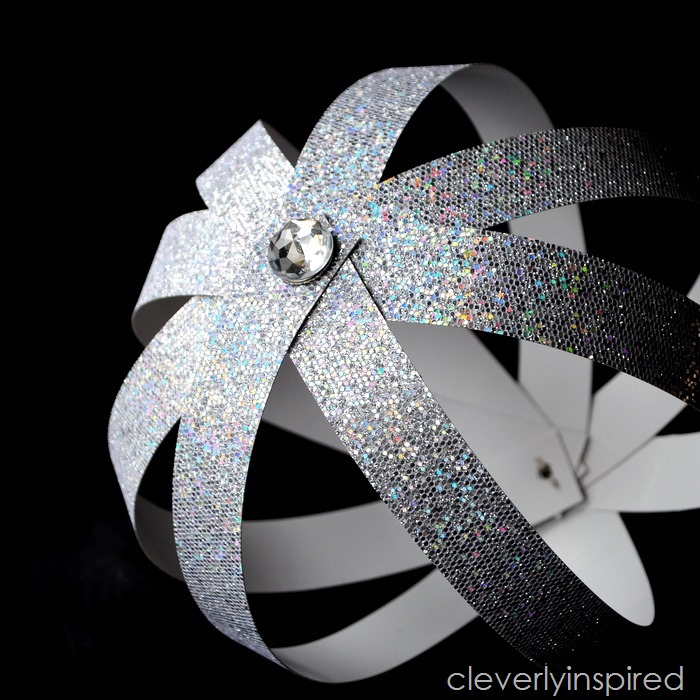 Visit Source: cleverlyinspired.com
Cleverlyinspired has done some real innovation on the balls that can be hung around for the party.
A little DIYing for a really special addition to your New Year décor items.
8. Tassels Are Sassy
Visit Source: lifelovelarson.com
Tassels are a real sophisticated décor item which finds its way to all occasions. Buy some cheap tissue of any color other than white. Get about 3 different shades and start off.
Fold the paper into two halves lengthwise, then widthwise and repeat until you get a rectangle. Now make small strips with scissors and leave some space from the top. Once you open the folds, you have the material to make tassels.
The uncut middle portion is rolled up and tassels are complete. Attach several of these and deck up.
9. Garland Glam
Visit Source: liagriffith.com
Garlands are an important part of many festivity décors.
Liagriffith gives us an amazing tutorial for creating a very classic garland.
Hang them on a dark painted wall and see the magic work.
10. Blow-up Time
Visit Source: thesuburbanmom.com
Coming to the end of the article let's save some fun for the tiny tots.
Make them blow-up the balloons, in this case, we need only twelve.
Stencil cut the numbers from one to twelve and stick them on to the wall in order, adjusting the heights.
Cut out some clock handles from black card paper and stick them in the middle of the balloon circle.
You've got your balloon clock done!
11. Pinata All-time
Visit Source: ohhappyday.com
Pinatas can be real fun décor items.
This moon piñata by ohhappyday is a real sight to see.
It gives a truly magical look to the entire room and changes the mood into a wonderful boho feel.
12. Time's Up
Visit Source: decortoadore.blogspot.com
We all wait for the clock to tick and tock till midnight and them all hell will break loose.
So, clocks are one of the most important things in a New Year party.
Why don't we decorate with some mock clock? Take printouts of clock faces on hard paper and hang them from long strings after sprinkling some glitter on the prints.
What's more expectant than all the clocks hung from the roof?
13. Marquee Mark
Visit Source: allthingsthrifty.com
Let's wind up with a message of the need for upcycling by trying out this gorgeous marquee for your home this New Year's Eve.
Check out Allthingsthrifty and get to crafting.