Nowadays, fireplaces can be more of an ambient décor rather than their function of warming up the room.
Most people have replaced the traditional fireplaces with central heating systems but the originality of the old hearth can never be substituted.
The design of each fireplace decides their efficiency in giving out heat, besides their ability to give a complete makeover for the entire room.
People take utmost care in setting up fireplaces in their homes and each and every part is particularly given attention when being designed and built.
Most importantly, we try to make the mantle, header, trim panels and legs which are mostly adding to the entire décor of the room it's placed in.
We have tried to list out some of the best fireplace ideas for you to try out in your beautiful home.
1. Back to the 70's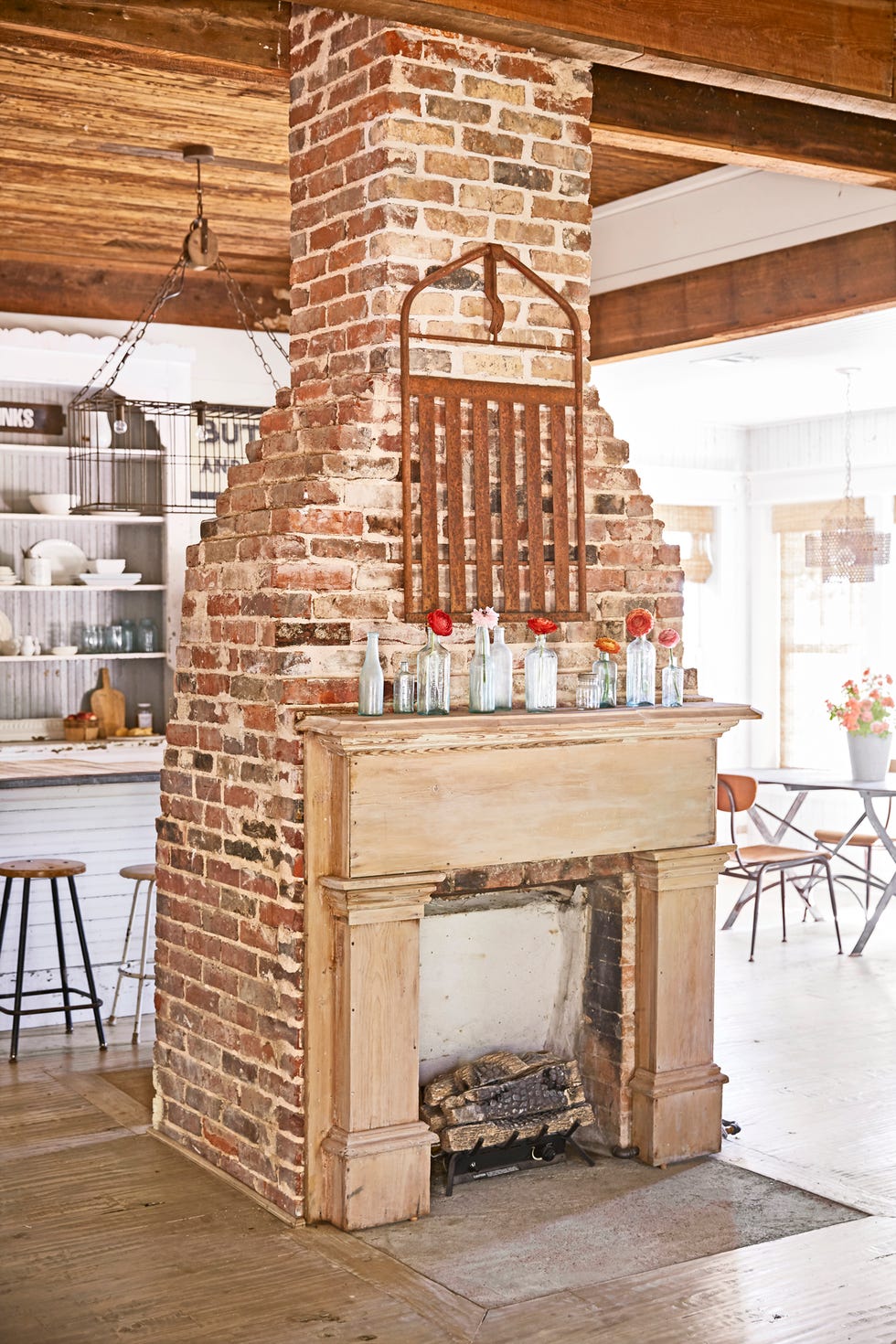 Visit Source: countryliving.com
Let's start off with the traditional design of the fireplace.
This structure will mostly be placed at the centre of the room. Both sides of the entire design are exposed, including the smoke chamber and flue. It's completely made from kiln bricks, giving a rustic look.
Lately, we see a trend among people to select and buy old farmhouses or country homes and transforming them into beautiful and elegant living spaces without renovating much in the original structure.
Its mostly in these cases we see this kind of hearth. In-country living-texas-farmhouse-renovation, we get to know how a couple unearthed the admirable hearth and kept it intact in the original shape and style.
They added a matching similarly rustic looking mantel and embellished the stone build up with more ornaments and catchy pieces.
2. Words are Fire
Many people discard the fireplace at their homes after a while.
It remains bare and unused giving a home to spiders and such.
Why don't we use it more wisely? Converting it to a book stack space and giving you a better access to your little library.
If your fireplace is in the living room, it can also be used to stack up newspapers or magazines in order.
You can innovate the place as and how you wish.
3. Header Art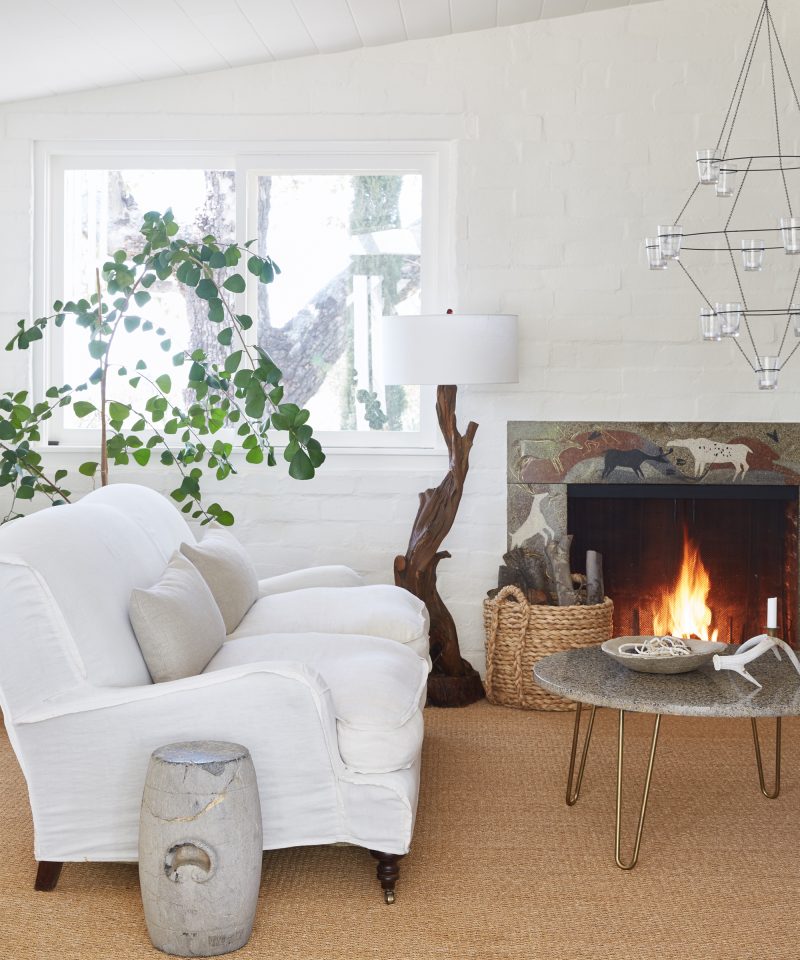 Visit source: jennikayne.com
The header and legs of your fireplace can be made into a stand out indoor décor by using designer tiles or granites with noticeable artwork.
Be sure to make it in contrast to the colours added to the walls and give a worthy sight to look at.
A rough earthy design will surely go hand in hand with a subtle paint on the attaching wall.
If you are a minimalist in adding ornaments to your room, then this can be the perfect design you can come up with, for your fireplace.
4. Low and Light
A fireplace that is designed to be placed in the lower part of the main show wall pillar can be the most attractive part of the whole room.
This can be bordered with a mellow blue tile on the sides and at the bottom add a darker shade of blue.
If the hearth or the floor that projects out into the room can be a bit more raised than the normal pattern and used to place a vase with suitable coloured flowers.
The mantle can also be designed in a different way, such that it surrounds the whole pillar and holds collectables like authentic candle stands or porcelain ornaments.
5. Candle Cuddle
Visit source: forthehomenews.blogspot.com
Filling your fireplace with fire, but not in the traditional way can be an idea to consider.
Let's gather some beautiful candles of variant sizes, light them up and keep them inside the firebox making them look like a group cuddle.
This will fill the room with the warmth and light like in the old days but in a much simpler and quicker way.
The choice of white candles will add to the beauty but make sure you arrange them in a cosy pattern.
6. Stunned By Stone
Stone walls and designs are finding their way into the modern day architecture. 'Ancient Art of Stone' is a company headed by a couple, creating real stunners with stone art.
They take up commissioned works and do their magic in giving life to your ideas.
Their works give in us a feeling of living in the enchanted land of elves and hobbits.
7. Wood For Life
We know how wood relates to a fireplace, logs being torched to create the original fiery fire blazes.
What if we use the same material to design the structure and create a wonderful space for the family to gather around? Aged oak wood panels can be made the perfect ingredient for this makeover.
Cut them into different odd sizes and paint them with wood Gel stain of variant shades.
When they are dried, start nailing in a pattern around the firebox and in all the areas that you want them to be.
8. Magnifico Italiano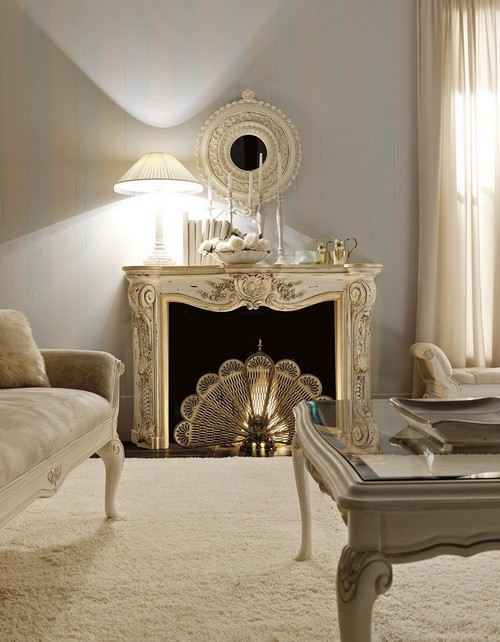 Visit source: houzz.in
Adding a touch of Italian design to your fireplace brings a real royal look to your room décor.
You don't even need to add get a fire going to make the structure stand out from the other additions in the space.
This will look best if the main shade in the room is light and creamy.
A mantel chipped paint and floral design from the past is a perfect embellishment to the fireplace as a whole.
9. Airstone Wonder
Why don't we get some DIY in giving a real makeover to your brick fireplace and turn it into a super awesome stone fireplace.
This is a way to reduce the budget of assigning the project to a professional team and making them give life to your imagination. AIRSTONE needs no complicated tools or mixing.
You don't need to be especially talented or skilled in the work. Airstone is ultra-light and you can choose any preferred colour for the makeover.
The additional ingredient you would need to buy is an airstone adhesive. Get a hacksaw, putty knife, some wet rug, warm water and a pencil to mark the correct positions.
The airstone even lets you choose the different edges to be seen on the fireplace. Make the stones acclimatised by removing them from the box.
Mix the shades and edges to give a realistic look. Stack them in a pattern and cut away the edges as and when necessary.