It's the season! Jingles and carols are filling the air with peace, joy and merriment.
This is also the time to give our homes a true makeover, inside and outside. Embellishing the existing décor with extra additions or changing them completely to give a more Christmasy feel.
Most of us settle with a collection of Christmas decorations from previous years.
These can be used to reduce the expense of each year's fancying up but the novelty factor wanes with each year of repeated use.
To avoid this we can put a little effort into creating some DIY Christmas decor items and give a crisp new look for our decorations.
1. Setting The Table Right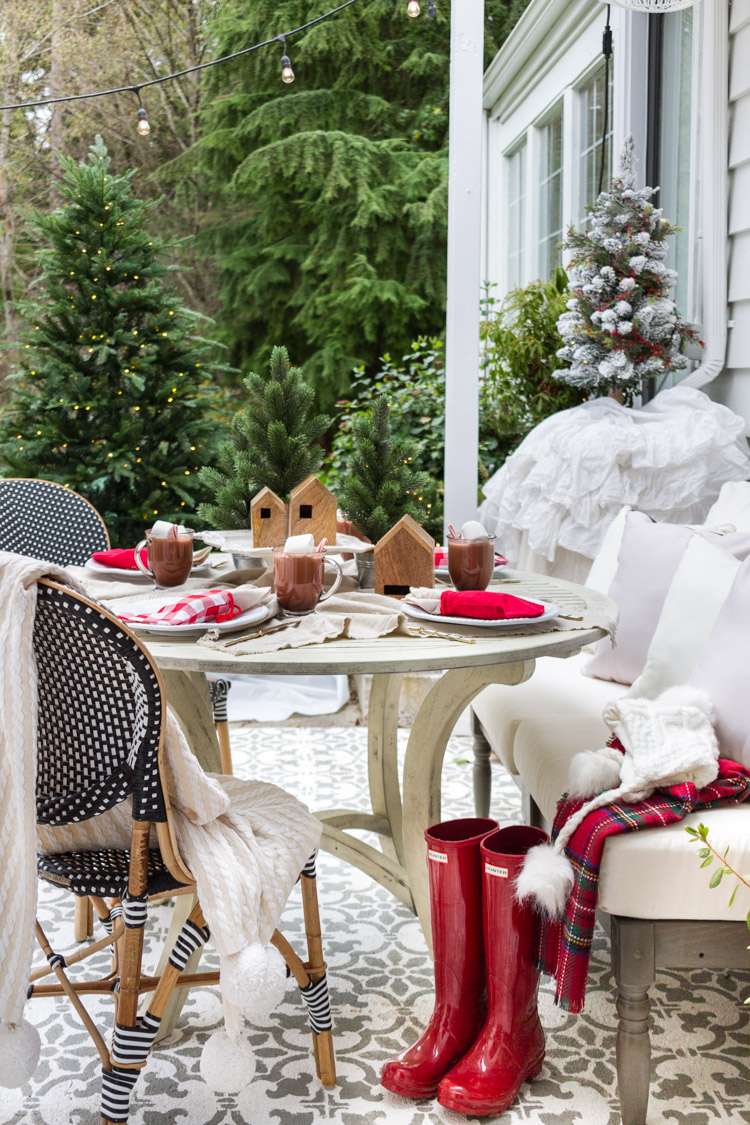 Visit Source: zevyjoy.com
When the snow is filling the porch but you want to simply sit out and enjoy it with some hot cocoa, this is a great way to design your experience.
Arrange for a rustic round wooden table with some comfy chairs and sofas around them.
Arrange the table top with red and green checkered clothes or simple cream colored table covers.
Set them with certain ripple patterns for a more homely feel. Grab some Christmasy stockings to hold the napkins and cutlery.
Place some tiny trees for some green glow and create a backdrop of fairy lights. Grab your drinks and cuddle around talking or simply relax in the fresh air.
2. Double the Fun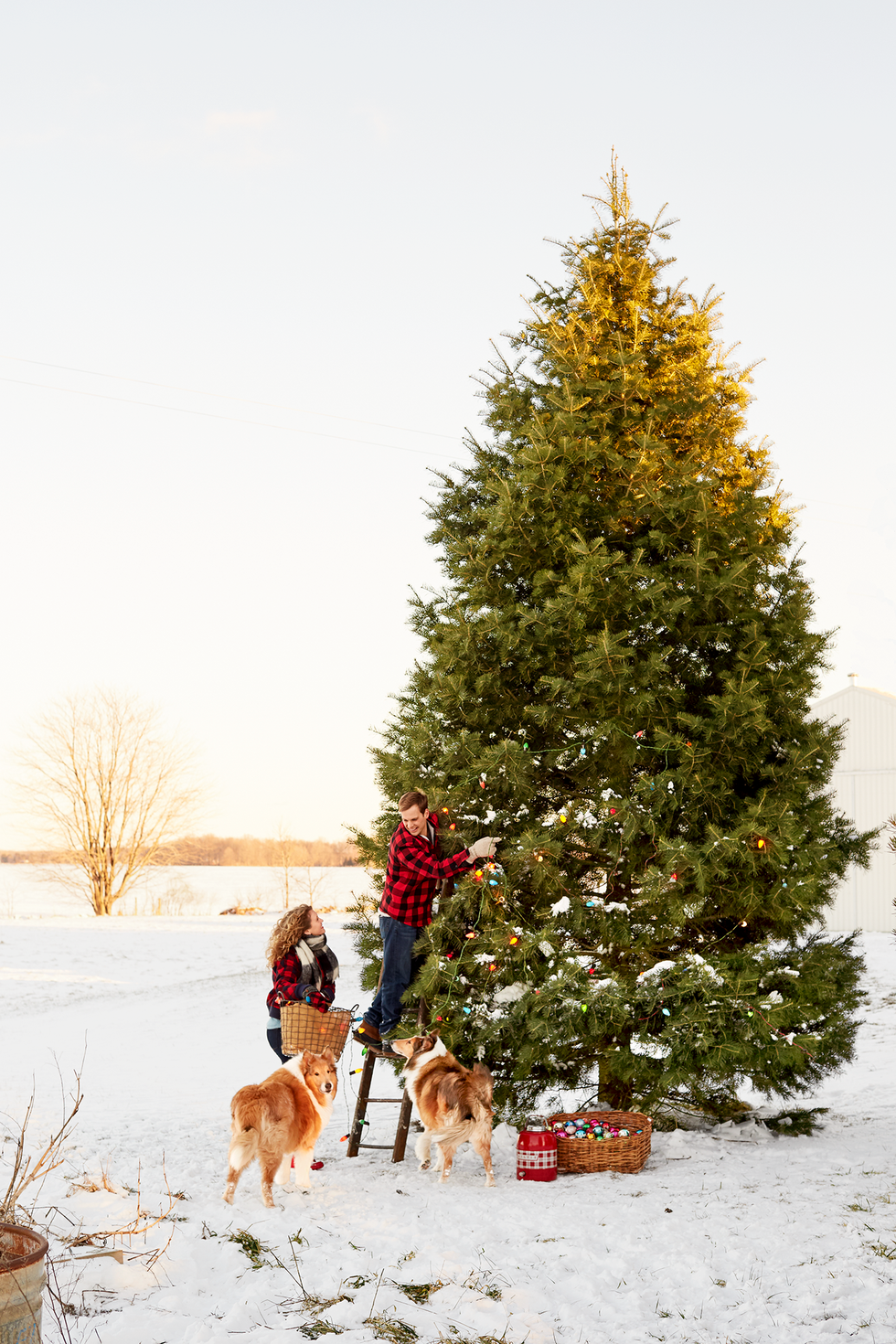 Visit Source: vintagesparklechic.blogspot.com
In addition to the tree you keep indoors, deck up one more in the outdoor among the snowy grounds.
Choose the biggest tree you can find and adorn it with little lights.
Try keeping the ornaments to the bare minimum and let the green be seen.
3. Wood's Good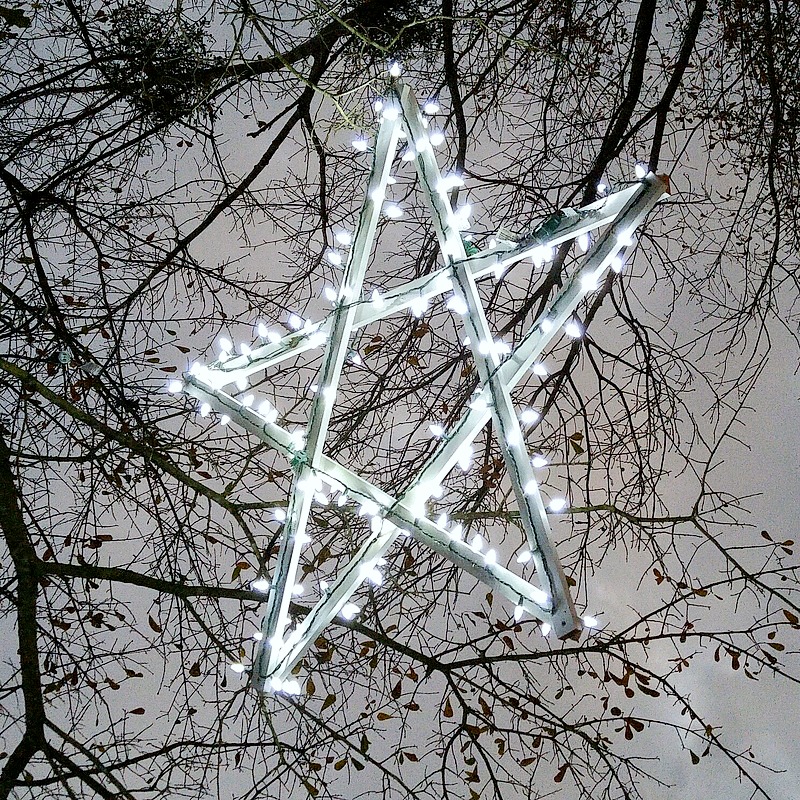 Visit Source: dukemanorfarm.com
Stars are one of the prime Christmas ornaments. Making wooden stars are super simple yet they can be so much fun.
Get some pine boards in the size of the frame you wish to make.
Wood screws, staple guns, lights and wire to hang the stars. Get the frame done by arranging the wood pieces correctly and staple them together.
Cover them with lights and hang from trees.
4. Sign In-Line
Visit Source: fynesdesigns.com
Making a signboard with the season's punch words is a way of decking up for the festivities.
'Joy' is a word that shouts Christmas from all sides, so let's see a small DIY with it.
Get a good backdrop to arrange the letters and carve them out from wood.
Paint them and hang up in order. Instead of simply spelling it out, embellish the 'O' by adding a wreath in its place.
5. Dearest Reindeer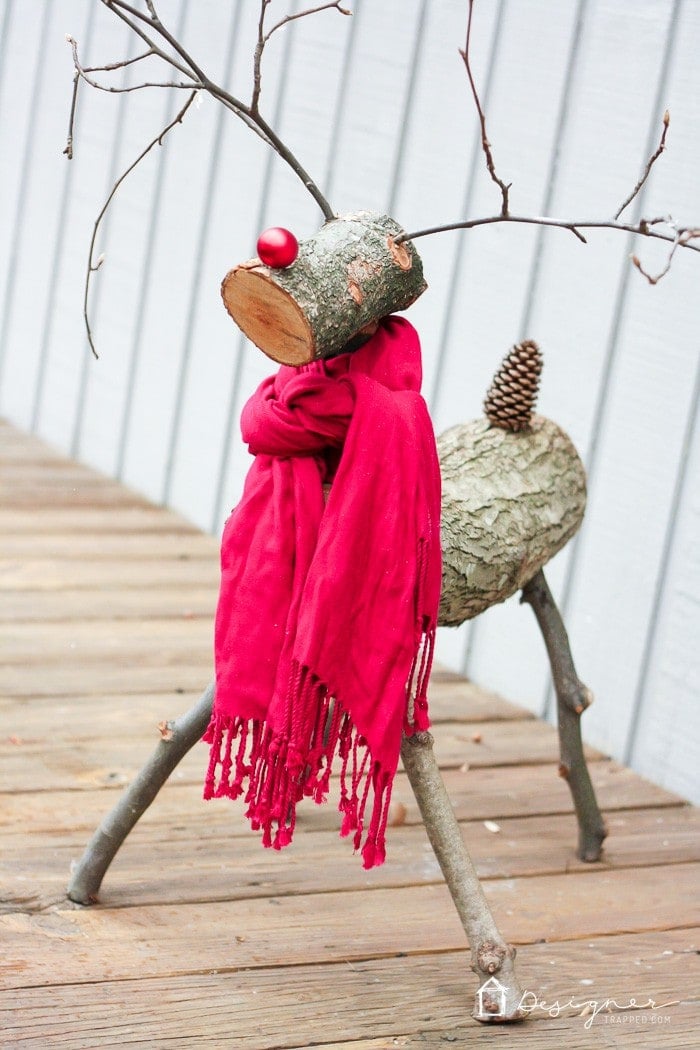 Visit Source: designertrapped.com
Rudolph is a character who will always run into our mind when we think about Christmas jingles.
How about making a herd of wood-deers for the season? Designertrapped has published a detailed tutorial for you to make your own DIY reindeer to decorate the snow-filled front yard.
The materials used are all easily available and environment-friendly. So get to DeerIYing!
6. Tire Try-Er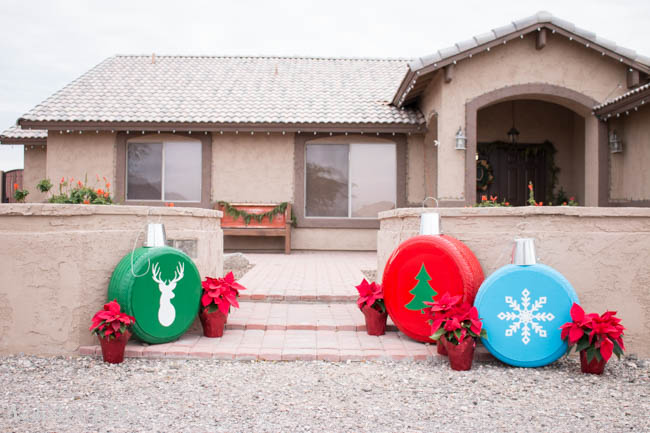 Visit Source: addicted2diy.com
Looking for some giant ornaments? Here's a way to change the old discarded tires lying around to giant colorful pieces. Cut plywood in the shape of the tire ring and attach to the front side.
Apply nails to keep them together. Paint the tires with your choice of color and in the end, draw desired designs on the plywood with white paint and stencil.
Get galvanized without their handles and add a wire loop to make it look like a Christmas ball with the hook. Keep the final product outdoor and add other ornaments.
7. "S-NO-MAN"
Visit Source: colorcitos.wordpress.com
A big-bellied snowman with a long carrot nose and round black eyes is a real treat for the eyes.
Here's an easy way to make a special snowman with reusable plastic cups.
You can complete this with the help of the kids. Telling them to collect used cups thus cleaning the surrounding. Add lights if you want him to glow.
Try Colorcitos and have fun.
8. Sweetened-Up
Visit Source: smartschoolhouse.com
With some paper plates and some paint, we can make some giant lollipops to be placed outside as décor.
Paint the plates in the common lollipop patterns more with red and green.
Attach them to wooden dowels and cover them with cellophane papers at the top and tie it with a red ribbon. Behold! The sweet ornaments are ready.
9. Get Junky
Visit Source: thecozyoldfarmhouse.blogspot.com
Thecozyoldfarmhouse has really cool ways to reuse some old junky items lying around the house.
See how she made faux berry vases from water sprinkler and leather boots.
Using the old number plates and soda crates added to the urban feel of the décor. Feels like a cowboy neighborhood during Christmas.
10. These are Sno Balls
Visit Source: cottageintheoaks.com
Faux snowballs are really fun to make and use. Styrofoam balls in various sizes are smeared with Snow-Tex.
These are then left to dry for about 24 hours. Transfer them into a basket or container and keep for display.
Make the balls realistic by the nonuniform spreading of Snowtex.
11. Jingle All the Way
Giant silver bells with a red ribbon bow hanging near your porch door can be the most Christmassy décor of the entire season.
Just get some inexpensive plastic flower pots and drill a hole in the bottom. Now paint them silver and let dry. Through the hole, push in a screw eye and jam it from the inside with a nut.
From the nut, tie a string and hand a red Christmas ball. Finally, make a big bow from the red ribbon and attach it to the top of the pot to cover the screw eye. Arrange the bells into bunches and hang them from where you like.