You must really have an eye for detail to love a paint color like Benjamin Moore Wickham Gray.
Yes, unlike the other serene colors – this one is purely soft and admirable.
It just feels so calm and peaceful and ultimately, makes you want to love each and every aspect of it!
And trust me, once you have it up on the walls – you're going to incorporate it more and more.
Whether it's the furniture, walls, or the built-in shelves – this paint color will make you feel motivated and positive at all times.
Keep in mind that you will never get bored of this paint color. Yes, it's absolute bliss!
Although there are a ton of other serene colors on the palette – this is something you will never regret.
So, are you excited to know what this paint color has for you?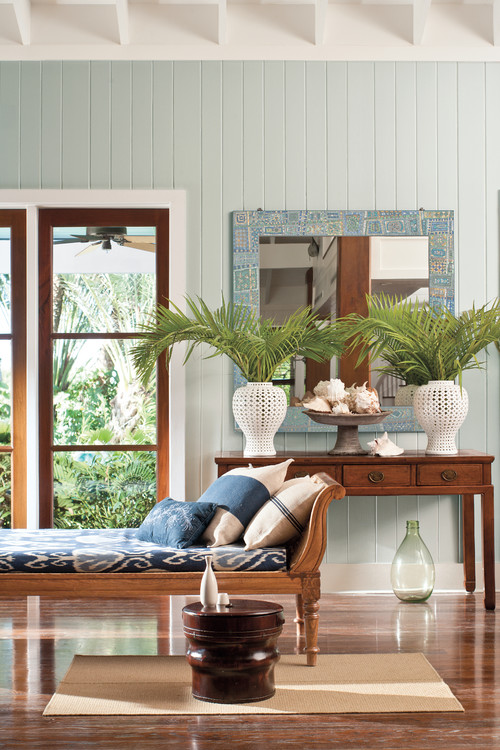 Well, Sherwin Williams Wickham Gray is a cool gray paint color with deep blue and green undertones.
It feels very icy and chilled!
And since this color comes with a baggage of restrictions – this color review will help you make informed decisions.
Don't worry!
I got your back. Let's get started with this journey to serenity!
Benjamin Moore Wickham Gray HC-171 Details and Specifications
There are a ton of icy cool grays on the BM swatch.
So, how do you differentiate them all?
Well, the one and only secret to knowing the true value of the color is color details and specifications.
Hence, before choosing a paint color for your home – you must understand the underlying theories and facts.
So, first and foremost, let me introduce you to the concept of Light Reflectance Values or the LRV's that determine how light or dark the paint color is.
You can easily find that value at the end of your Benjamin Moore paint swatch or even the website!
Here, in this case, the LRV of Benjamin Moore Wickham Gray is 68.94.
And that means it falls on the lighter end of the scale – which is a given how light and blissful the color feels.
(Remember, greater the value, lighter the paint – on a scale of 1-100)
Oh, if you want to just try Wickham Gray so you'll know just how it'll look, you can easily with a peel-and-stick sample from Samplize. Order some samples now!
Secondly, other important associated terms are the RGB and the HEX Values.
Red = 212
Green = 216
Blue = 210
HEX Value = #D4D8D2
Since we have discussed the technical and scientific information, let's get started with the practical aspects of this light minty gray Benjamin Moore paint.
How Does This Color Feel in a Space?
Undoubtedly, Benjamin Moore Wickham Gray is bound to feel cool, calm, and relaxed.
It will make you feel refreshed and at peace after a long day of working hard.
And since this color has a very high reflectivity, it tends to make the room look brighter and fresh.
Think of a minty color touch with this paint color on board.
Also, this color will make the room look spacious, airy, and enhanced. Yes! That's the true beauty of this paint color.
So, when observing through a bigger lens – you must know that this color has the potential to exhibit chilly vibes.
Hence, making a great statement in the warmer states where you need that kinda' vibe.
In smaller rooms, you can use this color to go along the lines of a coastal vibe.
How Does Light Affect the Color?
Light will play a tremendous role on this paint color.
In a north-facing room, this color is going to exhibit an icy feel. On the other hand, in a south or west-facing room, the room will have a softer look with a deep noticeable blue undertone.
With too many windows and too much light, it's quite common for the paint color to lose and wash away the undertones.
In a room with little or no natural light – the color won't disappoint either.
Lastly, you can always play with warm white lighting through wall sconces and chandeliers in the room.
To truly see what your home's environment and lighting will do here, try out a real paint sample. It takes out the guess work!
What are the Best Coordinating Colors?
It's important that you pair Benjamin Moore Wickham Gray cohesively and creatively to know its utmost beauty.
And that is why you have to be careful when choosing complementary color schemes!
You can best pair this soothing paint with crisp whites (on trims and moldings), dark sage green, and lighter beiges.
You can also incorporate any of the metallic tints as accents here – like matte black, gold, and brass.
Furthermore, you can either choose from a monochromatic or a contrasting color palette – depending upon the interior design style and your preference.
So, here are a few of the colors I would recommend for a monochromatic palette!
HC-150 Yarmouth Blue
HC-149 Buxton Blue
HC-148 Jamestown Blue
On the other hand, here are a few of the colors I would recommend for a contrasting color palette!
For your ceilings, trims, and moldings – you can use BM Chantilly Lace as it is a true white paint and will further protrude the original adjacent hue.
BM Wickham Gray Vs Similar Colors
This generic minty green paint tends to share tons of similarities with many other neutral-toned greens and grays.
Whether it's the undertones or reflectivity – BM Wickham Gray can be compared to a couple of other BM and SW hues.
So, let's discuss the major ones – 1562 Healing Aloe and SW 7648 Big Chill.
And see how they all differ.
Wickham Gray Vs Healing Aloe
These two colors share a ton of similarities – whether it's the undertones or reflectivity.
With an LRV of 69.66 – this color is very light and minty! (See my full guide on BM Healing Aloe!)
It can be further used in coastal, Caribbean, and contemporary interior design styles!
Lastly, don't hold back from natural woods, rattan, wicker, and macrame.
Order a wall-stick sample of Healing Aloe here to help you compare colors in your own space.
Wickham Gray Vs Big Chill
Sherwin Williams Big Chill is a light and cool gray paint color – that simply has a calming effect.
Unlike the former, this paint doesn't have deep blue or green undertones – and that can be clearly observed! (See my full guide on SW Big Chill!)
With an LRV of 62 – this color falls on the lighter end of the scale. And you must also know that this color can feel quite unwelcoming in the north-facing rooms.
Do yourself a favor and grab some stick-on sample sheets of these two colors and see what looks best in your home.
Where to Use Wickham Gray?
Whether it's the home office or the living room, bedroom or the kitchen – this paint color can be considered in all the spaces of your home.
And why not?
Since it clearly relates to a sense of positivity – this color is a great recommendation for a healthy mindset.
When talking about styles, this color must be used in coastal, Caribbean, and modern interior design styles!
Let's see where and how to incorporate this cool gray paint color in your home.
Wickham Gray in Living and Dining Rooms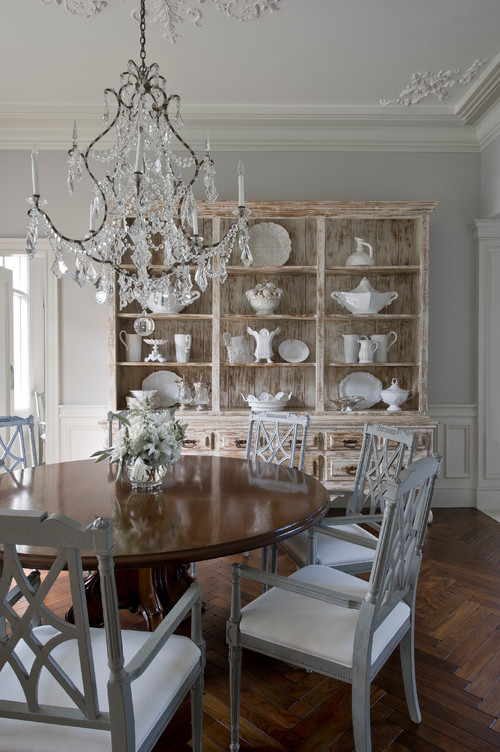 A color that will never disappoint you!
Yes – if you want your living room cool and laid back – this is a color to be considered.
Since it doesn't exhibit a warm and cozy appeal – you can add a warm off-white on the adjacent wall to balance the appearance.
Secondly, for the fireplace and its surroundings – you can pick exposed white brick or black marble to create a luxe appeal.
For the furniture, you must pick something in off-white fabric with a natural wood base.
Using in Bedrooms
Especially if you have a sea-facing bedroom, this calming color is a must.
It will feel absolutely blissful and you can consider painting all the walls in this color.
Pair it with creamy whites on your upholstery, fabrics, and decorative accents.
Choose either a natural theme with jute, seagrass, and rattan – else, off-whites for curtains, rugs, and throw pillows.
In terms of color accents – you can pick gray and yellow-green to create a stark contrast.
Wickham Gray in Kitchens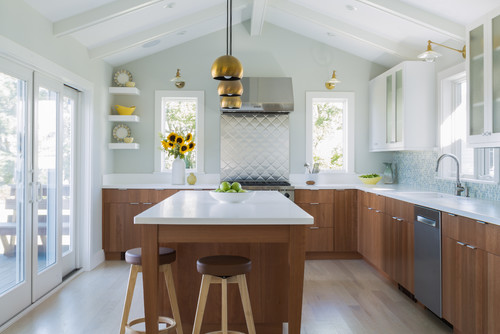 Doesn't this color look blissful on the walls of this modern kitchen?
You can choose to paint it on all the walls and have soothing white paint on the upper cabinets.
Furthermore, to create a contrast, you can pick wooden accents for the lower cabinets.
Lastly, ensure to add white glossy tiles for backsplash, white marble, and chrome-finish pull handles and drawers.
Got pendant lights and wall sconces – well, pick brass or gold!
Using on Exteriors
This color can be used on the exterior walls with whites on the trims, moldings, and special architectural features.
To create a contrast, you can pick a bold blue color for the doors and shutters. (Can also choose gray, white, or sage green)
Your roof tiles could be gray, black, or even blue!
You Should Order Samples of Wickham Gray

Let's face it, good paint isn't cheap. While painting is a relatively inexpensive, good bang-for-your-buck project, picking colors can be hard. You don't want to buy a whole can of something until you know for sure.

So together with the info here, you can literally "see" what this color will look like in your home before you commit.

Getting a peel-and-stick sample from Samplize is the best thing since paint rollers!

If you don't know yet, you can order a 9″ x 14.75″ sample with the real paint color on it. Stick it on your wall multiple times and in multiple places to find out exactly if the color is for you.
So, did this color review bring you an inch closer to this paint?
Do you want to use it in your home? Exteriors or interiors? Walls or cabinets?
Well, I would love to know your thoughts! Do let me know in the comments below!