Grays have a particular charm that makes them stand out amongst the rest.
Some are cool and some are warm – but it is a given that all of them are beautiful and elegant!
One such example of an elegant gray is Benjamin Moore Stonington Gray that feels lighter in tone with notable sage green undertones.
It truly is a perfect example of a sage-green-gray paint that brings tranquility to a space in a modern feeling way.
It feels absolutely soothing and comforting to eyes when experienced on your walls.
So, if you are looking to add a touch of this beauty to your home – I must say that you should.
With these latest color trends for the years 2020 and 2021, BM Stonington Gray proves a beautiful example.
And do you know another beautiful characteristic of this specific paint color?
Well, it can look even more beautiful when paired with the best opposites.
Whether it is about choosing contrasting hues or complementary schemes, this paint can seamlessly fit in your space with its delightful feel.
Hence, it is now time that you sit back and relax!
Maybe reach out for your favorite cup of coffee as in a couple of minutes, you will be this gray expert!
Benjamin Moore Stonington Gray HC-170 Details and Specifications
Before you pick a paint color – it is necessary that you understand the underlying theories and specifications.
Since these are the values that will help determine the characteristics of the color and make informed decisions.
Know that every color is unique – and even though they tend to look similar – they are originally quite different.
So, let's cook some of the details here!
First and foremost, look towards the end of your Benjamin Moore paint swatches to determine the Light Reflectance Values or the LRV's of the paint color.
This value helps in determining how light or dark the paint is – and you must know this value to make informed decisions.
Remember, the lesser the value – the darker the paint and vice versa!
(On a scale of 1-100, 1 being the darkest!)
So, the LRV of Benjamin Moore Stonington Gray is 59.75.
And that means it is a comparatively medium-toned green-gray paint color.
Oh, if you want to just try Stonington Gray so you'll know just how it'll look, you can easily with a peel-and-stick sample from Samplize. Order some samples now!
Secondly, other important associated terminologies are the RGB and HEX Values that further tell us what the color is comprised of.
Red = 202
Green = 203
Blue = 197
HEX Value = #cacbc5
Since we have discussed the technical and scientific information, let's get started with the practical aspects of this pretty gray Benjamin Moore paint.
How Does this Color Feel in a Space?
Benjamin Moore Stonington Gray feels soothing, calm, airy, relaxed, and comfortable when used in a space.
There is a certain charm that the color beholds – hence, giving your space a perfect makeover while exhibiting a sense of tranquility.
Talking about climates, I recommend any and every climate to incorporate this color.
It doesn't majorly align to a particular saturation but may feel quite cool when used in the north-facing rooms.
So, to create a balance, you can always use this color in the east or the south-facing rooms!
Furthermore, this color also enhances the appearance while making your space look airier than it actually is.
How Does Light Affect the Color?
Light comes into major play with this paint color!
Since this color has medium reflectivity – it is important that there is a maintained balance with natural as well as artificial daylight.
Hence, here is something you must take care of – always observe the amount of incoming natural light in your room.
If it is ample and your space is medium or large enough – you can absolutely use this paint.
Furthermore, you can always pair with artificial lighting in the form of a majestic chandelier and pendant lights in the case of lesser natural light.
Although, that shouldn't be an issue since the color has considerably high reflectivity!
To truly see what your home's environment and lighting will do here, try out a real paint sample. It takes out the guess work!
What are the Best Coordinating Colors?
Now that we have discussed the basic details and specifications, let's talk about what colors would best complement it.
First and foremost, you could either choose from a contrasting or a monochromatic color palette – depending upon your preferred interior design style.
In the case of contrasts, you can pick from creamy whites, darker blues and grays, mustard yellows, and crisp whites.
So, check out these few colors I would recommend for a monochromatic palette!
2112-70 American White
2137-50 Sea Haze – See my BM Sea Haze review here!
1559 Arctic Shadows
On the other hand, here are a few of the colors I would recommend for a contrasting color palette!
832 Blue Heron
OC-117 Simply White
CW-400 Damask Yellow
Remember to pair these with BM Chantilly Lace on the trims, moldings, and other decorative architectural features to let this specific color stand out!
BM Stonington Gray Vs Similar Colors
There are quite some notable inspirational examples here!
However, always remember that even if they tend to look similar, they may either vary in reflectivity or the undertones.
So, to name a few, the two most similar-looking color options are 1465 Nimbus and AC-25 Harbor Gray.
Stonington Gray Vs Nimbus
Quite a warmer toned gray, BM Nimbus is another weighted-down paint that makes your space feel bold and authentic.
With an LRV of 60.23, this paint feels lighter and airier – however, in certain lighting conditions, it may feel dark!
An accent wall would simply play flawlessly with this paint in your bedroom and living room.
Order a wall-stick sample of Nimbus here to help you compare colors in your own space.
Stonington Gray Vs Harbor Gray
The timeless gray with slightly cooler undertones – Benjamin Moore Harbor Gray is an extremely elegant and beautiful paint.
This paint has an LRV of 57.46 – thus, being on the medium end of the scale!
I would suggest you pair it with lighter grays, black, and even brass tints for a flabbergasting experience.
Do yourself a favor and grab some stick-on sample sheets of these two colors and see what looks best in your home.
Where to Use Stonington Gray?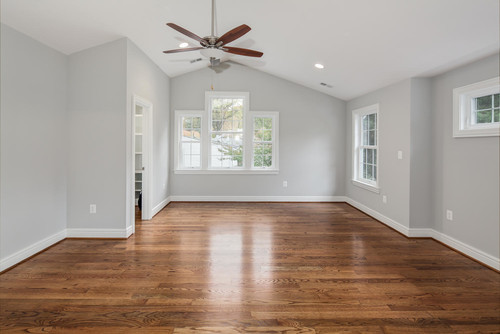 Benjamin Moore Stonington Gray makes a great backdrop everywhere in your home – whether it is the kid's rooms, hallways, exteriors, kitchens, living and formal rooms, bedrooms, or even home offices.
Furthermore, you can absolutely incorporate this paint in the mid-century modern, contemporary, modern, Grandmillenial, Caribbean, Floridian, and coastal interior design styles.
Let's see where and how to incorporate this beautiful gray paint color in your home.
Stonington Gray in Living and Dining Rooms
Why not?
You should definitely use this paint in your living and dining rooms – as a base or a neutral!
You can either paint all the walls in this color or even use it as an accent in some cases and pair it with creamier whites.
Furthermore, try blending the paint with creamy or crisp whites and neutral-toned linen or velvet upholstery to create a striking balance.
You can even use natural and woven materials like the rattan, macrame, and wicker for an airier experience.
Using in Bedrooms and Bathrooms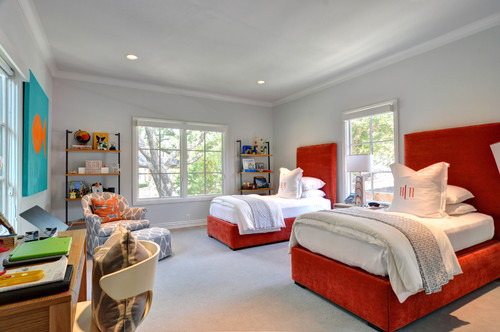 I suggest you paint the backdrop or the headboard wall in this paint and let the bold accent fabrics speak the tonality of your space.
I also recommend choosing either matte black, brass, or gold-tinted chandelier and table lamps in this case – mainly as an accent!
About flooring, wooden parquets or wall-to-wall carpeting can both work well with this subtle gray paint.
Stonington Gray in Kitchens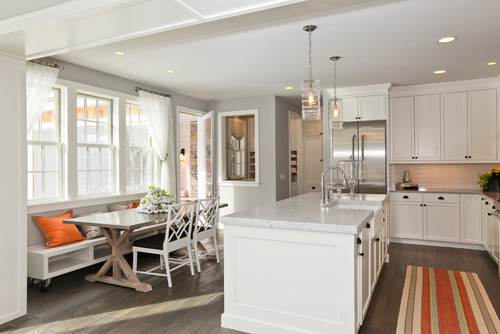 I would personally love the feel of BM Stonington Gray on the surface of the kitchen cabinets.
Especially for the open concept kitchen, you can pair it with darker blues like the cobalt blues for the lower cabinets to create a striking experience.
You can also try pairing it with a stark, white-veined marble countertop, glossy backsplash, and nickel or brass-tinted fixtures and pull handles.
This paint is a good solution for smaller-sized kitchens in your home.
Using on Exteriors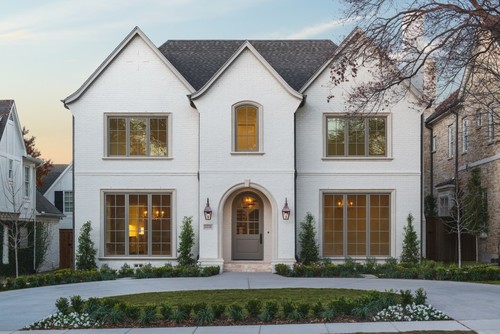 Benjamin Moore Stonington Gray on exteriors will make your home look like a Coastal haven!
I recommend using this paint on the Coastal, Modern, Craftsman, and Caribbean or Floridian homes.
Pair it with white, gray, beige, or even off-white shaded trims and moldings!
Yes – that way you make a great contrast in your home exteriors!
Also, you can do the other way round, by using whites on the decorative moldings!
Great Paint Sample Tip!
Here's my favorite tip when it comes to testing out a color like Stonington Gray – go and order a peel-and-stick sample from Samplize.
These guys figured out a great way to sample colors much more easily. Simply stick it up instead of having to get a small can of actual wet paint.
For a few bucks you get a nice sized square to throw up temporarily anywhere you want to "try" on a paint color and any possible coordinating hues you like. Too cool!
So, how do you want to use this color in your homes? Interiors or Exteriors?
You can find out more about the color sage in general in my complete guide on the color.
Now that you have all the secrets – are you excited about painting your home in Stonington Gray?
Should there be any questions or thoughts, let me know in the comments below!