Beige, tans, browns, and greiges are all cousins!
There may be some differences in all – but one commonality is their utmost sophistication and timelessness!
Yes! That's what the beauty of this color is.
And, talking about color psychology, this color can prove wonders in terms of tranquility, warmth, and coziness.
So, what really does this Benjamin Moore taupe convey?
Well, Benjamin Moore Shaker Beige is a pure mid-toned tan paint color that evokes a sense of welcomeness, salutation, and absolute homey and cheerful character.
Opposing the entire concept of 'Ban the Beige' – this prominent hue is now used immensely in homes.
For all those who crave a warm and timeless appeal in their homes – this color is an absolute solution for you!
Mimicking the smooth sand, burnished driftwood, and a woven sun hat – this color feels absolutely delightful and cherished!
So, are you excited to know more about what this color has to offer?
Or in case you're looking forward to incorporating this color in your home – you must refer to this color review to make informed decisions!
From details and specifications to color palette, similar colors, and home decor ideas – let's see what this color has to offer!
Benjamin Moore Shaker Beige HC-45 Details and Specifications
Color theory and specifications are quite distinctive from color to color and category to category.
After all, there is something that differs this particular tan from the other BM beiges, right?
So, when choosing a paint color – you must understand the underlying theories and facts that are related to each one of them.
And that will truly help you understand what that specific color is composed of.
So, first and foremost, let me introduce you to the concept of Light Reflectance Values or the LRV's that determine how light or dark the paint color is.
You can easily find that value at the end of your Benjamin Moore paint swatch or even the website!
Here, in this case, the LRV of Benjamin Moore Shaker Beige is 54.61.
And that means it falls on the medium end of the scale – neither too dark nor too light!
(Remember, Greater the value, lighter the paint – on a scale of 1-100)
What I like to do is sample Shaker Beige under different lights where I'm going to use it. I use Samplize stick-on samples. Get some samples now!
Secondly, other important associated terms are the RGB and the HEX Values.
Red = 209
Green = 194
Blue = 167
HEX Value = #d1c2a7
Since we have discussed the technical and scientific information, let's get started with the practical aspects of this timeless tan Benjamin Moore paint.
How Does This Color Feel in Space?
Benjamin Moore Shaker Beige is a beautiful product of a creamy, cozy, and comfortable backdrop.
Undoubtedly, this color will make your space feel warm, cozy, weighted down, and also smaller, confined, and restricted at the same time.
Since it has a medium reflectivity with warm undertones – it is bound to pull your walls closer for a warmer experience.
Thus, this is a great way to create an illusion of a smaller space – in case you have a large living room with double heightened floors!
Hence, a timeless way to create a homely feel!
How Does Light Affect the Color?
Light – whether natural or artificial – has a tremendous role to play here!
Don't worry about the paint color getting washed away – in any of the compass directions.
Even though it's a great color to be used in colder regions – you still must beware of the use in south-facing rooms as it can be quite overwhelming, sometimes.
So, I highly recommend the use in north-facing rooms, east-facing rooms, and also south-facing rooms!
However, you must first analyze the function of the room and at what times of the day you plan to use it!
Other than that, you always have the opportunity to play with artificial lighting! (I recommend a cool white saturation tone here).
Remember to use white light for task focal activities!
As I mentioned before, you can try out this color with real paint, (but without the mess) using stick-on samples from Samplize.
What are the Best Coordinating Colors?
It is important that you pair Benjamin Moore Shaker Beige with likewise cool-toned hue to have a cohesive and well-balanced feel!
And that is why you have to be careful when choosing complementary color schemes!
So, analyze this color scheme and the whole idea of pairing colors!
You can best pair this beige/tan hue with true whites (in the case of trims etc), blues, greens, creamy whites, burnt oranges, sky blues, and ample lighter beiges.
You can also incorporate any of the metallic tints as accents here – like nickel, gold, or chrome!
Furthermore, you can either choose from a monochromatic or a contrasting color palette – depending upon the interior design style and your preference.
So, here are a few of the colors I would recommend for a monochromatic palette!
AF-10 Gardenia
964 White Sand
HC-21 Huntington Beige
On the other hand, here are a few of the colors I would recommend for a contrasting color palette!
2143-70 Simply White
AF-475 Lush
196 Goldenhurst
For your ceilings, trims, and moldings – you can use BM Chantilly Lace as it is a true white paint and will further protrude the original adjacent hue.
BM Shaker Beige Vs Similar Colors
Looking for similar colors can be equally challenging!
There might be a slight alteration in the undertones or the reflectivity.
So, what is it that makes you want to replace BM Shaker Beige?
Is it the undertones or the reflectivity?
Well, in either of the cases, let me tell you – it's difficult to find something exactly the same.
So, here are the two colors closely related to Shaker Beige: HC-80 Bleeker Beige and SW 2822 Downing Sand.
Let's see how they differ.
Shaker Beige Vs Bleeker Beige
Sharing quite a few similarities, Benjamin Moore Bleeker Beige is comparatively more muted, cool-toned, and dark!
Not as warm as Benjamin Moore Shaker Beige, this color can be used if you want a balanced touch in your home.
With an LRV of 52.01, this color too falls on the medium end of the scale.
If you want to test the subtle differences in your house, get some wall samples of each here.
Shaker Beige Vs Downing Sand
Another tone from the same category, Benjamin Moore Downing Sand feels less bright, less saturated, and more subtle!
With an LRV of 52, this color feels equally darker and lighter as compared to the others!
Test these colors side-by-side to see the differences in "real life" INSIDE your home, with some wall-stick samples. Order here!
Where to Use Shaker Beige?
Benjamin Moore Shaker Beige is a must-use paint in the home!
Whether you have a traditional style or transitional, modern, contemporary, farmhouse, and bohemian – this color is quite good to go!
Let's see where and how to incorporate it in your home.
Shaker Beige in Living and Dining Rooms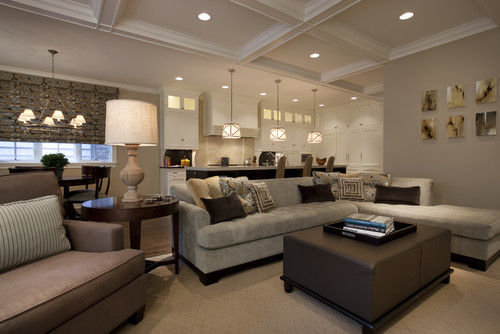 This creamy tan paint color is undoubtedly a great recommendation for common spaces such as the living and dining rooms that have a humongous size!
You can either choose to go for an all-white theme and pair it with wooden textures only.
Else, choose contrasts like blues, bottle greens, whites, and bronze!
Especially for interior design modern farmhouse or bohemian style living rooms – this color is quite good to go!
In the case of furniture, you can add linens (of course), cotton, faux, leather, flannel, and even velvet!
Lastly, don't forget to embrace the beauty of brass and nickel fixtures.
Using in Bedrooms
A bedroom is a great place to incorporate this color! Since it offers two major advantages – warmth and coziness, it is a great way to achieve both the feels!
In the case of smaller-sized rooms, you can incorporate this paint on the accent walls and let the remaining wall be creamy off-white.
Furthermore, try pairing with greens and browns on your linen upholstery, white sheer curtains, and rugs (shags recommended for a cozier experience).
Other than that, if you plan to paint all the walls in this specific color, try creating a balance with lighter-toned furniture and accessories.
Shaker Beige in Kitchens
Beige/Tan kitchens are quite timeless and soothing.
So, one of the best ways to incorporate is either on the cabinets or the backdrop wall.
You can even pair this color with oak cabinets and hardwood floors.
Furthermore, you can choose wooden textured floating shelves, hexagonal glossy white backsplash tiles, and golden or bronze pull handles for drawers.
You can also infuse color by splashing some hues on the rugs, window treatments, and decorative accents.
Using on Exteriors
Whether you have a Ranch-style, Mid-Century Modern, Traditional, Contemporary, or Modern style, this tan paint will never disappoint you!
You can either add whites and darker grays or even a tinge of wooden-themed textures as an accent or go vice versa for the trims, moldings, and door and window frames.
In the case of columns on the patio and porch – you can use natural stone wainscotting to add a detailed character to this facade!
How to Best Sample This Color?
I need to share my favorite tip for testing out a color like Shaker Beige – go over and order a peel-and-stick sample from Samplize.
These folks are nifty because they figured out a convenient way for us to sample colors way more easily. Just stick up a temporary square sample and forget the small jar of actual wet paint.
For only a few dollars you'll receive a perfect sized square you can stick up temporarily anywhere you want to "try" on a paint color and any possible coordinating hues you like. It's the best!
So, how do you want to use this color in your homes? Interiors or Exteriors?
Now that you have all the secrets – are you excited about painting your home in Shaker Beige?
Should there be any questions or thoughts, let us know in the comments below!