Ever thought of painting your home in an exotic color from the Victorian era?
Well, just like the rust and mustard colors in this style – another outstanding and popular hue is this deep and dark green.
With a tinge of dark cyan blue undertones, Benjamin Moore Salamander paint perfectly defines the definition of a moody green and blue.
Even though this color is immensely bold and dark – I'll say you've got to have an eye for such a dramatic hue.
Super dark and almost nearing a sense of black, this Benjamin Moore green paint can also be a bit challenging to use.
After all, you want to achieve the most beautiful characteristics of this paint while not overwhelming your space, right?
Don't worry! I have got your back.
Furthermore, this extraordinary and saturated color looks completely regal and elegant.
Dating back to the Victorian era, this rich hue was responsible for giving the space a sense of opulence and splendor.
So, are you excited to learn what this pretty dark green paint has for you?
Well, it's one of my favorites too! (The reason why I have such admiration for exotic and bold hues).
I will reveal some secrets about how to creatively use this paint color in your home! Let's get started.
Benjamin Moore Salamander 2050-10 Details and Specifications
Greens are becoming the limelight in the interior design industry.
From sage greens to minty greens, light greens, basil, and emerald – there is a ton of variety on the swatch.
However, how to differentiate them all?
Well, it's simple! You must analyze the color details and specifications.
Color theory is a whole new world.
And trust me – you truly have to understand each aspect before you pick a paint color for your home.
So, first and foremost, let me introduce you to the concept of Light Reflectance Values or the LRV's that determine how light or dark the paint color is.
You can easily find that value at the end of your Benjamin Moore paint swatch or even the website!
Here, in this case, the LRV of Benjamin Moore Salamander is 3.66.
And that means it falls on the darker end of the scale – in short, something very dark.
(Remember, lesser the value, darker the paint – on a scale of 1-100)
Because paint colors can change in different environments, I recommend you also just try [color name] out at home with a peel-and-stick sample from Samplize. Order some samples now!
Secondly, other important associated terms are the RGB and the HEX Values.
Red = 66
Green = 78
Blue = 78
HEX Value = #424E4E
Since we have discussed the technical and scientific information, let's get started with the practical aspects of this dark green Benjamin Moore paint.
How Does This Color Feel in a Space?
Benjamin Moore Salamander tends to exhibit a sense of richness and luxury in the home.
The deep and dark green color will make your home look sophisticated, eclectic, and pretty much unique and distinctive.
Since the hue has a dominant bold tone – it's bound to add identity and character to your home. (Whether you're looking for old Victorian, Edwardian, or modern glam style)
Furthermore, this dark color can truly make the walls come together to create an illusion of a smaller space.
Hence, you must limit the use of this paint in the home. (It plays tremendously well as an accent)
Apart from this, the paint doesn't align to a specific bandwidth of temperature. Hence, can neither feel too warm nor too cool.
And it's a clear benefit if you plan to use this hue!
You can use this paint color in smaller spaces – but only on the accent walls and features.
How Does Light Affect the Color?
Light doesn't play a major role in this paint color. Due to low reflectivity, it tends to reflect very little light. (And that hardly makes a difference)
However, you must always embrace a sense of equilibrium here!
Ensure to allow ample natural light in the room – so you can truly feel the beauty of the paint.
Else. the space might appear dull and dingy.
The compass directions don't have a lot to say here – but you can always feel enlightened with this paint in the warmer rooms of your home.
On the other hand, artificial lighting can further create a desired mood in the space. Warm yellows play the best!
I'll say this again – get some wall samples to try on this color in your own home and confirm if it'll work or if you need to try something else.
What are the Best Coordinating Colors?
It's important that you pair Benjamin Moore Salamander cohesively and creatively to know its utmost powers.
And that is why you have to be careful when choosing complementary color schemes for this dark-toned exotic green paint color!
You can best pair this dark green paint with true whites (in the case of trims etc), mustard, lighter grays, lighter beiges, lighter greens, and even taupes.
You can also incorporate any of the metallic tints as accents here – like brass and gold. Glossy, brushed, and matte!
Furthermore, you can either choose from a monochromatic or a contrasting color palette – depending upon the interior design style and your preference.
So, here are a few of the colors I would recommend for a monochromatic palette!
2050-20 Dollar Bill Green
2050-30 Newport Green
2050-40 Florida Keys Blue
On the other hand, here are a few of the colors I would recommend for a contrasting color palette!
HC-28 Shelburne Buff
1548 Classic Gray
507 Grecian Green
For your ceilings, trims, and moldings – you can use BM Chantilly Lace as it is a true white paint and will further protrude the original adjacent hue.
BM Salamander Vs Similar Colors
This gorgeous dark green paint tends to share tons of similarities with darker teal blues and charcoal grays.
Whether it's the undertones or reflectivity – BM Salamander can be compared to a couple of other BM and SW greenish hues.
So, let's discuss the major ones – BM 2049-10 Pacific Sea Teal and SW 6994 Greenblack.
And see how they all differ.
Salamander Vs Pacific Sea Teal
BM Pacific Sea Teal is another dark blue-green paint color from the collection.
With an LRV of 3.94 – this paint is equally dark and deep. So, with such a low reflectivity – you must be careful regarding the size and perspective of the space.
The only difference here is the undertones. So, if you don't like deep green and rather prefer teal, this is one of the best paints to consider. You can also check out the more gray-green vibe Narragansett Gray from Benjamin Moore.
Order a wall-stick sample of Salamander here to help you better compare these colors in your own house.
Salamander Vs Greenblack
Sherwin Williams Greenblack is a greenish-black paint color that is quite more dark and bold.
With an LRV of 4 – this is one of the darkest of them all.
You can easily detect the slight green in the paint when observed in bright lighting conditions.
A must recommend if you're not looking to have a dominant undertone.
Finally, check out BM Hunter Green if you like this color but don't want to go SO dark!
Also, don't forget about buying real-time samples to determine the tonality of the paint in your home's lighting. Pick samples up from here.
Where to Use Salamander?
Benjamin Moore salamander is a gorgeous paint that can add character to the walls of your home.
And not just the walls but even furniture frames, kitchen cabinets, exterior shiplap, console tables, built-in cabinetry, and vanity pieces.
Making headlines, the color is quite an appealing option for eclectic, contemporary, modern, and Hollywood interior design styles.
Let's see where and how to incorporate this green paint color in your home.
Salamander in Living and Dining Rooms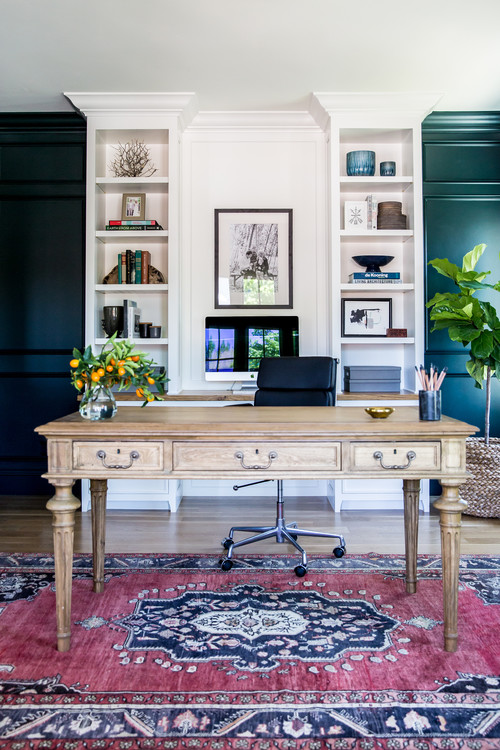 What a wonderful option! (Trust me, this paint on the focal walls or built-in cabinets will make a remarkable statement)
You can best pair it with crisp whites as opposed to creamy whites. However, that all depends upon the vibe you're aiming to create.
Furthermore, introduce mustard or peach color on the decorative accents and grays as the base for fabrics.
Introduce rugs and curtains in white color to balance the bold color against airy white.
You can even spray bold geometric patterns on your decorative accents.
Using in Bedrooms
Why not?
Well, there's no harm in using this authentic bold green paint color in your bedroom.
However, note that you only use it as a focal unless you have a Victorian or glam style for your space.
This color in the bedroom can be best paired with animal-print sheepskin rugs, gold-tinted lighting fixtures, and ample faux and fur on the fabrics.
For the trims and moldings, choose white and don't be afraid of using wooden textures here and there!
Salamander in Kitchens
Salamander in the kitchen is absolutely a stunning idea!
You can paint the cabinets in this bold green paint color and further pair it with white on the backdrop wall and marble.
For backsplash tiles, pick metal tones that can add a sense of luxe and splendor to the kitchen.
Gold-tinted lighting fixtures play amazingly well.
But you can even add rose gold or copper per se.
Using on Exteriors
This color can be used on the exterior walls with white or wooden textures on the shutters, trims, and moldings.
If not the walls, you can also pick this color for the focal entry door and paint the shiplap walls in pure white or gray color.
Your roof tiles could be gray, black, or even red!
Lastly, don't hold back from using natural stone wainscotting (in a cooler base)!
I Recommend Sampling Salamander!

If you're on the fence and need a bit of convincing, try this color on for size by ordering a peel-and-stick sample from Samplize.

These are my favorite way to test colors in a space and to see how they work with other coordinating colors.

It doesn't cost all that much, and you can temporarily place these handy 12″ x 12″ squares that are true to color around your house. I love them!
So, did this color review bring you an inch closer to this paint?
Do you want to use it in your home? Exteriors or interiors? Walls or cabinets?
Well, I would love to know your thoughts! Do let me know in the comments below!