This Benjamin Moore Color of the Year 2022 is all set to bring a gentle, calm, and warm vibe into your space.
Just like the other neutrals, this generic sage green will undeniably add a distinctive and unique factor – but with a touch of serenity and calmness.
So, do you know what makes this color top the list?
Well, this 'harmonious yet diverse', 'reliable yet whimsical', and 'meditative yet eclectic' color is going to conjure up a variety of moods and feelings for you.
Yes, something that is also bound to make your home flourish with liveliness and happiness.
Benjamin Moore October Mist is a sage green paint color with deep warm undertones – You're quite likely to detect a yellow tone under various lighting conditions.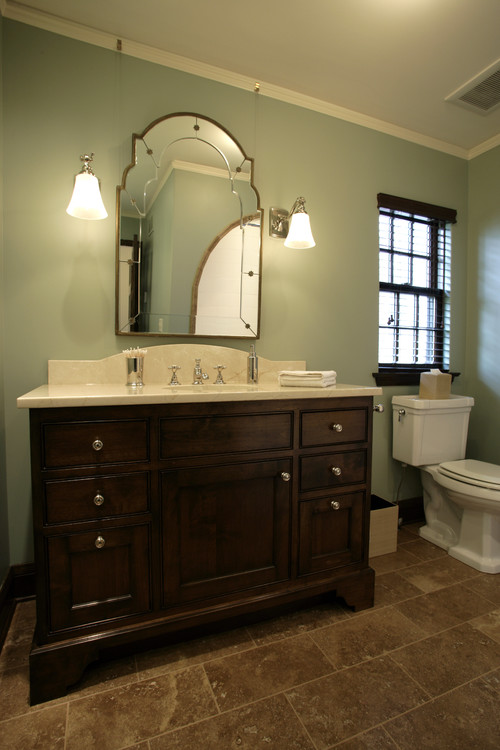 Mimicking the earthiness and an organic nature, this paint color will yet again anchor and uplift the mood of your room.
So, are you ready to learn what this paint color has for you?
In this color review, I am going to acquaint you with several do's and don'ts, where and how's, when and what's, and lastly, some great inspirations to take inspiration from.
So, let's get started!
Benjamin Moore October Mist 1495 Details and Specifications
There are a number of Ben Moore greens and a number of sage greens.
Some might differ majorly depending upon the aesthetics whereas some might not!
So, do you know how to figure out the exact difference between all the greens on the swatch?
Well, in that case, let me introduce you to the concept of color details and specifications.
Trust me, most homeowners tend to ignore this aspect – but it shouldn't!
So, when choosing a paint color – you must understand the underlying theories and facts that are related to each one of them.
Let's take a look at Light Reflectance Values or the LRVs that determine how light or dark the paint color is.
Here, in this case, the LRV of Benjamin Moore October Mist is 46.54.
And that means it falls on the medium end of the scale – not too dark nor too light.
(Remember, the lesser the value, the darker the paint – on a scale of 0-100)
Oh, if you want to just try October Mist so you'll know just how it'll look, you can easily with a peel-and-stick sample from Samplize. Order some samples now!
Secondly, other important associated terms are the RGB and the HEX Values.
Red = 181
Green = 184
Blue = 166
HEX Value = #B6B9A8
Since we have discussed the technical and scientific information, let's get started with the practical aspects of this warm sage green Benjamin Moore paint.
How Does This Color Feel in a Space?
Benjamin Moore October Mist is bound to make your space feel cozy, earthy, organic, warm, and happy!
This warm color is a great recommendation if you're craving a sage green paint that also adds a warm touch to your home.
This gentle green will also exhibit a sense of character and depth – while making your home feel joyous and much inspired by nature.
Hence, if you're residing in a city apartment or loft, this color can absolutely connect you with nature and make you feel calm, serene, and relaxed.
Moreover, since this color wouldn't weigh down the space, it can positively uplift the aura and make your space feel airy and lively!
Great enough, right?
How Does Light Affect the Color?
Light – whether natural or artificial has a tremendous role to play here.
Apart from altering the undertones based on the compass directions, this color also tends to make your room appear differently.
For instance, if there's ample natural light in a room with BM October Mist on the walls, the room will feel light, airy, and bright.
On the other hand, a room with little natural light will feel dull and dingy!
Secondly, let's discuss the role of this paint color in different lighting conditions.
For instance, in the north-facing rooms, this color will comparatively feel neutral and subtle (original color with a cool touch).
In the south and west-facing rooms, this color will definitely feel very warm and creamy. (might also showcase a yellow undertone in various lighting conditions)
You see – light has a major call here!
Want to see what October Mist looks like in your own living space? Pick up a wall sample now from Samplize!
What are the Best Coordinating Colors?
It's important that you pair Benjamin Moore October Mist cohesively and creatively to know its utmost powers.
And that is why you have to be careful when choosing complementary color schemes!
You can best pair this green paint with creamy whites, taupes, beiges, burnt oranges, terracotta, and lighter grays.
You can also incorporate any of the metallic tints as accents here – like gold and brass or even rustic wooden textures.
Furthermore, you can either choose from a monochromatic or a contrasting color palette – depending upon the interior design style and your preference.
So, here are a few of the colors I would recommend for a monochromatic palette!
1496 Raintree Green
1497 Rolling Hills
1498 Forest Floor
On the other hand, here are a few of the colors I would recommend for a contrasting color palette!
1221 Potters Clay
1548 Classic Gray
AC-33 Mesa Verde Tan
For your ceilings, trims, and moldings – you can use BM Chantilly Lace as it is a true white paint and will further protrude the original adjacent hue.
BM October Mist Vs Similar Colors
This generic sage green paint tends to share tons of similarities with other gray greens.
Whether it's the undertones or reflectivity – BM October Mist can be compared to a couple of other BM and SW hues.
So, let's discuss the major ones – BM HC-114 Saybrook Sage and SW 0066 Cascade Green.
And see how they all differ.
October Mist Vs Saybrook Sage
These two colors share a tone of similarities as well as differences.
Well, the major similarity is how the color appears in a room and secondly, the difference is the undertones as well as reflectivity value.
The latter paint color feels comparatively darker and deeper – with an LRV of 45.46.
Moreover, it has notable gray undertones that might peek out at most times of the day.
To see how these look in your home, get some large peel and stick samples and try on your walls with different lighting sources.
October Mist Vs Cascade Green
SW Cascade Green is a deep sage green paint color that has quite a prominent depth and character.
It has an LRV of 43 – thus, darker than all of the above-mentioned paint colors.
You can best pair this color with a couple of copper accents and wooden textures.
One final BM color that's a little more gray is Sea Haze – it's worth checking out for something a little less sagey.
To truly experience and compare these colors in real-time be sure to buy some stick-on samples and test them in your home.
Where to Use October Mist?
BM October Mist is a beautiful shade of sage green that can be used in most of the spaces in your home.
Well, you name it and can have it!
Whether it's the kitchen cabinets, focal or accent walls, exterior walls, furniture frame, or the built-in cabinetry – this color will always add an organic and natural vibe to the space.
Let's see where and how to incorporate this green paint color in your home.
October Mist in Living and Dining Rooms
Definitely yes!
If you have the style for it – you can definitely use this paint color on all the walls of your living room.
This color will exhibit a warm and natural vibe while making your living room feel closer to nature.
And if you want to be creative, consider a blend of two colors on the accent wall.
For the furniture upholstery, choose either tan or camel leather or cream velvet and off-white linen.
You can even choose rattan, wicker, or cane for the lighting fixtures, side tables, and centerpieces.
Using in Bedrooms
In the bedrooms, you can consider this paint on the accent wall.
Consider wooden textures for the frame of your bed, nightstands, and other furniture pieces.
Even satin brass isn't a bad idea for the furniture frame. Also, don't hold back from faux fur and leather accents in the space.
As a total contrast, you can even add rattan, wicker, jute, and cane on the decorative accents and furniture.
For curtains – ensure to stay low-key with white or gray linens.
October Mist in Kitchens
View this post on Instagram
In the kitchens, you can use this color on the cabinets to create a striking visual interest.
You can either choose a satin brass finish for the knobs or pull handles or even matte black.
If you want to add an artistic touch to your kitchen – do consider painting this color on the cabinets.
Trust me, you can never be disappointed.
For pendant lights or wall sconces – do consider brass or gold itself.
Using on Exteriors
This color can be quite tricky when used on the exterior walls.
Generally, it's better to pick creamy or crisp whites.
And when it comes to materials – you can pick exposed red brick – which would look phenomenal.
Yes – you can very beautifully pair it with creamy whites on the trims, door, and window frames.
Further, I highly recommend incorporating tints of beige or whites as an accent on either the shutters or focal walls.
Lastly, don't hold back from using natural stone wainscotting (in a warmer base)!
The Best Way to Sample October Mist

I used to "try" out paint like every other designer: Buying several small cans of various colors, pouring them each into small trays and rolling them onto different sections of a wall.

I haven't done this in some time now, ever since Samplize came up with their awesome way of sticking up a temporary sample that's true to the color. I just order a peel-and-stick sample and let the next phase of the color selection process begin. It's so easy.

I love these 12″ x 12″ squares because I can move them around and see what happens in different lighting and what dialogue they'll have with the other colors in a client's home.

You can order yours now for October Mist and any others you're considering – they even have a coupon for first-time buyers!
So, did this color review bring you an inch closer to this paint?
Do you want to use it in your home? Exteriors or interiors? Walls or cabinets?
Well, I would love to know your thoughts! Do let me know in the comments below!