This is the year to celebrate greens!
Not only are green paints vast and extraordinary they also play such a grounding role in our homes.
Well, sage greens come in a wide array of varieties! Some are gray dominants whereas some of them have dominating greens.
But today, I'm going to broadly acquaint you with a new category of greens – the earthy greens.
And one such hue is Benjamin Moore Nantucket Gray!
It's an elegant earthy green paint color with notable warm undertones.
This type of green paint color has deep yellow and brown undertones, and it purely mimics the hues of nature (specifically the woods and Earth).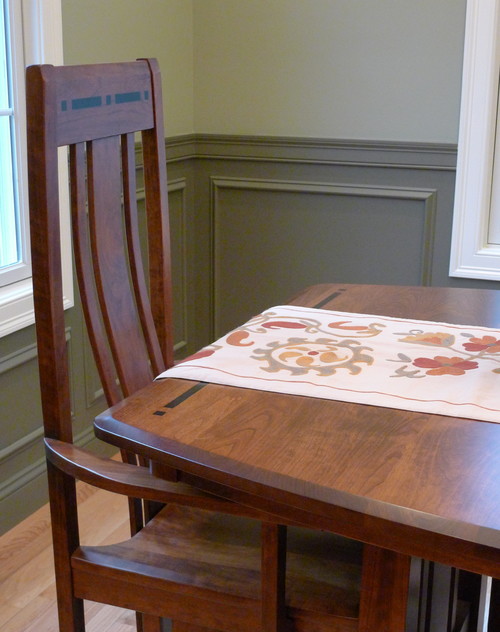 And trust me, it's quite a versatile paint color especially if you have the knack to upgrade and re-upgrade your home every now and then.
Moreover, this color has the appropriate amount of depth in it! Hence, it's good enough to add drama and depth to the walls at all times.
On the other hand, this can totally become challenging if you don't deal with the color smartly.
Don't worry!
I have all the pointers you'll need to creatively infuse and play with this color in your home.
So, let's get started!
Benjamin Moore Nantucket Gray HC-111 Details and Specifications
Do you know how to differentiate the Benjamin Moore Nantucket Gray from Sherwin Williams Comfort Gray?
Well, apart from the appearances, details, and specifications are what will help you make informed decisions.
Color theory is a whole new world.
And trust me – you truly have to understand each aspect before you pick a paint color for your home.
So, let's take a look at the concept of Light Reflectance Values or the LRV's that determine how light or dark the paint color is.
You can easily find that value at the end of your Benjamin Moore paint swatch or on our website.
Here, in this case, the LRV of Benjamin Moore Nantucket Gray is 39.49.
And that means it falls on the medium end of the scale – neither too dark nor too light.
(Remember, lesser the value, darker the paint – on a scale of 1-100)
If you're not quite sure how this color will work in your home, you should definitely try it on for size by ordering a peel-and-stick sample from Samplize.
Secondly, other important associated terms are the RGB and the HEX Values.
Red = 175
Green = 171
Blue = 150
HEX Value = #AFAB96
Since we have discussed the technical and scientific information, let's get started with the practical aspects of this organic green Benjamin Moore paint.
How Does This Color Feel in a Space?
Benjamin Moore Nantucket Gray will undeniably bring you an inch closer to nature and sustainability.
Mimicking the shades of those dense woods and trails – this paint hue will magically transform your home into forest bliss.
However, since it falls on the medium to the dark end of the scale – you can sometimes find the color to be quite bold in certain rooms.
They tend to bring the walls closer and make your room appear quite smaller and cozier.
It doesn't necessarily appear green – but in various conditions, the color can change its undertones to reflect a yellowish-green statement.
So, beware of the hue since it can truly act like a chameleon.
How Does Light Affect the Color?
Natural light and BM Nantucket Gray will go hand in hand.
The more natural light in your room, the more enhanced and better the paint color appears.
And especially with this medium-toned paint color, you must have sufficient natural light in your room!
Now here is another secret! Well, this paint tends to look slightly yellowish-green in the south and west-facing rooms whereas grayish-green in the north.
In a larger-sized room with ample light pouring in, you can never go wrong with BM Nantucket Gray!
Lastly, artificial light plays a great role in creating a desired ambiance or moody vibe.
One way to help find out how this color looks in your home is to buy some temporary wall samples and put them up wherever you want to paint. You can get these easily from Samplize.
What are the Best Coordinating Colors?
It's important that you pair Benjamin Moore Nantucket Gray cohesively and creatively to know its utmost powers.
And that is why you have to be careful when choosing complementary color schemes!
Generally, you can best pair this organic green paint with true whites (in the case of trims etc.), yellows, lighter grays, charcoal blues, and even mauves.
You can also incorporate any of the metallic tints as accents here – like matte black, gold, and brushed brass.
Additionally, you can either choose from a monochromatic or a contrasting color palette – depending upon the interior design style and your preference.
So, here are a few of the colors I would recommend for a monochromatic palette!
2141-40 Creekside Green
HC-112 Tate Olive
518 Sterling Forest
On the other hand, here are a few of the colors I would recommend for a contrasting color palette!
For your ceilings, trims, and moldings – you can use BM Chantilly Lace as it is a true white paint and will further protrude the original adjacent hue.
BM Nantucket Gray Vs Similar Colors
With the ongoing trend of soothing greens in the home decor industry, there are endless similar colors to choose from.
However, to name a few, let's discuss the major ones – HC-102 Clarksville Gray and SW 2860 Sage.
And see how they all differ.
Nantucket Gray Vs Clarksville Gray
When closely observed, there are quite a few considerable differences between these two colors.
Even though both these colors feel organic and earthy, the latter somehow feels more earthy and brown.
Yes, the paint color has deep brown undertones.
With an LRV of 38.74 – this paint falls on the darker end of the scale.
To see how these look in your home, get some large wall samples and try on your walls with different lighting sources.
Nantucket Gray Vs Sage
If you don't like the hidden brown and earthy green in BM Nantucket Gray – you might as well pick Sherwin Williams Sage that has dominant green undertones and can equally feel refreshing.
With an LRV of 42, this particular tone is comparatively lighter and cooler. (Unlike the former green paint)
Also, you can best pair it with crisp whites, brushed brass, and ample off-white on the linen.
To truly experience and compare these colors in real-time be sure to buy some stick-on samples and test them in your home.
Where to Use Nantucket Gray?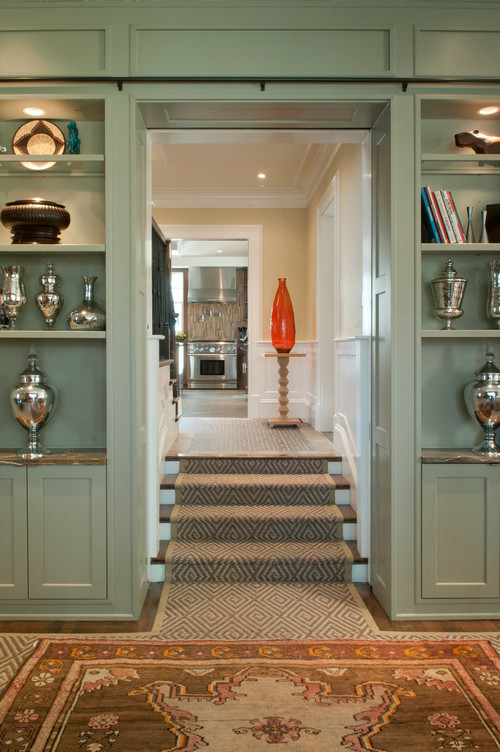 BM Nantucket Gray has the potential to make a great statement in every corner of your home.
Whether it's the built-in cabinetry in the home office, living room, and the library or wainscotting, bedroom accent walls or the ceilings – this color can make a great accent when used!
Let's see where and how to incorporate this green paint color in your home.
Nantucket Gray in Living and Dining Rooms
If you have a large and airy open space plan for the living and dining rooms, this color will essentially play a great role.
You can choose to use it on all the walls, else, paint the accent or focal wall in it.
Furthermore, it's best to pair this color with off-white linen upholstery, lighter grays as bases, and tinges of mustards as the dominant accents.
In terms of rugs and other decorative accessories – you must ensure to use creamy shag textures along with faux and fur to complete the overall look.
Lastly, wooden textures in the form of floating shelves and furniture frame would be a great choice too (especially in Japandi style interior design)
Using in Bedrooms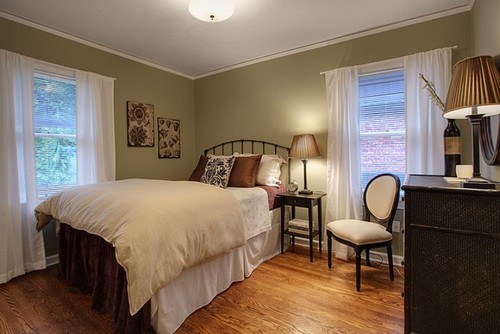 You must really have an eye for this paint to truly use it in your bedroom.
Although, if you have a smaller-sized bedroom, this color can feel overwhelming and bold.
It's generally best to use this paint on the accent wall and further pair it with off-white to create a lively environment.
Introduce the use of rattan, wicker, and cane through wall accents and mirror pieces.
Yes, don't forget mirrors for a positive flow of feng shui.
Nantucket Gray in Kitchens
This is one of the best places to have this pretty green paint color.
Yes – of course, on the cabinets!
If you want to add an artistic touch to your kitchen – do consider painting this color on the cabinets.
Trust me, you will start to love this color even more.
Furthermore, you can pair this color with cool and crisp whites on the backdrop wall and a tinge of wooden textures on the floating shelves.
Moreover, you can add brass or golden pull handles, a white marble countertop, and gray backsplash tiles.
For pendant lights or wall sconces – do consider brass or gold itself.
Using on Exteriors
This color can be used on the exterior walls with creamy off-whites and gray on the moldings, trims, and other architectural features.
Your roof tiles could be gray, black, or even red (Spanish interlocking tiles will work)!
Lastly, don't hold back from using natural stone wainscotting (in a warmer base)!
Best Way to Try Out This Color?
I have to share one of my favorite tips when testing out colors like Nantucket Gray – go and order a peel-and-stick sample from Samplize.
This company has an amazing way to sample colors super conveniently with real paint.
Simply stick up a temporary square sample of it and avoid the whole paint and roller mess (at least until you're ready!).
For a small amount of money you get a giant "sticker" you can place up in the space you're painting. You can also try out coordinating colors as well. It's great!
So, did this color review bring you an inch closer to this paint?
Do you want to use it in your home? Exteriors or interiors? Walls or cabinets?
You can also check out the most popular and my fave list of Benjamin Moore green colors as well as my list of more warm paint colors for more considerations.
Well, I would love to know your thoughts! Do let me know in the comments below!