Moonshine is one of the most popular gray paint colors by Benjamin Moore.
And believe me, it's a BIG time chameleon (a.k.a. appears to change color in different situations)!
Unlike other simple gray paint colors, this is something that's not so usual and common.
It's associated with deep color theory underneath that must not be ignored, when choosing this paint color for the home.
So, what makes this gray paint color so popular?
Well, Benjamin Moore Moonshine is a cool gray paint color that reflects a tinge of blue as well as green, depending on various lighting conditions and the size of the room.
It's quite soft, gentle, and calm. And when I say that it's a "cool" gray – it definitely isn't too icy gray or even a traditionally warm gray.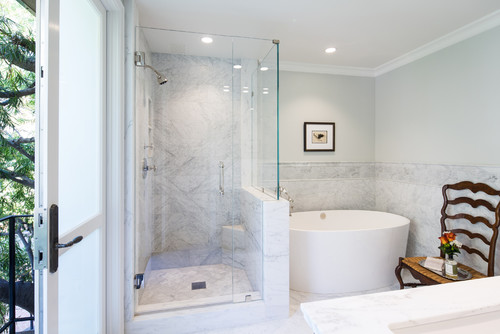 Well, a perfect blend of both, per se!
So, are you looking to incorporate this soft gray paint color into your home?
Well, before you do – have a look at this color review that's going to perfectly give you a hint of what this color looks and feels like.
Moreover, if you truly need this color in your home or not!
So, let's get started.
Benjamin Moore Moonshine 2140-60 Details and Specifications
This section is one of the most important to discuss!
And do you know why? Well, if you don't want to avoid any mess later – it's ideal to thoroughly read through the details and specifications to know each inch of the color.
Especially with this chameleon paint color – you have to be extra careful and observe!
So, first and foremost, let me introduce you to the concept of Light Reflectance Values or the LRVs that determine how light or dark the paint color is.
You can easily find that value at the end of your Benjamin Moore paint swatch or even on the website!
Here, in this case, the LRV of Benjamin Moore Moonshine is 66.53.
And that means it falls on the lighter end of the scale. Sometimes, it's lighter than the light reflectance value may be!
(Remember, the greater the value, the lighter the paint – on a scale of 0-100)
If you want to see how Moonshine will look in your unique environment, I highly suggest ordering a peel-and-stick paint sample from Samplize here!
Secondly, other important associated terms are the RGB and the HEX Values.
Red = 212
Green = 212
Blue = 204
HEX Value = #d4d4cc
Since we have discussed the technical and scientific information, let's get started with the practical aspects of this cool gray Benjamin Moore paint.
How Does This Color Feel in a Space?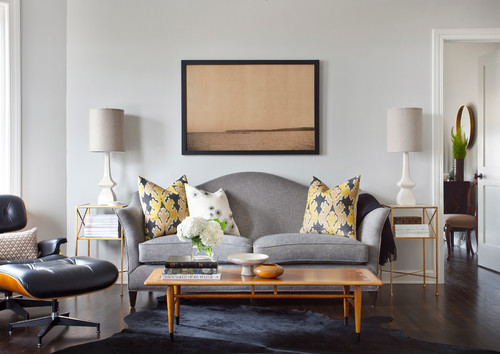 Benjamin Moore Moonshine is bound to make your space feel cool, calm, rejuvenating, refreshing, and crisp.
With the deep gray-green-blue undertones, your space can magically appear different in various natural conditions.
And do you know the best part? Well, this cool color can equally make your space feel larger, enhanced, and airy – by simply pushing the walls away.
Hence, a great way to create an illusion of a larger space.
So, if you reside in a warmer region – this color will help you cool and calm down after a long day at work. (Especially if it's a hundred degrees outside)
You see – this color has much more to offer than you may think.
A pro tip: Avoid using this paint color in the colder regions since that might be quite uncomfortable.
How Does Light Affect the Color?
Natural light and BM Moonshine go hand-in-hand!
And especially since this color has the potential to appear slightly blue, gray, or green in various lighting conditions – you must definitely test the swatch before you choose.
So, in the north and east-facing rooms, this color can look slightly cool gray with blue undertones.
On the other hand, in the west and south-facing rooms, the gray color can appear quite soft and warm.
Furthermore, you must take into consideration the view of the outdoors as well as the existing architectural elements in the home.
For instance, if the window faces the front lawn of your home, the color may slightly appear greenish.
Whereas if you have a fireplace cladded in natural stone, the color might appear neutral gray! Yes, this color can truly play quite differently!
As I already mentioned, do yourself a favor and get some wall samples to test out this color and any others. The stick-on kind are a no-brainer from Samplize, and will give you some answers ahead of time. Get yours now!
What are the Best Coordinating Colors?
Choosing coordinating colors is one of the best tasks!
And especially if it's a soft chameleon gray paint color like BM Moonshine – you must be extra careful.
So, long story short – this paint works best with crisp whites, sage greens, teal blue-greens, cobalt blues, darker grays, and black.
In terms of metallic accents, you can choose powder-coated black, rose gold, or even golden accents.
Furthermore, you can either choose from a monochromatic or a contrasting color palette – depending upon the interior design style and your preference.
So, here are a few of the colors I would recommend for a monochromatic palette!
2140-50 Gray Horse
2140-40 Storm Cloud Gray
2140-30 Dark Olive
On the other hand, here are a few of the colors I would recommend for a contrasting color palette!
HC-189 Chrome Green
CC-110 Muslin
HC-138 Covington Blue
For your ceilings, trims, and moldings – you can use BM Chantilly Lace as it will further protrude the original adjacent hue.
BM Moonshine Vs Similar Colors
This gorgeous cool gray paint tends to share tons of similarities with other likewise hues.
Whether it's the undertones or reflectivity – BM Moonshine can be compared to a couple of other BM and SW hues.
Some of the notable examples are BM 1464 Light Pewter and SW 7647 Crushed Ice.
Let's see how they all differ.
Moonshine Vs Light Pewter
BM Light Pewter is a pretty off-white paint color with deep warm undertones. Yes, it can also be classified under the "warm gray" or "greige" color category!
With an LRV of 67.52 – this color feels equally light and airy as compared to the former paint color.
Lastly, even though this color is equally a balance between the cool and warm – at the same time, it inclines more towards the warmer end.
Order a wall-stick sample of Light Pewter here to help you compare colors in your own space.
Moonshine Vs Crushed Ice
SW Crushed Ice is a perfect blend of cool and warm off-white but with a tinge of beige in it.
It has an LRV of 66, thus equally lighter and airier like the former paint colors.
You can best complement the tones of blue and green with this paint color.
Do yourself a favor and grab some stick-on sample sheets of these two colors and see what looks best in your home.
Where to Use Moonshine?
BM Moonshine is a pretty cool gray paint that deserves a seat everywhere in your home!
Whether it's the cabinets, door and window frames, or all the walls of your bedroom and living room – this color will undeniably prove flawless.
And especially for interior design styles like Coastal, Caribbean, contemporary and modern farmhouse – this color is something to have an eye on!
So, let's see where and how to incorporate this light cool gray paint color in your home.
Moonshine in Living and Dining Rooms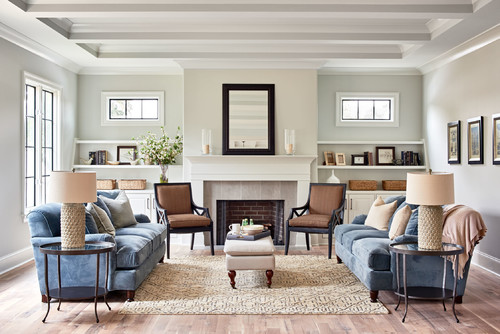 You can consider painting all the walls of your living room in this specific color.
Furthermore, pair it with clean and crisp whites on the trims and moldings for a refreshing look.
Want a pop of hue to play a contrast in this space?
Well, take inspiration from this living room setup that beautifully merges the tones of blue with contrasting browns to create an eye-catchy appeal.
Lastly, if you have a fireplace, don't hold back from cladding the exposed brick or natural stone!
Using in Bedrooms
This color deserves to be in your bedrooms!
And believe me, you're going to swoon over it again and again.
Yes, it's so beautiful.
In the bedrooms, you can consider painting all the walls with this color and further supplementing clean whites on the trims, etc.
For the bed frame – you can choose metals with a clean white or dark gray bedding to play cohesive in the room.
Remember to be careful around the north-facing bedrooms where this color can feel too cool or crisp. (If not needed)
And lastly, throw a faux fur rug for a touch of warmth and coziness!
Moonshine in Kitchens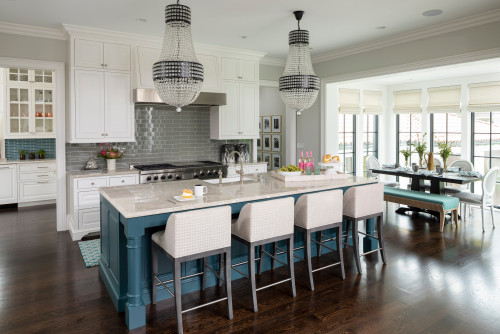 This is one color that can play very beautifully in your kitchen – and especially on the backdrop wall.
(Have a look at this traditional-style kitchen)
Choose clean whites for the upper cabinets and a tone of blue for the lower to create a cool and calm kitchen space.
For the backsplash, don't hold back from gray glossy tiles that merge with the panorama and make the room feel seamless.
Lastly, choose chrome or powder-coated black metal for the knobs and pull handles.
Using on Exteriors
This color can be used on the exterior walls in amalgamation with crisp white on the trims, window and door frames, and other architectural features – especially in the Coastal-style homes.
If not the walls, you can also pick this color for the focal entry door and paint the shiplap walls in pure white or extreme dark gray color. (This is what I highly recommend)
On the other hand, if you choose this paint color on the exterior shiplap, choose steely blue, black, or dark gray on the entryway door.
Just in case you have a deck or a patio – choose the gray stain to create an appealing outdoor panorama.
You Should Order Samples of Moonshine
Let's face it, good paint isn't cheap. While painting is a relatively inexpensive, good bang-for-your-buck project, picking colors can be hard. You don't want to buy a whole can of something until you know for sure.
So together with the info here, you can literally ""see"" what this color will look like in your home before you commit.
Getting a peel-and-stick sample from Samplize is the best thing since paint rollers!
If you don't know yet, you can order a 12″" x 12″" square sample with the real paint color on it. Stick it on your wall multiple times and in multiple places to find out exactly if the color is for you.
So, did this color review bring you an inch closer to this paint?
Do you want to use it in your home? Exteriors or interiors? Walls or cabinets?
Trust me, this is one playful color that can alter the appearance of your room from time to time – and that's totally fun!
Well, I would love to know your thoughts! Do let me know in the comments below!