If you're looking for a true gray that has deep cool undertones – it's time to invest in Benjamin Moore Metropolitan.
It's harmonious, calm, and subtle – therefore, a perfect cool-toned paint to have in your home.
What's the advantage of a true gray? Well it tends to look the same under a variety of lighting conditions.
Isn't that blissful?
And don't be afraid of this color being "too cool".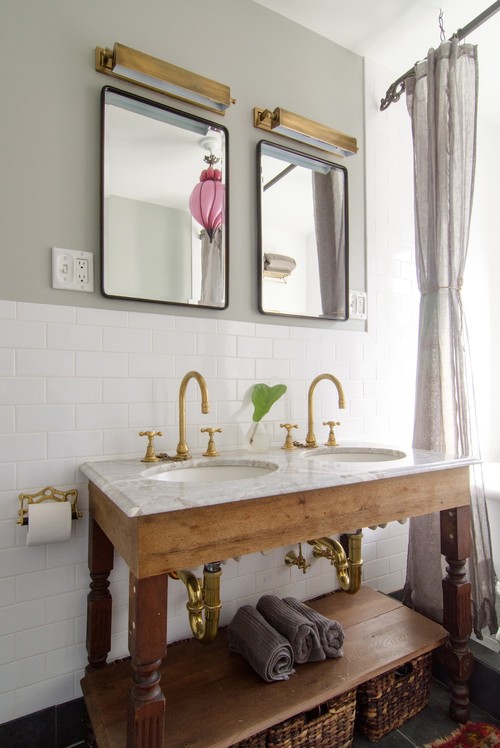 It has a way of looking quite welcoming and peaceful (not cold!), when used on walls and cabinet faces.
And not to forget, this paint color was the Benjamin Moore Color of the Year 2019.
After all, there is something beautiful about this neutral that makes it a trendsetter!
So, how excited are you to incorporate this cool gray in your home?
Don't worry – I'm going to elaborate on the do's and don'ts, whereabouts, and how abouts of this paint color.
And this color review will help you if you should or shouldn't use this paint.
So, let's get started!
Benjamin Moore Metropolitan AF-690 Details and Specifications
Believe it or not, such neutrals are the new upcoming cool.
They will neither go out of trend nor make your space feel bored and monotonous (if paired well).
However, when choosing that perfect shade of gray neutral with deep cool (green or blue) undertones – there is a wide array of color specifications involved.
Yes, and you simply can't ignore that – since this is what will help you choose and know the right color.
So, first and foremost, let me introduce you to the concept of Light Reflectance Values or the LRVs that determine how light or dark the paint color is.
You can easily find that value at the end of your Benjamin Moore paint swatch or even the website!
Here, in this case, the LRV of Benjamin Moore Metropolitan is 50.5.
And that means it falls on the medium end of the scale – not too light and not too dark.
However, when used on the walls, it aligns to the lighter end.
(Remember, greater the value, lighter the paint – on a scale of 1-100)
What I like to do is sample Metropolitan under different lights where I'm going to use it. I use Samplize stick-on samples. Get some samples now!
Secondly, other important associated terms are the RGB and the HEX Values.
Red = 186
Green = 189
Blue = 184
HEX Value = #babdb8
Since we have discussed the technical and scientific information, let's get started with the practical aspects of this gray Benjamin Moore paint.
How Does This Color Feel in a Space?
View this post on Instagram
Benjamin Moore Metropolitan is a calm and soothing cool gray that makes your space a little more crisp and modern.
It creates an illusion of a larger and airier space – it's a great color for smaller lofts and apartments.
Simply put, it's a great color to use – if you want to make your room feel cool and chilly.
Yes, it's highly recommended for warmer states and coastal regions where you continuously want to crave a sense of the refreshing and cool vibe.
On the other hand, avoid using this paint in homes that are located in harsh, cold climates.
Lastly, this color will give your room a sleek and refined look. So, regardless of the interior design style, this color will always play timeless and versatile.
How Does Light Affect the Color?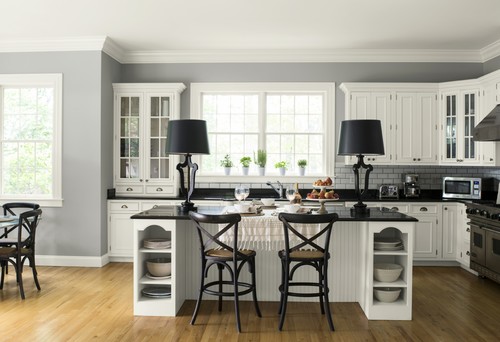 Light plays a major role in this paint color.
First and foremost, it can brighten a space and make it look even more magical and enhanced.
And secondly, compass directions are something to consider as well.
For instance, in the north-facing rooms, this color is bound to look even more cool and crisp, whereas, in the south or west-facing rooms, the color will surely appear warm and cozy.
Well, I would always recommend experimenting with the swatches in various lighting conditions to feel their true power.
Lastly, you can always play with artificial lighting to add extra drama and character!
As I mentioned before, you can try out this color with real paint, (but without the mess) using stick-on samples from Samplize.
What are the Best Coordinating Colors?
Benjamin Moore Metropolitan is an easy gray color to work with.
Since it doesn't incline to a particular undertone, forming color palettes becomes even more fun and easier.
So, with BM Metropolitan, you can't choose something too subtle (since it already is).
Yes, and that can totally mislead the vibe of your room.
Hence, you can best pair this soft gray paint with creamy whites (in the case of trims etc), steely blues, dark grays, shades of taupe, something coral or pink, burnt orange, and certain shades of bronze.
You can also incorporate any of the metallic tints as accents here – like brass and gold. Glossy, brushed, and matte!
Do you know one of the best palettes? Well, simply pair this soft and cool gray with rustic dark woods, clean whites for linen, and creamy furniture.
Furthermore, you can either choose from a monochromatic or a contrasting color palette – depending upon the interior design style and your preference.
So, here are a few of the colors I would recommend for a monochromatic palette!
AF-695 Eternity
AF-700 Storm
AF-705 Cinder
On the other hand, here are a few of the colors I would recommend for a contrasting color palette!
AF-225 Firenze
CC-968 Basic Blue
OC-17 White Dove
For your ceilings, trims, and moldings – you can use BM Chantilly Lace as it is a true white paint and will further protrude the original adjacent hue.
BM Metropolitan Vs Similar Colors
This gorgeous gray paint tends to share tons of similarities with blue-grays and other true grays.
Whether it's the undertones or reflectivity – BM Metropolitan can be compared to a couple of other BM and SW hues.
So, if BM Metropolitan is a little too gray or neutral for you – these subsequent colors can be considered as an option.
So, let's discuss the major ones – BM HC-169 Coventry Gray and SW 7658 Gray Clouds.
And see how they all differ.
Metropolitan Vs Coventry Gray
BM Coventry Gray is a cool gray paint with a notable slate-like look.
It feels more dense and deep – so, can truly overwhelm your space, if not paired with white bases.
With an LRV of 48.35 – this paint color feels darker as compared to the former paint color.
If you want to test the subtle differences in your house, get some wall samples of each here.
Metropolitan Vs Gray Clouds
SW Gray Clouds has notable warm undertones – well, something like hidden beige or brown.
With an LRV of 47, this gray paint color is the darkest of them all.
You can also pair it with burnt oranges, blues, and whites to feel the true beauty of the paint color.
Test these colors side-by-side to see the differences in "real life" INSIDE your home, with some wall-stick samples. Order here!
Where to Use Metropolitan?
BM Metropolitan is a timeless gray color that can complement any corner of your home.
Whether it's the kitchen cabinets, living room walls, exteriors, ceilings, wall paneling, or furniture frames – this gray color will always play astounding.
So, let's see where and how to incorporate this gray paint color in your home.
Metropolitan in Living and Dining Rooms
You can consider painting all the walls of your living room walls in this paint color.
Yes, it plays a perfect base or neutral.
Furthermore, try adding ample clean whites on the trims and ceiling, shades of dark blue and orange on the accessories, and gray or beige on the furniture upholstery.
You can either choose a chrome-finish furniture frame or in some cases, rustic dark woods.
Do you have a fireplace too? Well, in that case, you can either choose marble or exposed brick.
Lastly, don't forget to choose black for the door and window frames for an utmost classy look.
Using in Bedrooms
BM Metropolitan can make a calm and composed statement in the bedroom.
If you have wall moldings – try adding clean whites to let the gray stand out and make a focal backdrop.
Furthermore, don't hold back from either black and white patterned bedding or even florals on the wallpaper or duvet.
Lastly, add faux and fur on the throw pillows and rugs to neutralize the cool appearance of the room.
Metropolitan in Kitchens
Like I always say – gray kitchens will never go out of style!
Even years down the line, they will look phenomenal and feel classy and sophisticated.
For a sense of visual interest, infuse shades of dark gray or blue on the backsplash tiles, island table, or even lower cabinets.
In the case of knobs and pull handles – choose gold for a luxurious look and chrome for a seamless, monochromatic look.
Lastly, ensure to have a light or dark gray marble countertop!
Using on Exteriors
This color can be used on the exterior walls with white on the shutters, trims, and moldings.
Or you can choose vice versa and pick this gray for the shutters, door, and window frames.
If not the walls, you can also pick this color for the focal entry door and paint the shiplap walls in pure white or extreme light gray color.
On the other hand, if you choose this paint color on the exterior shiplap, choose cherry red or charcoal blue for the focal entryway door.
Lastly, don't hold back from using natural stone faces on your exteriors (in a cooler base)!
How to Best Sample This Color?
I need to share my favorite tip for testing out a color like Metropolitan – go over and order a peel-and-stick sample from Samplize.
These folks are nifty because they figured out a convenient way for us to sample colors way more easily. Just stick up a temporary square sample and forget the small jar of actual wet paint.
For only a few dollars you'll receive a perfect sized square you can stick up temporarily anywhere you want to ""try"" on a paint color and any possible coordinating hues you like. It's the best!
So, did this color review bring you an inch closer to this paint?
Do you want to use it in your home? Exteriors or interiors? Walls or cabinets?
Well, I would love to know your thoughts! Do let me know in the comments below!