Greiges are one of the most confusing hues on the palette.
When breaking down this color – it's a given that greiges are composed of grays and beiges.
However, with a tone like BM Light Pewter – there are no bounds.
It's quite an exotic color per se! And can you guess why? Well, let me give you a little tour.
Benjamin Moore Light Pewter is a beautiful and true greige paint color which neither has purple, blue, green, or pink undertones.
It's way too light as compared to BM Revere Pewter – this gives it a perfectly airier feel.
Yes – you can count as many advantages as you want!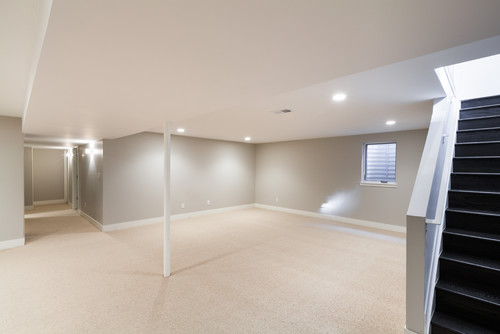 Furthermore, this color is quite warm and comforting – and can be used in the colder regions to feel welcoming.
So, if you feel that BM Revere Pewter is too dark for you – you might as well pick this color.
Yes – there are a couple of restrictions involved with greiges. And you need not worry – I am going to help you with all the aspects associated with this paint.
From color palettes to similar colors, to where best to incorporate the color in your home – I have got you covered.
So, let's get started!
Benjamin Moore Light Pewter 1464 Details and Specifications
There are a ton of true or tricky greiges on the BM swatch.
So, how do you differentiate them all?
Well, the one and only secret to knowing the true value of the color is color details and specifications.
Hence, before choosing a paint color for your home – you must understand the underlying theories and facts.
So, first and foremost, let me introduce you to the concept of Light Reflectance Values or the LRV's that determine how light or dark the paint color is.
You can easily find that value at the end of your Benjamin Moore paint swatch or even the website!
Here, in this case, the LRV of Benjamin Moore Light Pewter is 68.39.
And that means it falls on the lighter end of the scale – which is a given how light and elegant the color feels.
(Remember, greater the value, lighter the paint – on a scale of 1-100)
Oh, if you want to just try [color name] so you'll know just how it'll look, you can easily with a peel-and-stick sample from Samplize. Order some samples now!
Secondly, other important associated terms are the RGB and the HEX Values.
Red = 216
Green = 214
Blue = 205
HEX Value = #D8D6CD
Since we have discussed the technical and scientific information, let's get started with the practical aspects of this greige Benjamin Moore paint.
How Does This Color Feel in a Space?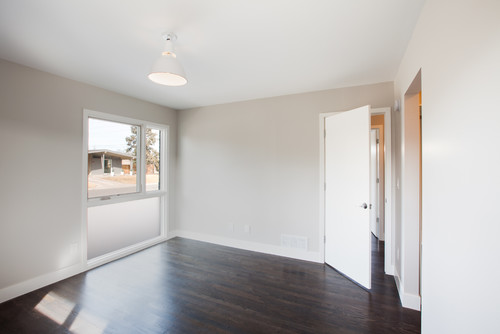 Undeniably, this Benjamin Moore light greige paint color will make your space feel cheerful, modern, warm, and comfortable.
This paint is quite characteristic and that's why you must have a tinge of the paint on all the walls of your room.
Yes – it doesn't play well with accents, so you must keep that in the record.
Moreover, due to high reflectivity, your room is bound to look enhanced, larger, airier, and spacious.
So, a great way to even create an illusion of a larger space – and meanwhile, foster a positive feng-shui.
Lastly, you're bound to feel more open-headed with this color on the walls of your room.
How Does Light Affect the Color?
Light plays a major role in the greige paint colors.
In certain rooms, it tends to appear slightly more grayish whereas, beige in some.
Yes – now here is when you must be careful.
In the north-facing rooms, the color feels quite cool and grayish. On the other hand, it feels quite warm and beige in the west or south-facing rooms.
In a room with no natural light at all – you can still consider painting the walls due to the airiness and extreme lightness.
Moreover, you can always play with artificial lighting in the form of wall sconces, pendant lighting, or LED recessed lights.
Warm white saturation will ultimately depict a warm touch and vice versa for the cool whites.
To truly see what your home's environment and lighting will do here, try out a real paint sample. It takes out the guess work!
What are the Best Coordinating Colors?
It's important that you pair Benjamin Moore Light Pewter cohesively and creatively to know its utmost beauty.
And that is why you have to be careful when choosing complementary color schemes!
You can best pair this soothing and light greige paint with crisp whites (on trims and moldings), dark sage green, royal blues, and even black on accents.
You can also incorporate any of the metallic tints as accents here – like matte black, gold, and brass.
Furthermore, you can either choose from a monochromatic or a contrasting color palette – depending upon the interior design style and your preference.
So, here are a few of the colors I would recommend for a monochromatic palette!
1466 Smoke Embers
1467 Baltic Gray
1468 Willow Creek
On the other hand, here are a few of the colors I would recommend for a contrasting color palette!
452 Norway Spruce
CSP-305 Crisp Linen
2131-20 Midnight
For your ceilings, trims, and moldings – you can use BM Chantilly Lace as it is a true white paint and will further protrude the original adjacent hue.
BM Light Pewter Vs Similar Colors
This light greige paint tends to share tons of similarities with many other neutral-toned beiges and warm grays.
Whether it's the undertones or reflectivity – BM Light Pewter can be compared to a couple of other BM and SW hues.
So, let's discuss the major ones – 1549 Balboa Mist and SW 7647 Crushed Ice.
And see how they all differ.
Light Pewter Vs Balboa Mist
The two Benjamin Moore paint colors share quite a few similarities.
The deep warm undertones of the two paints allow a welcoming and cohesive experience.
Benjamin Moore Balboa Mist has an LRV of 67.37 – thus, making it feel almost equally light and airy.
Lastly, you can use this paint for transitional backdrops as it will never go out of style.
Order a wall-stick sample of these colors to help you compare colors in your own space.
Light Pewter Vs Crushed Ice
We can truly call them cousins.
Yes – Sherwin Williams Crushed Ice is a lighter-toned neutral with deep gray and beige undertones.
However, they mostly incline towards the grays in most of the lighting conditions.
Secondly, the color has an LRV of 66 – which makes it equally lighter when compared to the former paint colors.
See my full guide on SW Crushed Ice to find out more!
Do yourself a favor and grab some stick-on sample sheets of these two colors and see what looks best in your home.
Where to Use Light Pewter?
Benjamin Moore Light Pewter can be associated with timelessness and versatility.
It makes a great appearance in the traditional, transitional, modern Farmhouse, and modern interior design styles.
And trust me, as far as you want a simplistic and minimalistic look – this color is a must recommend.
Also, if you don't like to alter the appearance of your home every now and then – this is a must-have!
Let's see where and how to incorporate this greige paint color in your home.
Light Pewter in Living and Dining Rooms
One of the most popular colors for your living room and dining room!
It's versatile and can make a great backdrop in open concept plans.
And trust me, you can consider painting all the walls in this color without feeling overwhelmed or overpowering.
It's best to pair this color with wooden textures, creamy whites, deep blues on the decorative accents, and shag textures on the rug and throw pillows.
You can also choose a leather couch in combination with rich walnut textures and glass-topped tables.
Using in Bedrooms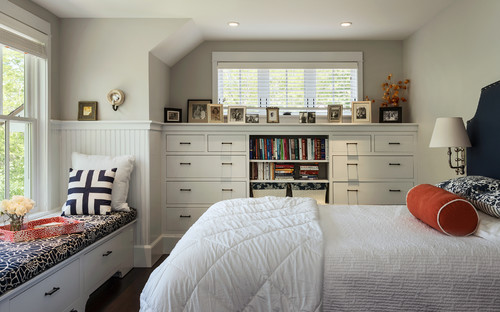 You can absolutely have this color on all the walls of your bedroom.
Pair it beautifully with warm off-whites on the trims and moldings and certain blue or green accents on the artwork and fabrics.
Choose sheer white curtains in combination with warm gray linings to add depth and character.
For the metallic tints, pick matte black or chrome!
Choose a natural theme with jute, seagrass, and rattan – especially for accent chairs, lampshades, and rugs.
Light Pewter in Kitchens
Wouldn't this color look blissful on the walls of your modern or transitional kitchen?
And trust me, this color will never look boring or outdated.
You can choose to paint it on all the walls and have creamy white paint on the upper cabinets.
Furthermore, to create a contrast, you can pick wooden accents or blue paint for the lower cabinets.
Lastly, ensure to add white glossy tiles for backsplash, white marble, and chrome-finish pull handles and drawers.
Got pendant lights and wall sconces – well, pick brass or gold!
Using on Exteriors
This color can be used on the exterior walls with whites on the trims, moldings, and special architectural features.
To create a contrast, you can pick a bold blue color like SW Waterloo for the doors and shutters.
Your roof tiles could be gray, black, or even blue with this greige paint color!
Great Paint Sample Tip!
Here's my favorite tip when it comes to testing out a color like Light Pewter – go and order a peel-and-stick sample from Samplize.
These guys figured out a great way to sample colors much more easily. Simply stick it up instead of having to get a small can of actual wet paint.
For a few bucks you get a nice sized square to throw up temporarily anywhere you want to "try" on a paint color and any possible coordinating hues you like. Too cool!
So, did this color review bring you an inch closer to this paint?
Do you want to use it in your home? Exteriors or interiors? Walls or cabinets? Transitional and traditional style?
Well, I would love to know your thoughts! Do let me know in the comments below!