Are you looking for that perfect whitest white paint color for your ceiling or walls?
Maybe a true white paint that doesn't lean to a specific undertone and rather works one for all?
Well, you're at the right spot!
Just like Sherwin Williams High Reflectance White and Behr Ultra Pure White – the Benjamin Moore Decorator's White offers somewhat the same characteristics.
This clean and crisp white paint color has a touch of cool gray to it so the white paint color falls on the cooler end of the scale.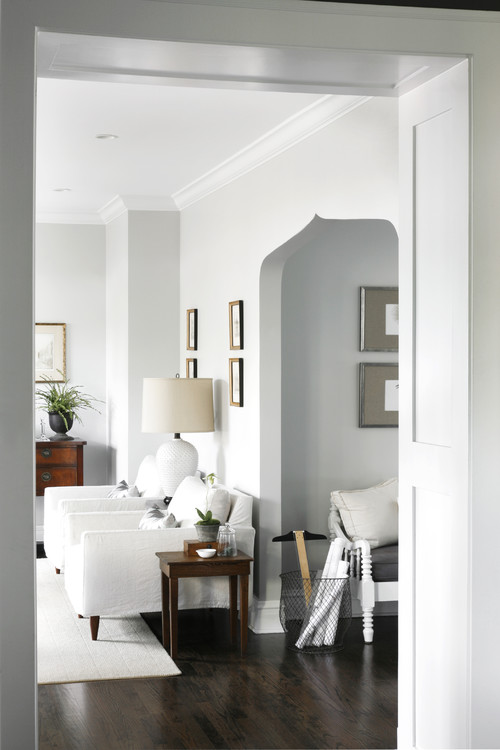 Yes, it's definitely an off-white paint that has a little gray and subtle softness to it (as compared to more stringent Benjamin Moore Chantilly Lace).
Moreover, since this color works tremendously well for the trims, ceilings, cabinets, and shelves – you can absolutely make the most use of it!
So, are you excited to have one of Benjamin Moore's best whites in your home?
But exactly where and how? Well, don't worry! I have got your back.
In this color review, we will discuss the various do's and don'ts, how and where, and everything you need to know about this sleek yet stylish whitest white paint color.
Let's get started!
Benjamin Moore Decorator's White CC-20 Details and Specifications
The white color category is one of my favorites.
And do you know why? Well, each time and with each white paint – there's truly a new story to reveal.
From warm whites to neutral whites to cool whites – every WHITE paint has a magic to unravel.
Moreover, some have pink undertones and some have blue, green, purple, and yellow!
So, when choosing a paint color – you must understand the underlying theories and facts that are related to each one of them.
And that will truly help you understand what that specific color is composed of.
So, first and foremost, let me introduce you to the concept of Light Reflectance Values or the LRVs that determine how light or dark the paint color is.
You can easily find that value at the end of your Benjamin Moore paint swatch or even the website!
Here, in this case, the LRV of Benjamin Moore Decorator's White is 82.68.
And that means it falls on the extreme light end of the scale – hence, clearly a recommendation for off-whites that could be used on the trims, moldings, and ceilings.
(Remember, the greater the value, the lighter the paint – on a scale of 0-100)
Secondly, other important associated terms are the RGB and the HEX Values.
Red = 235
Green = 234
Blue = 231
Now, if you want to try out Decorator's White on your walls ahead of time, you can easily with a peel-and-stick square from Samplize. Give them a try now!
HEX Value = #EBEAE7
Since we have discussed the technical and scientific information, let's get started with the practical aspects of this cool gray-toned white Benjamin Moore paint.
How Does This Color Feel in a Space?
Benjamin Moore Decorator's White will ultimately bring a refreshing, cool, bright, crisp, and formal vibe indoors.
If used on the walls, it can be too white – which therefore may not be such a great option. (unless you have a preference for such a white paint on the walls)
Else, this color makes a great option for cool-toned color palettes where the grays, blues, greens, and purples majorly reign.
It's a given that this paint color will make your home feel bigger, enhanced, expanded, bright, and cool.
It will push the walls away creating an illusion of a larger space.
I would say a big no-no for painting this color on all the walls of a large living room, formal room, or dining room. (Your room might feel incomplete and unwelcoming)
In the case of a bold accent wall, you can consider this paint for the adjacent walls or ceiling.
How Does Light Affect the Color?
Like every other white paint color, Benjamin Moore Decorator's White gets easily affected by the falling natural or artificial light.
Well, let's say – this color may look different in different lighting conditions.
For instance, in the north-facing rooms, this color will majorly lean to the gray tinge.
Whereas in the south or west-facing rooms, it can feel slightly more creamy and warm. (Without changing the undertones)
You see – the light has a major role to play here!
However, another aspect to equally keep in mind is the view of the windows.
For instance, if you have a large lush front lawn-facing living room, this white can easily pick the green and reflect a tinge of it.
I highly recommend incorporating the warm white or yellow artificial lighting through pendant lights, wall sconces, and chandeliers.
Want to see what Decorator's White looks like in your own living space? Pick up a wall sample now from Samplize!
What are the Best Coordinating Colors?
You're as free as a bird when choosing a color palette for Benjamin Moore Decorator's White!
However, you must know that it would best look like a partner to a cool-toned color palette.
So, analyze this color scheme and the whole idea of pairing colors!
You can best pair this clean white with grays, blues, greens, mustards, blacks, purples or plums, coral, and blush.
You can also incorporate any of the metallic tints as accents here!
Furthermore, you can either choose from a monochromatic or a contrasting color palette – depending upon the interior design style and your preference.
So, here are a few of the colors I would recommend for a monochromatic palette!
AF-695 Eternity
AF-700 Storm
AF-705 Cinder
On the other hand, here are a few of the colors I would recommend for a contrasting color palette!
CC-980 Purple Haze
AF-705 Cinder
For your ceilings, trims, and moldings – Benjamin Moore Decorator's White itself plays a great role.
BM Decorator's White Vs Similar Colors
Looking for similar colors can be equally challenging!
There might be a slight alteration in the undertones or the reflectivity.
Here, two colors closely related to Decorator's White are OC-63 Winter Snow and SW 7007 Ceiling Bright White.
Let's see how they differ.
Decorator's White Vs Winter Snow
Benjamin Moore Winter Snow is exactly like it sounds. Yes, this paint color is a refreshing cool white paint with hidden blue undertones to it.
It has an LRV of 82.2 – thus, equally light and airy as BM Decorator's White.
This off-white color also has the potential to appear creamy and warm.
Order a stick-on sample of Decorator's White and Winter Snow to see what works best in your home.
Decorator's White Vs Ceiling Bright White
Sherwin Williams Ceiling Bright White is a bright white paint color that has a deep and hidden blue and gray undertone to it.
With an LRV of 83 – this color is quite light and refreshing but not too white like the true whites!
Yes, can be used on the moldings and trims.
Since digital screens can be deceiving, I highly suggest you get some actual samples of these two colors from Samplize. Buy here!
Where to Use Decorator's White?
View this post on Instagram
Benjamin Moore Decorator's White is a clean and sleek white that can look crisp and cool in any corner of your home.
However, it makes a great option for the cabinetry systems, door and window frames, ceilings, trims, and moldings.
You can use this white paint to help the adjacent bold color stand out! Thus, it can work as a great neutral or base.
Let's see where and how to incorporate it into your home.
Decorator's White in Living and Dining Rooms
This color will make a great fit for the formal living and dining rooms. Yes, this white paint can exhibit not so 'informal' vibes.
Generally, you must use this paint on the existing special architectural features, fireplace surroundings, door and window frames, trims, moldings, and ceilings.
In the case of a dark gray or dark blue accent wall, this color on the adjacent walls wouldn't be a bad option.
About the furniture, feel free to choose from velvet, suede, leather, as well as linen in plum, purple, tan, dark gray, white, and black.
To neutralize the cool touch in the room, you can also add a touch of warm mustard or orange through the artwork and throw pillows.
Using in Bedrooms
View this post on Instagram
In the bedrooms, this color can be used on all the walls (if the size is small).
You can even choose a bold accent wall color like dark gray, slate blue, charcoal gray, or dark sage green.
Don't hold back from using chrome metals and ample glass to make the space feel flawless, formal, and modern.
Generally, this color is versatile in the way that it can pair with almost any color for the flooring.
Decorator's White in Kitchens
View this post on Instagram
Yes, this color can play a great role in your kitchen cabinets.
To further make it look clean and refined, make use of powder-coated black pull handles and sanitary fixtures.
On the backsplash, I would recommend using glossy white tiles for a seamless and modern look.
For a touch of luxe, don't refrain from using a satin brass finish on the overhead lighting or wall sconces.
Using on Exteriors
View this post on Instagram
Whether you have a Ranch-style, Mid-Century Modern, Victorian, Contemporary, or Modern style, this cool paint will add a refined vibe.
If you like the feel of an all-white exterior palette for your home, this could be your go-to white paint color.
You can either add blacks and darker grays as an accent or go vice versa for the trims, moldings, and door and window frames.
In the case of columns on the patio and porch – you can use natural stone wainscotting to add a detailed character to this facade!
For the entryway doors and shutters – choose a bold and strong color like blood red or deep blue to add character to the home.
How to Best Sample This Color?
Here's my favorite tip when it comes to testing out a color like Decorator's White – go and order a peel-and-stick sample from Samplize.
This little company has nailed down the best way to sample colors much more easily. Simply stick on a 12″" x 12″" square instead of having to get a small can of actual wet paint on your walls.
For a few bucks you get a big enough sized sample to evaluate anywhere you want to ""try"" on a paint color and any possible coordinating hues you like.
It's temporary, so move it around and test location and lighting options.
So, how do you want to use this color in your homes? Interiors or Exteriors?
Now that you've got a ton of knowledge on this one – are you excited about painting your home in Decorator's White?
Should there be any questions or thoughts, let us know in the comments below!