There is a certain 'true white' that you always need in your home – whether on the ceilings, trims, moldings, or door and window frames!
And one such notable example is Benjamin Moore Chantilly Lace that feels so crisp and white that you can easily determine the true hue and undertones of the adjacent color.
After all, this is what it is used for, right?
Or in other words – this color can be compared with the 'white' character of Sherwin Williams Extra White (both of these are true white)!
Somewhat neutral and falling along the edges of cool and crisp, Benjamin Moore Chantilly Lace is a white paint color to be considered if you are looking for that 'stark' look!
It is clean and quite sharp – thus, making a great backdrop neutral and base for the walls and even cabinets and built-in shelves.
So, are you looking forward to having a tinge of this beautiful white in your home?
Well, I have secrets to spill here!
Mainly, including the color specifications, complementary hues, and how and where to best incorporate this paint!
So, without a delay – let's get started on this beautiful journey!
Benjamin Moore Chantilly Lace OC-65 Details and Specifications
Remember this for every time you plan to pick a paint color for your home – you must keep in mind that you study the underlying theories and specifications.
Since these are the values that will truly help you determine a paint (because it may not be how it appears)!
Yes, screens can be quite deceiving!
Every color is unique and specifications are what differs them all!
So, first and foremost, let me introduce you to the concept of Light Reflectance Values or the LRV's that determine how light or dark the paint color is.
You can easily find that value at the end of your Benjamin Moore paint swatch or even the website!
Here, in this case, the LRV of Benjamin Moore Chantilly Lace is 92.2 .
And that means it is extremely light and clean!
(Remember, Greater the value, lighter the paint – on a scale of 1-100)
One GREAT way to test a paint color to see what it'll do in your own home, is to order a sample from Samplize. You can pick one up for Chantilly Lace!
Secondly, other important associated terms are the RGB and the HEX Values.
Red = 244
Green = 246
Blue = 241
HEX Value = #f4f6f1
Now that is enough with the technical and scientific information, let's get started with the practical aspects of this pure white Benjamin Moore paint.
How Does This Color Feel in Space?
Benjamin Moore Chantilly Lace creates an illusion of a larger, airier, and more spacious and enhanced space.
Since it is quite clean, you are bound to feel more open-headed and clearer about your thoughts!
Yes, trust me – that is the kind of level these colors play with human minds.
Apart from this, Chantilly Lace has the potential to make your space feel bigger – so, just in case if you are stuck in a small apartment – this color is quite good to go!
Furthermore, you can always use this color in any room and any compass direction!
(However, it is bound to feel quite cold in the north-facing rooms and warm in the west)
Also, depending upon the functionality of that particular room – and the amount of time you intend to spend – can you make smart decisions.
How Does Light Affect the Color?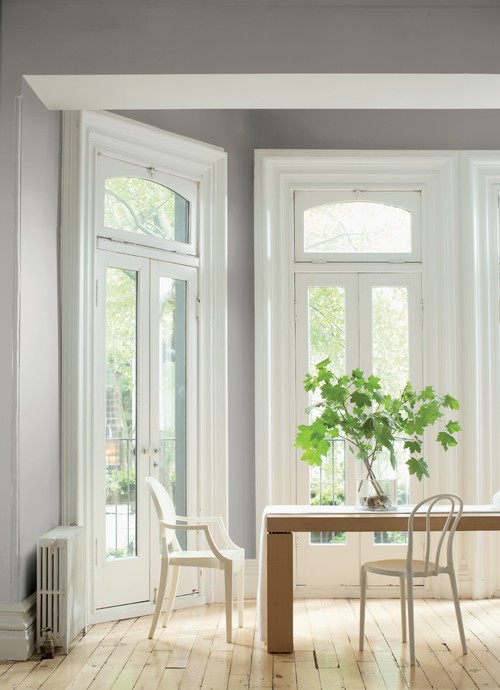 Natural or artificial light has some role to play here!
However, you must know that it doesn't have a very major role – since the color already has very high reflectivity – it is bound to look lighter, whether with little or no natural light!
With ample natural light falling, this color will further look very light and bright!
On the other hand, you can always play with artificial light in the form of pendant lights and wall sconces to further create a desired aura.
Here, you can also use warm whites and warmer yellow to perfectly neutralize the saturation!
If you want to really see how this color will play in your space and with other colors, get some wall samples from Samplize.
What are the Best Coordinating Colors?
Now comes one of the best topics to talk about – color palettes and color schemes!
Let me tell you something – you can pair any of those colors with this particular white!
You name it and can have it!
Whether it is the cobalt blues, blacks, taupes, greiges, reds, mustards, pinks, and greens – you will somehow need a tone like Chantilly Lace to protrude the beauty of adjacent colors.
You can either choose from a monochromatic or a contrasting color palette – depending upon the interior design style and your preference.
So, here are a few of the colors I would recommend for a monochromatic palette!
877 Sand Dollar
OC-57 White Heron
925 Ivory White
I love this with BM Palladian Blue as well, as it works so nicely to bring out the soft, green shooting qualities of PB.
On the other hand, here are a few of the colors I would recommend for a contrasting color palette!
2062-30 Blue Danube
2090-50 Tender Pink
CW-585 Ewing Blue
For your ceilings, trims, and moldings – what better to use than Benjamin Moore Chantilly Lace, right?
BM Chantilly Lace Vs Similar Colors
There are quite a few notable similar-looking options that you can consider!
However, now that you know the secret – they might either differ in undertones or reflectivity.
So, regardless of that – the two colors closely related are OC-68 Distant Gray and OC-67 Ice Mist.
Let's see how they differ.
Chantilly Lace Vs Distant Gray
Both of them falling on the off-white series, Benjamin Moore Distant Gray feels like true white with a major incline towards the cooler grays! (Learn more about whites from Benjamin Moore here!)
With an LRV of 90.2, this paint is slightly darker – but on the big picture, it plays a great neutral or base!
I recommend a similar color scheme for this alternative as well!
Order a wall-stick sample of Chantilly Lace here to try this color on for size.
Chantilly Lace Vs Ice Mist
Differing majorly on the basis of undertones, Benjamin Moore Ice Mist is a cool-toned white that feels utterly crisp when used in smaller-sized rooms.
With an LRV of 90.94, this color feels equally charming and enlightened!
I recommend pairing cooler tones like blues and greens with this color in order to align the undertones!
Grab a temporary stick-on sample of Ice Mist here to see how the color will look in your living spaces.
For something similar to IM, but not quite as "blue" feeling, you can check out Super White from Benjamin Moore.
Where to Use Chantilly Lace?
Kelly shares her after photo with this color on Facebook
Benjamin Moore Chantilly Lace is a must in every home!
Whether it is the trims, ceilings, and moldings of your bedrooms and living rooms or the entire walls itself – this is quite a popular used paint!
Of course, due to its true character and authentic appearances.
Especially for the interior design styles such as Scandinavian, Modern, Contemporary, Transitional, Coastal, and the Caribbean, this color would be good to go!
One note: Make sure you know how to use a paint primer on your walls to help get the best results when using this color!
Let's see where and how to incorporate it in your home.
Chantilly Lace in Living and Dining Rooms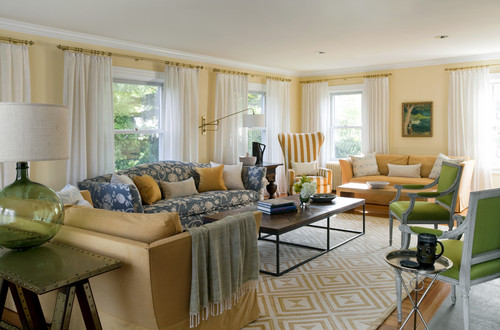 This color is a great recommendation for ceilings as well as wall moldings and panels!
So, just in case if you are using a bold accent wall – this color is a great option to be used on the door and window frames, ceilings, and even trims!
If you admire an all-white living room – you can add a sense of interest through wooden textures on the floors as well as rafter beams!
You can also use wooden-framed furniture for a contrasting and authentic appearance.
I recommend using golden tinted chandeliers and matte black accents to further enjoy this palette.
Using in Bedrooms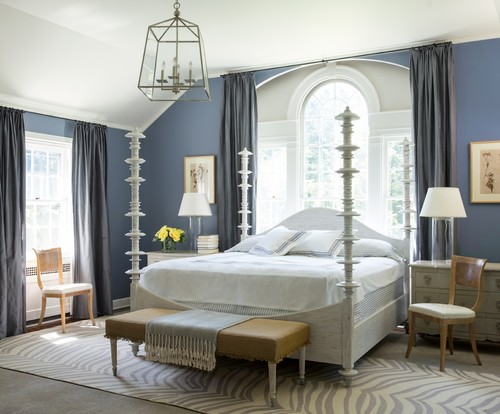 Bedrooms would be a nice place to use this subtle white paint color – and especially if you are opting for an accent wall!
You can even use this paint to make your bedroom look larger and spacious – hence, a great recommendation for attic rooms where scale is a compromise!
Furthermore, always remember that you use this paint on the walls and the ceilings to play a seamless look.
You can consider the above-mentioned palette for this room in addition to linen and cotton upholstery!
Chantilly Lace in Kitchens
Wow – would be a great experience!
If you like the feel of clean and streamlined white kitchens – what better you can use than Chantilly Lace, right?
Don't hold back from using wooden floating shelves, tints of chrome, and other wooden pull handles and drawers to feel like a perfect Modern Farmhouse kitchen!
Furthermore, you can always use brighter-hued backsplash and white veined marble or granite on the countertop!
Using on Exteriors
Whether you have a ranch-style, Mid-century modern, Coastal, Cape-Cod, Victorian, Modern, or Contemporary, this paint on the exteriors is bound to add a stunning touch.
You can either add blacks and darker grays or even a tinge of contrasting blue as an accent or go vice versa for the trims, moldings, and door and window frames.
However, remember – whites comparatively require more maintenance!
Moreover, don't hold back from using gray or Spanish roof tiles and natural stone wainscotting.
How to Best Sample This Color?

When it comes to colors like Chantilly Lace, which can show in many different ways, you should definitely order a peel-and-stick sample from Samplize.

These folks came up with a genius way to sample real pain without having to go to the store, pick up a can, then paint it on.

For not much money you get a good sized square to put up anywhere in your house where you want to "try" on a paint color along with any possible coordinating hues you like. Love this!
So, how do you want to use this color in your homes? Interiors or Exteriors?
Now that you have all the secrets – are you excited about painting your home in Chantilly Lace?
Should there be any questions or thoughts, let us know in the comments below!