Whenever the word 'refreshing' is used – it is a given that the paint color has to be either blue, green, or a cool gray.
But what if I combine some?
Well, in that case, we have a pure cool-toned paint color like Benjamin Moore Beach Glass that perfectly adds a refreshing vibe to a space.
It is a blue-green, mid-toned paint color that is neither too dark and nor too light.
Reflecting the shades of nature, this paint color is also a great alternative for biophilia. Just in case, if you are looking forward to using a paint color that reflects nature – there is no better way than incorporating timeless hues like these.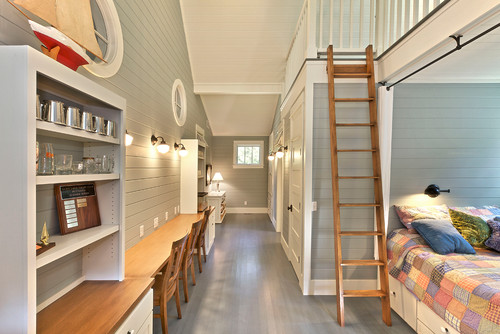 This coastal style bedroom displays beautiful BM Beach Glass
Beach Glass is versatile and timeless – so it is definitely going to exhibit a chic look in your homes.
Well, this color is one of my favorites! It's beautiful and pure, wholesome, and refreshing!
So, if you are planning to paint your walls in beach glass – I would recommend you go ahead with it!
However, make sure to consider the underlying theories and the best coordinating colors to pair it up with.
Don't worry! I am going to help you with that.
Details and Specifications
Before choosing a paint color, it is always important to read through the background information and technical data.
Since this is the information that will later help us determine the how, where, and when about the paint color.
So, are you ready?
First and foremost, it is important to determine the Light Reflectance Value or the LRV of the paint color.
This value helps in understanding how light or dark the paint color is. And using that information, we can later decide where to use the paint color.
So, the LRV for Beach Glass is 50.3!
Which means that it is a mid-toned paint color – neither too dark and nor too light!
(Remember, on a scale from 1-100, 1 is the darkest whereas 100 is the lightest)
Secondly, it is important to understand the RGB and HEX Values of the paint color.
Red = 179
Green = 190
Blue = 185
HEX Value = #b3beb9
One GREAT way to test a paint color to see what it'll do in your own home, is to order a sample from Samplize. You can pick one up for Beach Glass!
Now that we have read through the technical information, let's read more about the practical aspects and applications of the paint color.
How Does This Color Feel in a Space?
BM Beach Glass feels absolutely light and bright in normal light conditions
Benjamin Moore Beach Glass feels utmost refreshing, pure, and pious when used on the walls of a space.
Even though the paint color has an LRV of 50.3, it still feels spacious, airy, and cool when used. Hence, it is bound to make your rooms look brighter and larger than they are.
So, if you live in the southern states of Texas, Florida, and Arizona – this paint color is an ideal option to calm down the interiors. This paint color will cool you down after a long, hard working day.
I promise – this color will exhibit a tranquilizing environment.
Hence, it is very calm, quiet, and at the same time, motivating. I would recommend using this paint color in smaller spaces – if you want to make them look larger!
How Does Light Affect the Color?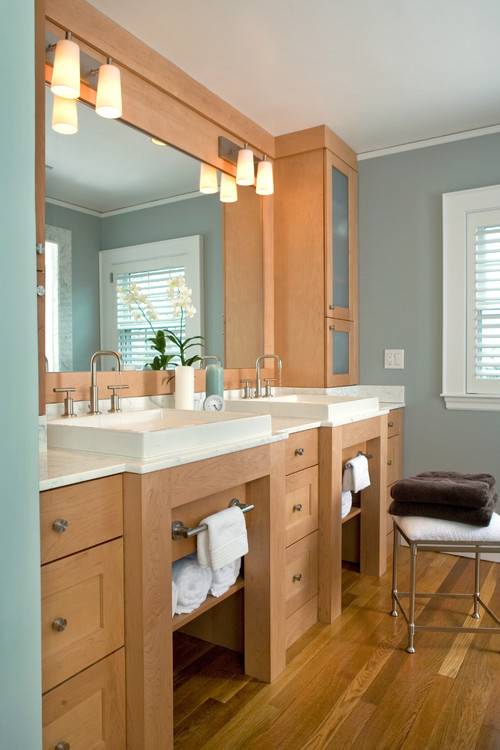 Beach Glass appears bold in normal lighting conditions
Light has a major role to play in this paint color.
50% of the light received by this paint color is reflected away and the other 50% is easily absorbed.
And due to this, the color exhibits a pure blue-green appearance.
However, in excessive light – this paint color appears slightly lighter than it is, whereas on the other hand, due to the absence of light – it appears like a dark blue-gray paint color.
So, it is always ideal to determine the incoming light in the area and then strategically using the paint color.
In case you don't receive excessive natural light – I would recommend using warm-white artificial lighting to brighten up the interiors of your home.
I'll have to say again, the absolutely coolest way to check a color like this out in your home is with a wall sample from Samplize. Buy yours here.
What are the Best Coordinating Colors?
Choosing the best opposites for a paint color is extremely important.
You wouldn't want to mess up with the saturation, darkness, and brightness of the paint color!
Hence, this is where a color wheel is important to study!
Don't worry – I can simplify it for you!
You could either choose from a monochromatic or a contrasting color palette scheme – of course, keeping in mind the overall interior design style and theme.
So, for a monochromatic palette, I would recommend the following paint options:
Healing Aloe 1562 (see my Healing Aloe review)
Quiet Moments 1563 (see my Quiet Moments review)
Mount Saint Anne 1565
For a contrasting color palette scheme, I would recommend the following paint options:
Rich Cream 2153-60
New Hope Gray 2130-50
Gray Owl 2137-60
In the case of paint color for trims, moldings, and ceilings, I would recommend BM Decorator's White to further protrude the true hue of the paint color.
Benjamin Moore Beach Glass Vs Similar Colors
Even though I wouldn't look for an alternative for this paint color due to the unique refreshing vibe, there are still a few options I can help you pick from.
One such color is Wythe Blue from BM. Check out my guide to explore this one further as it too, offers tranquility to whatever space you add it to.
But remember there are no two colors exactly the same – well, there is always a difference in either the undertones or the brightness of the paint color.
Two colors that share most of the similarities are BM Wales Gray 1585 and BM Imperial Gray 1571.
Beach Glass Vs Imperial Gray
Imperial Gray is slightly darker than beach glass with an LRV of 46.97!
It is a grey paint color with deep green undertones. However, this paint color is a big chameleon! It changes its appearances in different light conditions – so, I recommend comparing it at different times of the day to understand the true hue.
Since digital screens can be deceiving, I highly suggest you get some actual samples of these two colors from Samplize. Buy here!
Beach Glass Vs Wales Gray
This mid-toned gray feels timeless and ageless almost every time. With an LRV of 54, this color feels much lighter than beach glass – but at the same time – extremely bold and authentic.
I would recommend you buy real-time paint swatches and samples and place them against a blank white sheet to determine the true hue of each of the colors.
If you want to test the subtle differences in your house, get some wall samples of each here.
Where to Use Beach Glass in Homes?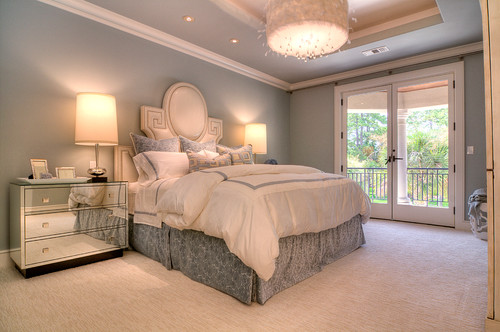 Beach glass looks stunning in this beautiful contemporary bedroom
Beach Glass can be absolutely used anywhere in homes!
Especially if you have a coastal interior design style, or Scandinavian, Modern, and Contemporary – this paint color is definitely good to go!
I would recommend using this paint color in hallways, family and living rooms, bedrooms, kitchens, bathrooms, exteriors as well as laundry and other utility areas.
Just in case if you have a meditation hall or a yoga room – I would recommend using this paint color in those rooms.
So, let's see where and how can we use this paint color in your home.
Beach Glass in Living Room and Hallways
Beach Glass looks refreshing in this transitional style dining area
If you want your living room to feel cool and crisp – I would recommend painting it in beach glass.
You can pair this color with neutral upholstery, black and white accents, or in some cases you could use warmer accents to balance the appearances.
Secondly, you can also use this paint color in the hallways to feel light and bright in those areas.
Using in Kitchens
Why not?
You can absolutely use this paint color in kitchens if you want a cool and refreshing vibe.
Try to pair it with white cabinets and silver brushed fixtures and pull handles.
Moreover, I would recommend placing some plants to further add a touch of nature in your kitchen through planters and succulents.
Beach Glass in Bedrooms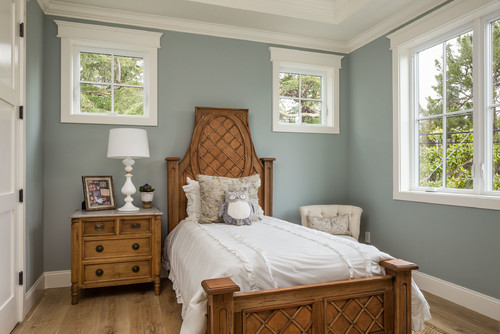 Have a look at Beach Glass walls in this remodeled bedroom in California
If your interior design taste allows to use this blue-green-gray in the bedroom – do go for it!
Try to pair it with white or black metal finishes, and light-colored upholstery.
You can also use this paint color as a focal on the wall behind the headboard.
Just in case if you have either wall-to-wall carpeting or walnut hardwood floors – this color is further going to protrude out!
Using on Exteriors
Using beach glass on the exteriors will further make it look light and bright.
If you want a cheerful look at the exteriors – you can consider painting the shiplaps with beach glass.
Pair it with white door and window frames, trims, and moldings to create a beautiful contrast on the exteriors.
An Easy Way to Sample This Color!
Instead of picking up a small can, or worse, an entire gallon can, to "test" out Beach Glass, you can order a peel-and-stick sample of it from Samplize.
The company is genius – they provide a 12″ x 12″ stick-on square you can put up anywhere in your home to try out a paint color.
For a few bucks, it's definitely worth the small investment so you can see what the color will do in YOUR unique space, with your own lights and shadows.
So, are you excited to add a touch of beach glass? Isn't it too beautiful? Do let me know your thoughts in the comments below!