Have you been a part of the buzz going around in the home decor industry regarding Benjamin Moore Aegean Teal?
Well, it is the color of the year 2021 – and surely there's a lot that makes this one worthy of this title!
Especially in these times, our homes almost require a soothing yet eye-catchy color like this to balance our stress levels.
With its mixture of blue, green, and gray this teal color naturally creates harmony and a sense of calmness in the space.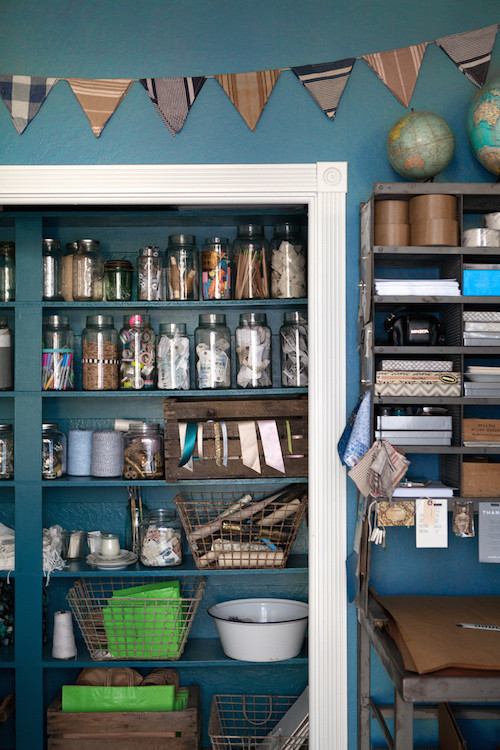 However, it often appears as a darker color which means you'll need to take care when choosing colors to pair with it (more on this later).
Nevertheless, let me tell you that this color will never disappoint you.
You are bound to feel refreshed, reset, comforted, intrigued, along with a sense of rejoice and content with this paint color onboard.
So, are you looking forward to incorporating a tinge of Aegean Teal in your space?
Whether it is the cabinetry systems or your favorite walls – Aegean Teal will prove itself to be one of the best over and over again.
Benjamin Moore Aegean Teal 2136-40 Details and Specifications
Like I always say, Benjamin Moore Aegean Teal is a paint color that must be read and understood in order to further implement it.
I'm talking about the color details and specifications here!
Remember, a color has various faces that may only be understood once you analyze the swatch in various lighting conditions.
And that's when you need to understand these terminologies that define a paint color and set it apart from other various other hues.
So, first and foremost, let me introduce you to the concept of Light Reflectance Values or the LRV's that determine how light or dark the paint color is.
Here, in this case, the LRV of Benjamin Moore Aegean Teal is 23.96.
And that means it falls on the medium to the darker end of the scale – so, it's quite bold and yet very characteristic.
(Remember, lesser the value, darker the paint – on a scale of 1-100)
Now, if you want to try out Aegean Teal on your walls ahead of time, you can easily with a peel-and-stick square from Samplize. Give them a try now!
Secondly, other important associated terms are the RGB and the HEX Values.
Red = 111
Green = 137
Blue = 139
HEX Value = #6f898b
Now that is enough with the technical and scientific information, let's get started with the practical aspects of this blue-green Benjamin Moore paint.
How Does This Color Feel in Space?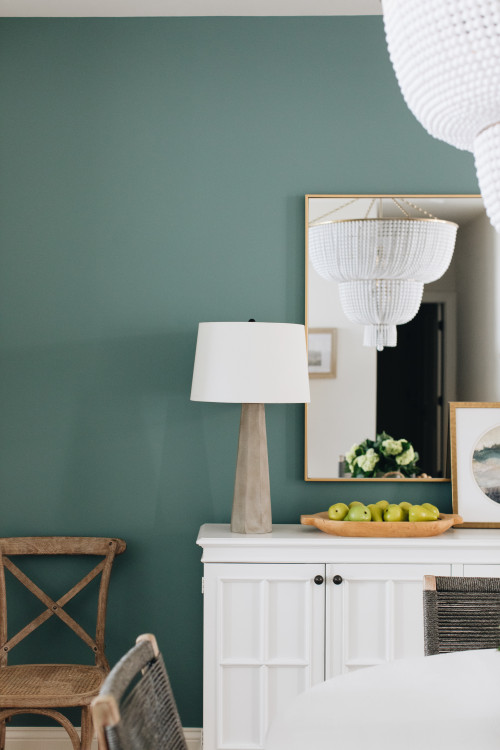 Benjamin Moore Aegean Teal is truly a color that will make you feel at home, tranquilized, restful, quiet, peaceful, and serene.
However, with a slightly darker tone, it is quite likely to make your space feel bolder and stronger.
So, to add a touch of nature indoors – this color would be a great option.
Furthermore, this color has a tinge of warmth in it – so, you wouldn't feel too cold or unwelcomed when you use this paint.
You can either paint all the walls in this color or even choose it as an accent – whether on the furniture frame or door and window frames!
How Does Light Affect the Color?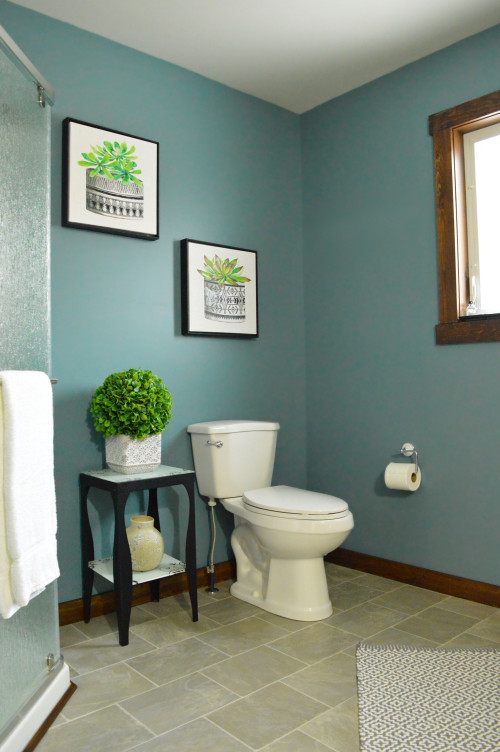 Light – whether natural or artificial has a major role to play in this paint color.
It is true that it will appear different in different directions – hence, you have to be very careful when picking coordinating shades.
For instance, in the west or east-facing rooms, it will appear slightly warmer as compared to the north-facing rooms.
So, regardless of the situation – this paint color is good to go!
Furthermore, you can always add artificial lighting in the form of wall sconces, chandeliers, and pendant lights to create the desired mood.
I recommend choosing warmer whites or even warmer yellows as well!
Want to see what Aegean Teal looks like in your own living space? Pick up a wall sample now from Samplize!
What are the Best Coordinating Colors?
Now here is a secret – you have to be slightly careful around choosing complimentary colors with this blue-green paint.
Since the adjacent colors always contradict each other – you can always play with saturation and reflectivity!
Of course, you don't want to mess up with your space, right?
So, analyze this color scheme and the whole idea of pairing colors!
So, you can best pair this hue with true whites, wooden textures, yellows, blacks, gray, and even browns, taupes, and greiges!
You can either choose from a monochromatic or a contrasting color palette – depending upon the interior design style and your preference.
So, here are a few of the colors I would recommend for a monochromatic palette!
2136-60 Harbor Haze
2136-50 Colorado Gray
2136-30 Amazon Green
On the other hand, here are a few of the colors I would recommend for a contrasting color palette!
For your ceilings, trims, and moldings – you can use BM Chantilly Lace as it is a true white paint and will further protrude the original adjacent hue.
BM Aegean Teal Vs Similar Colors
You can consider quite a few similar-looking options with this green-blue paint color!
However, know that there may be some differences – whether in the form of undertones or reflectivity!
One such example is the similar blue-green In The Moment from Behr Paints.
But you should know that no two colors can exactly be the same.
So, regardless of the theories – the two colors closely related to BM Aegean Teal are AF-505 Blue Echo and 712 Fort Pierce Green.
Let's see how they differ.
Aegean Teal Vs Blue Echo
Subtly differing in the undertones – BM Blue Echo has more inclinations towards the blues than the greens, even after being a blue-green paint!
It will slightly feel cool and calm – and you can definitely use it as an accent in your home!
With an LRV of 23.17, this paint color is equally bolder and darker!
Order a stick-on sample of Aegean Teal and Blue Echo to see what works best in your home.
Aegean Teal Vs Fort Pierce Green
Another beauty from the blue-green collection, BM Fort Pierce Green is slightly inclined towards the greens than the blues!
It has an LRV of 25.08 – making it a great darker yet lighter amongst all the options.
This color will pair beautifully with lighter-toned wooden textures.
Since digital screens can be deceiving, I highly suggest you get some actual samples of these two colors from Samplize. Buy here!
Where to Use Aegean Teal?
Benjamin Moore Aegean Teal is a beautiful blue-green paint that can be used anywhere in your home.
Whether it is the hallways, common rooms such as living and dining, kitchen, exteriors, or the kids' rooms – don't hold back from using this paint color.
Especially for the interior design styles such as Modern, Coastal, and the Caribbean, this color would be good to go!
Let's see where and how to incorporate it in your home.
Aegean Teal in Living and Dining Rooms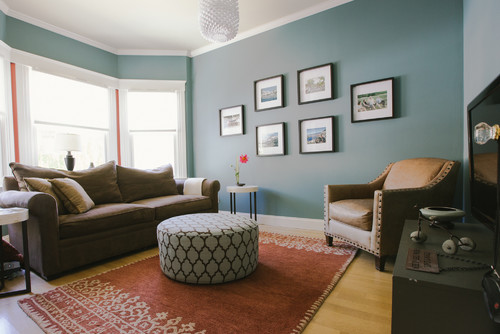 Absolutely yes!
Try pairing it with wooden textures in the form of hardwood floors, exposed beams and rafters, and furniture frames.
You can further blend various tones of off-white, yellow, and gray with it on your rugs, curtains, and throw cushions.
In the case of wall molding and paneling – you should absolutely use this paint in amalgamation with whites.
Using in Bedrooms
Personal spaces such as bedrooms deserve a tinge of Aegean Teal!
You can use it on the focal accent wall behind your headboard and place a few mirror pieces to create a sense of spaciousness.
Golden tinted frames would look flawless – do just in case, don't miss the opportunity of using it.
Lastly, consider the above-mentioned color palette for your bedroom and incorporate materials like rattan and wicker in your baskets and other containers.
Aegean Teal in Kitchens
This is where authentic beauty is defined!
I love the feeling of Aegean Teal on the cabinets (in the kitchen or the built-in shelves in the living room or home office) – and trust me, you too will!
So, definitely give it a try – and pair it with creamy whites, white veined marble countertop, and white backsplash tiles to create a beautiful backdrop.
Try to maintain a seamless background on both the upper and lower cabinets here!
In the case of pendant lights and pull drawers, use nickel instead!
Using on Exteriors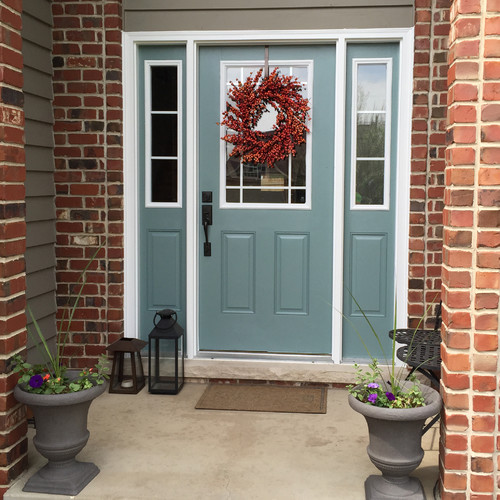 Whether you have a Ranch-style, Coastal, Caribbean, or Cape-Cod, this paint on the exteriors is bound to add a stunning touch.
You can either add blacks and whites or even a tinge of contrasting black as an accent or go vice versa for the trims, moldings, and door and window frames.
In the case of columns on the patio and porch – you can use natural stone wainscotting to add a detailed character to this facade!
How to Best Sample This Color?
Here's my favorite tip when it comes to testing out a color like Aegean Teal – go and order a peel-and-stick sample from Samplize.
This little company has nailed down the best way to sample colors much more easily. Simply stick on a 12″ x 12″ square instead of having to get a small can of actual wet paint on your walls.
For a few bucks you get a big enough sized sample to evaluate anywhere you want to "try" on a paint color and any possible coordinating hues you like.
It's temporary, so move it around and test location and lighting options.
So, how do you want to use this color in your homes? Interiors or Exteriors?
Now that you have all the secrets – are you excited about painting your home in Aegean Teal?
Should there be any questions or thoughts, let us know in the comments below!