Not specifically a soothing green but this particular tone can be very well associated with being calm, relaxed, and laid-back.
However, unlike the other soothing paint colors, this one is quite tricky to deal with.
And now that the winter season is right around the corner, it's time to have an eye on a pretty warm and soothing shade that embraces simplicity.
Also, you would be glad to know that this paint color has been awarded the Color of the Year in the past.
So, what makes it so special?
Well, Behr Soft Focus is a light shade of warm gray with deep hidden green undertones.
Undoubtedly, it tends to make an excellent backdrop in all the corners of your home – whether bedrooms, exteriors, or even home offices.
And trust me, due to these particular hidden undertones, this color can truly feel exotic at some point in time.
Depending upon the surrounding conditions and compass directions, this color can feel slightly greige or green!
So, do you want to know more about what this color has to offer? Planning to consider it for your dream home project?
Let's get started!
Behr Soft Focus T18-09 Details and Specifications
Every paint color is associated with underlying theories and specifications.
And that's what makes this particular hue stand out from the rest.
I have observed most of my Online Interior Design clients ignoring this aspect of color – and meanwhile, let me tell you, it is one of the most important.
Well, I would like to ask you – what do you first observe when you look at a paint color?
I am sure it's the aesthetics and the feel of that color!
But more than that, it's of utmost importance to know what this color is composed of and the associated details that help define the true hue of this paint.
So, first and foremost, let me introduce you to the concept of Light Reflectance Values or the LRV's that determine how light or dark the paint color is.
You can easily find that value on the Behr website.
Here, in this case, the LRV of Behr Soft Focus is 75.
And that means it falls on the lighter end of the scale.
Don't worry! It doesn't overwhelm your space.
(Remember, greater the value, lighter the paint – on a scale of 1-100)
Also, just in case if you wonder where to find the Behr decks – well, simply visit your nearest Home Depot store!
Secondly, other important associated terms are the RGB and the HEX Values.
Red = 228
Green = 224
Blue = 213
HEX Value = #e4e0d5
Since we have discussed the technical and scientific information, let's get started with the practical aspects of this soothing Behr paint.
How Does This Color Feel in Space?
Undeniably, Behr Soft Focus makes your space feel warm, calm, composed, and utterly cuddly comfortable.
If you closely observe, you're bound to notice that the color achieves the best of both worlds – aesthetics as well as versatility.
So, if you want to transform your home into a blissful haven – you must consider this paint color.
Regardless of the interior design style, this color plays an important role in one's home.
And you will never ever get bored with it!
Also, another aspect that you should consider is the size and scale of your room.
For smaller to medium-sized rooms, this color is a great option.
How Does Light Affect the Color?
Natural or artificial light when hitting the walls of Soft Focus, tends to exhibit a blissful appeal.
However, you must know that under some circumstances, it tends to appear creamy, warm and green.
Also, it will make your space feel airier and lighter!
So, whenever you choose a paint color for your space – you must first consider the compass directions and amount of incoming light in the room.
Every color appears different in different conditions – and that is the trickiest part about choosing a paint color.
And especially with this one.
So, in the south and west-facing rooms, this color appears slightly warmer and creamier in beige.
Whereas under certain north-facing room conditions, it can also appear green.
Else, you always have the opportunity to play with artificial lighting in the form of wall sconces, pendant lighting, and chandeliers.
Warm white or cool yellow saturation is a great recommendation!
What are the Best Coordinating Colors?
Choosing a well-balanced and well complementary color scheme is necessary.
From charcoal blues to navy blues, crisp and creamy whites, lighter blues, coral pinks, and lemon yellows – this particular warm-toned neutral will play flawlessly with all of the above-mentioned shades.
However, you must remember to be very careful when pairing them – so as to avoid making a mess!
Also, if you are planning to introduce metallic accents through the chandelier, artwork frames, and furniture frames – remember to add tinges of matte black, chrome, or brushed brass.
Discussing further, you have the option to choose from either a monochromatic or contrasting color palette!
So, here are a few of the colors I would recommend for a monochromatic palette!
T18-10 Wabi Sabi
PPU11-09 Environmental or 710F-4 Sage Gray
S390-4 Rooftop Garden
On the other hand, here are a few of the colors I would recommend for a contrasting color palette!
52 White
S170-3 Castilian Pink
MQ3-59 Will O The Wisp
For your ceilings, trims, and moldings – you can use Behr Ultra Pure White as it is a true white paint and will further protrude the original adjacent hue.
Behr Soft Focus Vs Similar Colors
There might be two major reasons for looking for similar alternatives – undertones or the reflectivity.
Even though this color is in itself a bliss, you must have second thoughts looking for other similar colors.
However, regardless of the situation, the two very closely related colors are SW 6070 Heron Plume and BM OC-23 Classic Gray.
Let's see how they differ.
Soft Focus Vs Heron Plume
Sherwin Williams Heron Plume is another very similar alternative. Although you must note that this hue has deep pinkish undertones.
This color has an LRV of 75 to make your space feel lively, bright, and airy.
Even though it feels quite smooth, you must ensure that this color tends to wash out when there's ample natural lighting in the room.
Soft Focus Vs Classic Gray
With an LRV of 74.78 – this hue feels equally light and airy!
It is a warm and soft (much like Behr Spun Wool), muted gray with slightly feminine undertones. So, forget the blue, green, and purple undertones here.
And since it feels quite calm, you can go ahead and flash it on the walls of your home.
Where to Use Soft Focus?
Behr Soft Focus can be used everywhere in your home.
Well, you name it and can have it!
So whether it is the kitchen cabinets, bedroom walls, exterior shiplap, or console tables – this color can be used to achieve a blissful appearance.
Let's see where and how to incorporate.
Soft Focus in Living and Dining Rooms
This tranquilizing tone can be used in your living and dining space to help brighten it.
And don't worry – you can paint all the walls in this color.
So, try to pair this tone with ample rattan and wicker decor accents on your furniture, wall decor, and lighting fixtures.
On the other hand, off-white upholstery is good to go and you can always complement it with rust, terracotta, and mustard tones to complete the palette.
Using in Bedrooms
Soft Focus makes a great statement in the bedrooms.
So, paint all the walls in this color and further amalgamate metallic tones and neutral upholstery to feel the true beauty of your palette.
Secondly, you must choose a large shag rug and white sheer curtains to help streamline the vibe of your room.
Soft Focus in Kitchens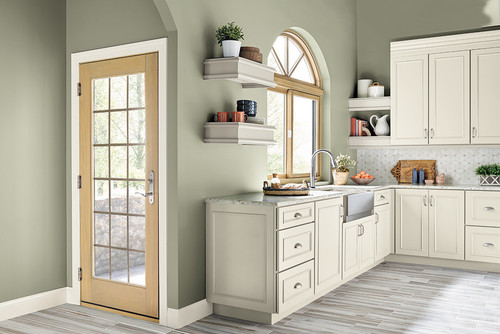 Undeniably, this color proves the latest trend of kitchens – the pastel kitchens. In the shot above
So, in the case of larger or smaller kitchens, you can choose to use this color on the walls or the backdrop wall itself.
Secondly, you must choose white backsplash tiles and white or black marble or granite countertops.
Also pick wooden floating shelves for styling and organizing your kitchen.
Lastly, for pull handles, brass or chrome finish is good to go!
Using on Exteriors
Regardless of the exterior design style, this color is good to go for all the circumstances.
You can either add bold grays, blacks, or even a tinge of white to complete the exterior palette.
In the case of columns on the patio and porch – you can use natural stone wainscotting to add an authentic detailed character to this facade!
So, how do you plan to use this color in your home? Interiors or Exteriors? Bedrooms or Living rooms? Or doors or walls?
Now that you know everything about this color – are you excited about painting your home in Soft Focus?
Should there be any questions or thoughts, let me know in the comments below!