How about a paint color that's not some generic gray you'd find on every other color palette.
There's a very unique character that makes Behr Lunar Surface stand out and with such notable appeal.
Mimicking the surface of the moon – this gray is a perfect form of neutral with some deeply hidden undertones.
Yes, if you compare it with other grays (cool or warm), you're quite likely to observe a hidden tone that's quite unexpected!
And just what are the dominant undertones anyway?
Well, this medium-toned gray paint exudes deep green undertones.
View this post on Instagram
If you observe the swatch solely, it's harder to observe the green undertone. However, when placing it against the cool grays or clean whites, you'll exactly know what I am talking about.
Quite a chameleon, right?
Well, most of the paint colors are chameleons. And half of them are either off-whites or grays!
You see – it can be challenging using this paint color in your home.
So, don't worry, sit back, and relax!
In this color review, I'll help elaborate on the various pros and cons, do's and don'ts, and various inspirational images to take inspiration from.
We'll also look at similar colors and how to best use this color in your home.
So, let's get started!
Behr Lunar Surface N460-3 Details and Specifications
This gray is quite different from the others. It really proves why you have to be extra careful in choosing colors and schemes.
Before you choose a paint color for your home, you must analyze the underlying theories and facts.
And truly, this is one of the most important aspects that you need to consider!
After all, from a wide array of grays with blue, red, and green undertones.
So, first and foremost, let me introduce you to the concept of Light Reflectance Values or the LRVs that determine how light or dark the paint color is.
You can easily find that value on the Behr website or towards the end of the Behr color palette.
Here, in this case, the LRV of the Behr Lunar Surface is 48.
And that means it falls on the medium to the darker end of the scale.
(Remember, the greater the value, the lighter the paint – on a scale of 0-100)
Also, just in case you wonder where to find the Behr decks – well, simply visit your nearest Home Depot store!
Secondly, other important associated terms are the RGB and the HEX Values.
Red = 182
Green = 185
Blue = 182
HEX Value = #b5b8b5
Since we have discussed the technical and scientific information, let's get started with the practical aspects of this green-gray Behr paint.
How Does This Color Feel in a Space?
Behr Lunar Surface will definitely give you a ride to the moon!
Just kidding 😉
This color is going to make your space feel extra special and unique.
With its unique characteristics, this color is bound to make your space feel calm, cool, laid-back, relaxing, bold, deep, and clean.
It's not some old-school gray paint that looks 'versatile' and 'general'.
There's something special about the Lunar Surface that gives an extra hint of distinctiveness to your space.
What I love is that you can always consider using this color in a space that's neither too large nor too small!
It'll provide you with a sense of balance, hierarchy, and symmetry in a space.
How Does Light Affect the Color?
Light will always have a tremendous role to play on a paint color like Behr Lunar Surface.
First and foremost, due to the hidden undertones, this color can readily feel different in different compass directions.
In the north-facing rooms, this color will feel largely gray with a tinge of a cool undertone. Since this room receives less light, it might also look dingy.
In the south-facing rooms, this color will receive ample warmth to deep reflect a creamy gray touch.
In the east-facing rooms, this color will largely feel warm early in the morning but as the day passes, it's going to feel cooler.
In the west-facing rooms, this color will look lit up and warm post afternoon hours.
So, based on this should you determine the function of the room, or vice versa.
Lastly, don't forget to analyze the existing architectural elements and view from the windows for how the light will play in your room.
With a lush and large lawn, this color is bound to reflect a deep green undertone – and in low light could end up looking a bit like Behr Sage Gray!
What are the Best Coordinating Colors?
Choosing a well-balanced and well complementary color scheme is necessary.
You simply can't pair any random hue with the other. And, if you have a great command of the color wheel, it's like a cherry on the top.
With this particular shade of gray, the best colors to pair are crisp and clean whites, black, lighter grays, medium-toned sage greens, and lighter baby blues. For a touch of visual interest, add mauves or terracotta.
However, you must remember to be very careful when pairing them – so as to avoid making a mess!
Also, if you are planning to introduce material and metallic accents through floating shelves, chandelier, artwork frames, and furniture frames – remember to add tinges of matte black, chrome, or brushed brass.
Discussing further, you have the option to choose from either a monochromatic or contrasting color palette!
Here are a few of the colors I would recommend for a monochromatic color palette!
N460-4 Cosmic Quest
N460-5 Slate Rock
N460-6 Hematite
Here are a few of the colors I would recommend for a contrasting color palette!
S200-3 Iced Copper
N560-3 Luxe Lilac
75 Polar Bear
For your ceilings, trims, and moldings – you can use Behr Ultra Pure White as it is a true white paint and will further protrude the original adjacent hue.
Behr Lunar Surface Vs Similar Colors
You can find a wide array of similar-looking options here!
The gray with deep green undertones are what they all have, however, could majorly differ in reflectivity and undertones.
So, the two closely related colors are BM HC-169 Coventry Gray and SW 7072 Online.
Let's see how all of them differ.
Lunar Surface Vs Coventry Gray
BM Coventry Gray is a gray paint color that has a little touch of warmth to it. Unlike the former paint color, it doesn't have a clean and crisp gray look.
It has an LRV of 48.18 – thus, almost alike when it comes to the darkness of the paint color.
Also, this color perfectly mimics concrete – with a perfect neutral undertone look.
Lunar Surface Vs Online
SW Online is a grayish-blue paint color that falls on the neutral end of the scale.
It has an LRV of 45 – thus, making it the least bright color among them all.
The major difference is the undertone of blue here. So, if you'd want to avoid the green hidden undertone, this color can be used as a consideration.
Along those same lines, you can also consider Behr Galactic Tint.
Where to Use Lunar Surface?
View this post on Instagram
There's no space I would want to say no here!
Behr Lunar Surface can look pretty and clean in most corners of your home!
Whether it's the kitchen cabinets, bedroom focal wall, furniture frames, exterior walls, or the home office – the gray will never disappoint you!
So, let's see where and how to incorporate this color into your home.
Lunar Surface in Living and Dining Rooms
In the living or dining room, this color can be used on all the walls or accents – the choice is yours!
Depending upon the size of the room, you can consider painting all the walls in Behr Lunar Surface if the square footage is large.
Furthermore, pair this color with clean and crisp whites on the trims, moldings, and ceiling.
For the fireplace, you can either consider exposed brick or moldings in plaster.
Don't hold back from visually striking colors like mauve, mustard, and terracotta on the accents like throw pillows and rugs!
Using in Bedrooms & Bathrooms
I would love the feeling of this color on the accent wall – especially on the wall moldings or paneling.
It will add depth and character to your room without standing out awkwardly.
For a touch of luxe and elegance, you can also consider pairing this color with tinges of rich gold on the artwork frames and pendant lights.
In the bathrooms, consider this paint color on the walls with pure white tiles for the skirting.
To add a striking effect, don't hold back from vintage tiles on the floor.
Lunar Surface in Kitchens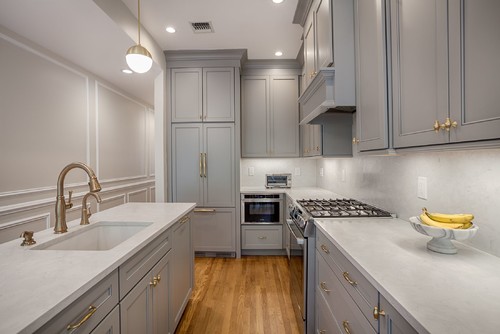 When in doubt, pick Behr Lunar Surface on the kitchen cabinets. Doesn't it look so clean and refined?
Choose creamy whites on the backdrop wall and further pair it with chrome or matte black pull handles to pair with.
Choose white backsplash tiles and white-veined marble to play a great base in your kitchen.
Using on Exteriors
This color is restricted to most of the exterior design styles – whether contemporary, modern, and mid-century modern exterior design style.
You can either add bold grays, blacks, or even a tinge of white to complete the exterior palette.
For the exterior doors, windows, and shutters – you can pick a blue paint like SW Indigo Batik to further add a contrasting look.
In the case of columns on the patio and porch – you can use natural stone wainscotting to add an authentic detailed character to this facade!
So, how do you plan to use this color in your home?
Kitchen cabinets or focal console tables? Living room or bedrooms?
Well, trust me! You would never regret using this color in your home.
Should there be any questions or thoughts, let me know your thoughts in the comments below!