There is a general myth regarding grays that I want to bust today – grays are not just steely, cool-toned hues!
That's right! They can either be warm-toned or cool-toned – depending upon the undertones.
And Behr Gentle Rain is one of them.
Even though they primarily exhibit a cool aura – some of them can magically relate to warmer bases.
For instance, adding reds and yellows to neutral grays results in a warm-toned gray that makes a wonderfully soothing and welcoming tone.
So, today, let me introduce you to one such hue that brightens your space, offers the benefits of grays, and at the same time, creates an inviting backdrop – Gentle Rain from Behr Paints.
And let me tell you – it is nowhere related to any of the blues!
Hence, this medium-toned warm gray color has substantial red and orange undertones that can be observed under certain lighting conditions.
Don't worry!
I will reveal that later.
So, are you looking to know more about what this color has to offer? Or if it truly is a great fit for your space or not?
Post-reading this color review, you will exactly know where and how to incorporate it.
So, let's get started!
Behr Gentle Rain 790E-2 Details and Specifications
Like I always say, every paint color is associated with underlying theories and specifications.
And that is what makes this particular hue stand out from the rest.
I have observed most of my clients ignoring this aspect of a color – and meanwhile, it is one of the most important.
Well, I would like to ask you – what do you first observe when you look at a paint color?
I am sure it's the aesthetics and the feel of the color!
But more than that, it's of utmost importance to know what this color is composed of and the associated details that help define the true hue of this paint.
So, first and foremost, let me introduce you to the concept of Light Reflectance Values or the LRV's that determine how light or dark the paint color is.
You can easily find that value on the Behr website.
Here, in this case, the LRV of Behr Gentle Rain is 59.
And that means it falls on the medium end of the scale. Thus, it can feel dark in smaller spaces whereas medium in larger-sized spaces.
(Remember, greater the value, lighter the paint – on a scale of 1-100)
Also, just in case if you wonder where to find the Behr decks – well, simply visit your nearest Home Depot store!
Secondly, other important associated terms are the RGB and the HEX Values.
Red = 203
Green = 201
Blue = 197
HEX Value = #cbc9c5
Since we have discussed the technical and scientific information, let's get started with the practical aspects of this warm gray Behr paint.
How Does This Color Feel in Space?
Since this color has medium reflectivity, it will never get washed away!
Rather it will add a character and identity to your walls with its great depth.
So, regardless of the situation, this color will immensely feel warm, refined, and comfortable.
Also, another aspect that you should consider is the size and scale of your room.
For larger to medium-sized rooms, this color is a great option. However, in the small-sized rooms, this color might feel totally overwhelming.
How Does Light Affect the Color?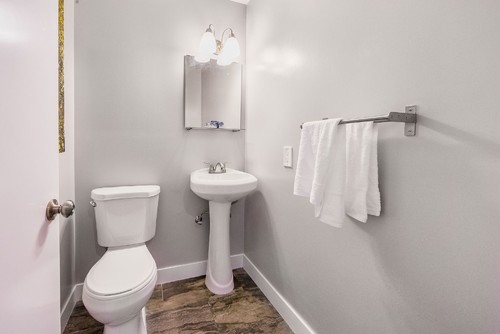 Light – whether natural or artificial – has a tremendous role to play here.
So, whenever you choose a paint color for your space – you must first consider the compass directions and amount of incoming light in the room.
Every color appears different in different conditions – and that is the trickiest part about choosing a paint color.
So, this color makes a great option in the south and west-facing rooms. In this compass direction, it doesn't really appear too warm and cozy to make you feel uncomfortable.
On the other hand, in the north-facing rooms, if gray is truly what you want, this particular gray is what I recommend.
Else, you always have the opportunity to play with artificial lighting in the form of wall sconces, pendant lighting, and chandeliers.
Warm white saturation is a great recommendation!
What are the Best Coordinating Colors?
The fabulous warm gray pairs amazingly well with the opposite saturation paints.
From charcoal blues to navy blues, crisp and creamy whites, lighter blues, emerald greens, and sage greens – this particular warm-toned neutral will play flawlessly with all of the above-mentioned shades.
However, you must remember to be very careful when pairing them – so as to avoid making a mess!
Also, if you are planning to introduce metallic accents through the chandelier, artwork frames, and furniture frames – remember to add tinges of matte black, chrome, or nickel.
Discussing further, you have the option to choose from either a monochromatic or contrasting color palette!
So, here are a few of the colors I would recommend for a monochromatic palette!
790E-1 Subtle Touch
790E-3 Porpoise
790F-4 Creek Band
On the other hand, here are a few of the colors I would recommend for a contrasting color palette!
N470-2 Oceanic Climate
HDC-MD-21 Dove
S480-1 Rain Dance
For your ceilings, trims, and moldings – you can use Behr Ultra Pure White as it is a true white paint and will further protrude the original adjacent hue.
Behr Gentle Rain Vs Similar Colors
Looking for similar alternatives? Well, you can always have an eye on other similar colors that behave likewise.
Although you must know that they may either differ in the undertones or reflectivity!
But when you see through a bigger picture, the differences wouldn't be much of an issue!
So, the two colors closely related are SW 6260 Unique Gray and 1459 Metro Gray!
Gentle Rain Vs Unique Gray
Well, the major difference here is the undertones and the saturation of the paint.
When closely observed, you're quite likely to notice the cool purple undertones of the latter paint.
With an LRV of 59, this color equally feels darker and bolder. Hence, a major similarity to consider.
Gentle Rain Vs Metro Gray
Saturation is a major difference here.
With deep cool undertones, this color tends to exhibit crisp vibes.
It has an LRV of 58.9 – thus, equally darker and bolder. But if you pick a semi-gloss sheen, this color would look fabulous.
Where to Use Gentle Rain?
Behr gentle rain is a versatile paint color as it can be used for various functions – from kitchens to bedrooms, and exteriors to hallways.
Furthermore, they make a great statement in the contemporary, transitional, traditional, and bohemian interior design styles
So, let's see where and how to incorporate it in your home!
Gentle Rain in Living and Dining Rooms
Every color has its own beauty.
Similarly, this warm gray paint color can definitely be used in the living and dining rooms – as far as they're paired with perfect complementary tones, patterns, and textures.
So, in such a case, you can paint the walls in this color and further choose off-white linen upholstery and wood on the coffee and side tables.
You can also choose blue as accents on the throw pillows, artwork, and rugs.
Lastly, in the case of moldings and wall panelling, choose creamy whites to achieve a cohesive look.
Using in Bedrooms
This color in bedrooms makes a great statement.
So, I will recommend painting all the walls in this color and further adding splashes of colors on the decorative accents.
And just in case if this color feels too dark for your space, you can simply add lighter neutrals on the fabrics, upholstery, and bases.
For metals, choose matte black or brushed chrome.
In case of renovation, choose hardwood floors (mahogany and walnut would work).
Gentle Rain in Kitchens
This paint adds a deep and bold statement to your kitchens.
So, in the case of larger kitchens, you can consider painting this color on the cabinets, else, for smaller kitchens, I recommend painting this color on the backdrop wall.
And vice versa!
Secondly, you must choose lighter gray backsplash tiles and white or black marble or granite countertop.
For pull handles, brass or chrome finish is good to go!
Using on Exteriors
Whether you have a Craftsman, Ranch-style, Mid-Century Modern, Contemporary, or Modern style, this warm gray paint is the way to achieve a fabulous look.
You can either add bold grays, blacks, or even a tinge of white to complete the exterior palette.
In the case of columns on the patio and porch – you can use natural stone wainscotting to add an authentic detailed character to this facade!
Lastly, you can add interesting hues like dark blues or emerald greens on the doors and window frames on the facade.
So, how do you plan to use this color in your home? Interiors or Exteriors? Bedrooms or Living rooms? Or doors or walls?
Now that you know everything about this color – are you excited about painting your home in Gentle Rain?
Should there be any questions or thoughts, let me know in the comments below!