This is a paint color that I have been wanting to write on!
And why is it so? Well, that's because it's popular and I keep seeing how homeowners are looking to consider this paint for their home.
I can see now because it's calm, composed, and extra delightful.
Yes, Behr Dolphin Fin is a resounding warm gray paint color that can oftentimes be confused as 'greige'. Whatever the case, it definitely isn't cool-toned!
I wouldn't call it a refreshing paint but rather quite soothing, subtle, and damp.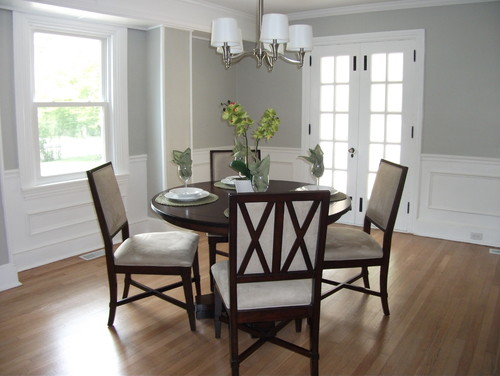 The color has the potential to convey contradictory vibes – so, I highly recommend you first understand the hue and its undertones.
What's more, this paint color can definitely align with one and all interior design styles. Yes, you name it and you can try it!
Defined by utmost simplicity and versatility – this color will bring your space an inch closer to peace and tranquility.
And since it's neither too dark nor too light, you can simply never have doubts about it.
So, are you excited about what this timeless color has for you?
Well, this color review will help you know more about this color in detail along with its whereabouts and how bouts!
Let's get started!
Behr Dolphin Fin 790C-3 Details and Specifications
This particular warm gray paint color is something to look forward to!
Before you choose a paint color for your home, you must analyze the underlying theories and facts.
And that is what will help you make informed decisions.
Truly, this is one of the most important aspects that you need to consider!
After all, from a wide array of warm grays, how to differentiate them all.
So, first and foremost, let me introduce you to the concept of Light Reflectance Values or the LRV's that determine how light or dark the paint color is.
You can easily find that value on the Behr website.
Here, in this case, the LRV of the Behr Dolphin Fin is 59.
And that means it falls on the medium to the lighter end of the scale.
(Remember, greater the value, lighter the paint – on a scale of 1-100)
Also, just in case if you wonder where to find the Behr decks – well, simply visit your nearest Home Depot store!
Secondly, other important associated terms are the RGB and the HEX Values.
Red = 204
Green = 202
Blue = 193
HEX Value = #cccac1
Since we have discussed the technical and scientific information, let's get started with the practical aspects of this warm gray Behr paint.
How Does This Color Feel in a Space?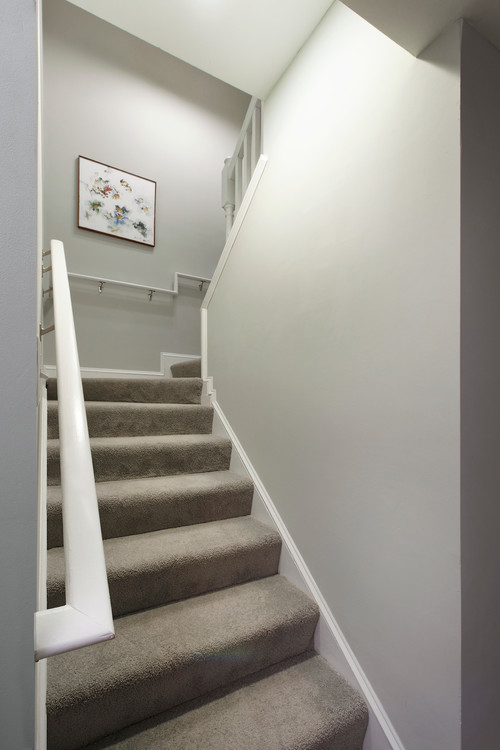 This paint color can absolutely feel warm, cozy, welcoming, and extremely delightful.
When used on the walls, this paint can totally exhibit soothing vibes.
And since this color has sufficient depth, it's not going to lose its true character or charm.
You can consider using this color for small apartments and lofts that are tight with horizontal space.
However, depending upon the compass directions and the view of the outdoors can your undertones alter.
Sometimes, it may appear warm and sometimes, cool! And it all depends upon the time of the day and the size of your space.
But overall, this paint color is bound to satisfy you!
How Does Light Affect the Color?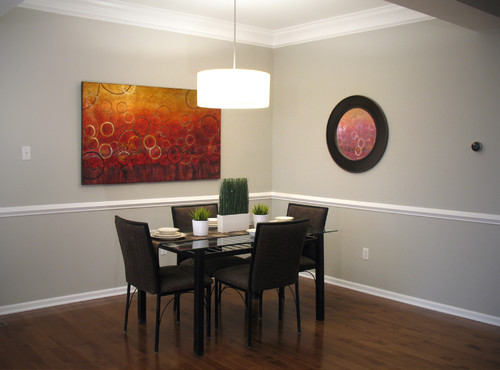 Light will undeniably make a considerable difference in the paint color.
Whether natural or artificial, the light will hit the walls with Behr Dolphin Fin to feel utmost light, airy, and characteristic.
And don't forget – the undertones of this paint wouldn't be washed off easily.
So, be rest assured.
You must also take into consideration the compass directions of a specific room.
In the north-facing rooms, it appears slightly grayish whereas the west or south-facing rooms can slightly feel warm with notable beige undertones.
If for some reason, you're restricted to using a particular paint, you can always make use of artificial lighting to create a dreamy aura.
What are the Best Coordinating Colors?
This is one easy color to work with!
And I say that with absolute confidence.
You simply can't pair any random hue with the other. And moreover, if you have a great command of the color wheel, it's like a cherry on the top.
Hence, from crisp and creamy whites, bronze, browns, to darker blues, certain tones of sage greens, and deeper taupes – this particular warm gray paint will play flawlessly with all of the above-mentioned shades.
However, you must remember to be very careful when pairing them – so as to avoid making a mess!
Also, if you are planning to introduce material and metallic accents through floating shelves, chandelier, artwork frames, and furniture frames – remember to add tinges of matte black, chrome, or brushed brass. (Brushed brass is quite a trend)
Discussing further, you have the option to choose from either a monochromatic or contrasting color palette!
Here are a few of the colors I would recommend for a monochromatic color palette!
Here are a few of the colors I would recommend for a contrasting color palette!
N470-3 Half Sea Fog
N370-4A Historical Gray
75 Polar Bear
For your ceilings, trims, and moldings – you can use Behr Ultra Pure White as it is a true white paint and will further protrude the original adjacent hue.
Behr Dolphin Fin Vs Similar Colors
Picking similar colors isn't challenging as far as you know what exactly you want!
They won't be exactly the same – however, will differ in the undertones or reflectivity.
So, the two closely related colors are BM HC-170 Stonington Gray and SW 7654 Lattice.
Let's see how all of them differ.
Dolphin Fin Vs Stonington Gray
These two paint colors have notable similarities as well as differences.
Majorly, the only difference is the undertones. (The latter falling on the cool side of the scale unlike the former)
With an LRV of 59.75 – the two paint colors offer almost an equal light reflectance value.
Well, there's only a little warmth that segregates the two!
Dolphin Fin Vs Lattice
Sharing most of the characteristics, Sherwin Williams Lattice is comparatively a cool-toned hue with deep reflecting warm undertones.
Even though the difference is very tiny, it's still there (can be detected in a room with ample natural light).
Moreover, the paint has an LRV of 61 – and that's greater than the former two!
Lastly, you can best pair it with shades of brown and black to create an overall cohesive look.
Where to Use Dolphin Fin?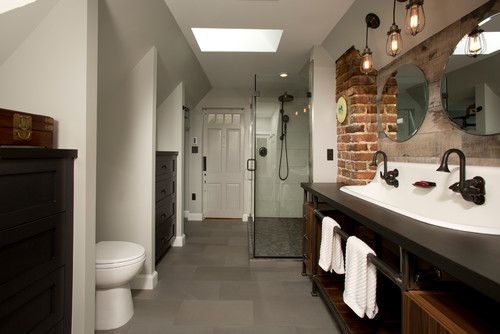 Behr Dolphin Fin can easily be used in any corner of your home!
Whether you want a fresh coat of paint on the cabinets or the walls, exterior shiplap or the living room feature wall – this color makes a great statement.
And since it feels quite timeless, you must not hold back from it.
So, let's see where and how to incorporate this color into your home.
Dolphin Fin in Living and Dining Rooms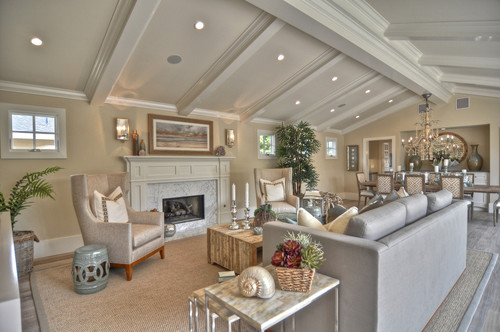 You can consider painting all the walls in this color without the paint being too overwhelming or bold.
Hence, you can best pair it with crisp whites on the trims and moldings along with a deep blue or sage gray as the accent.
For the furniture, you can pick a wooden base couch with off-white linen upholstery.
Just in case if you have an eye for a monochromatic touch, this color works the best.
Lastly, you can add a sense of visual interest with the help of pop hues like warm orange and hot reds on the artwork, lighting fixtures, and throw pillows.
Using in Bedrooms
Especially if you're looking for transitional, traditional, modern, and modern farmhouse style – this color works amazingly well.
You can best pair it with off-whites and some tones of darker grays as well.
To avoid monotony, pick a warm or cool palette that can be worked seamlessly.
Lastly, choose shag rugs, double-layered curtains, and ample cozy knots on the throw pillows and comforters.
Dolphin Fin in Kitchens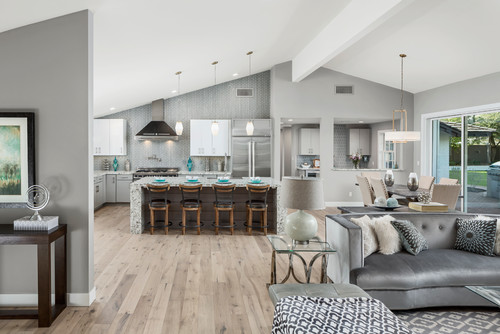 This is one question I am usually asked about!
Well, if you plan to use Behr Dolphin Fin on the cabinets, you can pick pure white paint on the backdrop wall.
Choose the trendy brushed brass hardware for the cabinets in amalgamation with patterned tiles and authentic hardwood floors.
To further create a contrast, you can choose this paint for the upper cabinets and bold blue or green for the lower cabinets.
Using on Exteriors
This color is restricted to most of the exterior design styles – whether contemporary, modern, colonial, ranch-style, and mid-century modern exterior design style.
You can either add bold grays, blacks, or even a tinge of white to complete the exterior palette.
For the exterior doors, windows, and shutters – you can pick a bold brown, taupe, or greige paint color like Behr Wheat Bread that can easily blend in.
In the case of columns on the patio and porch – you can use natural stone wainscotting to add an authentic detailed character to this facade!
So, how do you plan to use this color in your home?
Kitchen cabinets or focal console tables? Living room or bedrooms?
Well, trust me! You would never regret using this color in your home. It's timeless and versatile!
Should there be any questions or thoughts, let me know your thoughts in the comments below!