You need passion and charisma to love and incorporate this color in your home.
Even though it's quite bold and dark – at the same time, it can be challenging in a way to appropriately use it.
Whether used on your walls or the architectural and structural elements – this color will can add a sense of drama and optimism to your space.
So, let's see what this hue is all about.
Behr Cracked pepper is a grayish-black paint color that also has deeply hidden blue undertones.
When you place it against a swatch of true black or true gray – you would see the difference for yourself.
So, one characteristic that truly makes this color beautiful is the fact that it's neither a black that feels so dark and nor a gray that's not too mainstream.
And you would be glad to know that you can use this color in the interiors or exteriors – as you like it.
Walls and even deck stains or furniture!
Yes – it offers the best of both worlds.
Well, I absolutely love the feel of this paint – and eventually, you will too!
Don't worry – I will spill all the beans here.
So, let's get started!
Behr Cracked Pepper PPU18-1 Details and Specifications
Every color is associated with hidden scientific terms, values, and specifications.
After all, that is what differs this particular gray-black from the other neutrals that have considerable undertones.
Well, I would like to ask you – what do you first observe when you look at a paint color?
I am sure it's the aesthetics and the feel of the color!
But more than that, it's of utmost importance to know what this color is composed of and the associated details that help define the true hue of this paint.
So, first and foremost, let me introduce you to the concept of Light Reflectance Values or the LRV's that determine how light or dark the paint color is.
You can easily find that value on the Behr website.
Here, in this case, the LRV of Behr Cracked Pepper is 8.
And that is too darn dark! Almost very close to black.
(Remember, lesser the value, darker the paint – on a scale of 1-100)
Also, just in case if you wonder where to find the Behr decks – well, simply visit your nearest Home Depot store!
Secondly, other important associated terms are the RGB and the HEX Values.
Red = 79
Green = 81
Blue = 82
HEX Value = #4f5152
Since we have discussed the technical and scientific information, let's get started with the practical aspects of this gray-black Behr paint.
How Does This Color Feel in a Space?
Behr Cracked Pepper makes your space feel modern, contemporary, luxury, and absolutely refined.
It tends to give a really nice appeal and a sense of focus to walls (of course, due to the low reflectivity values).
However, since it's such a dark and bold paint – you have to be really careful while using it.
Too much of this paint can feel dark and dingy – whereas too little of this paint is equally not charming.
Hence, a sense of balance is what you must embrace.
Secondly, with this color on board, the walls tend to come closer – thus, making your room look smaller.
So, if you paint all your walls in this color – it will completely make the room very small.
Thus, a great way to create an illusion!
How Does Light Affect the Color?
Intentionally or unintentionally, light will make your space feel lighter and enhanced.
A room with no windows and light can feel totally dingy and unwelcoming.
So, you should go ahead and use this paint if you have ample incoming light and large windows with higher ceilings.
Hence, this is one aspect you must consider.
Secondly, you can use this paint in either of the directions – north, south, east, or west.
Since it doesn't align with any specific undertones.
Rest apart, you can always add artificial lighting in the form of majestic chandeliers and wall sconces.
What are the Best Coordinating Colors?
One of the easiest to pair – this gray-black is easy to pair with one and every color.
Well, you name it and can have it!
Choosing a cohesive color palette is necessary. And do you know why?
If you don't take into consideration the undertones, reflectivity, and values of the color – you might end up messing up with your space.
Generally, you can choose any hue with this paint – blues, lighter grays, whites, blush, greens, and even burnt oranges.
Even incorporating wooden textures and gold metallic accents is something you can do.
So, to make it easier for you, you have the option to choose from either a monochromatic or contrasting color palette!
So, here are a few of the colors I would recommend for a monochromatic palette!
PPU26-04 Falcon Gray
PPU18-14 Cathedral Gray
PPU18-10 Natural Gray
On the other hand, here are a few of the colors I would recommend for a contrasting color palette!
PPU7-19 Crepe
S210-4 Canyon Dusk
75 Polar Bear
For your ceilings, trims, and moldings – choose Ultra Pure White for a clean and crisp look.
Behr Cracked Pepper Vs Similar Colors
Looking for similar alternatives? Well, it's quite normal to have an eye on other similar paint colors that behave likewise!
Although some might differ in the undertones and some reflectivity!
But when you see through a bigger picture, the differences wouldn't be much of an issue!
So, the two colors closely related are BM 1617 Cheating Heart and SW 7083 Darkroom!
Cracked Pepper Vs Cheating Heart
These two colors share a wide array of similarities.
The deep blue undertones are something that makes these two colors share tremendous similarities.
And, this color has an LRV of 6.89 – which makes it such a dark color you have to be careful how you use it. It would surely play an excellent accent on your walls.
See my full guide on BM Cheating Heart to compare further!
Cracked Pepper Vs Darkroom
Now here are some considerable differences.
Unlike the former, the alternate color has deep navy blue and purple undertones that can be detected clearly.
It feels quite luxurious and considerably notable and eye-catching.
With an LRV of only 5 – this is the darkest hue of them all.
Where to Use Cracked Pepper?
You can be very creative when using this paint color in your home.
And let's think beyond the box here!
Apart from generic interior and exterior walls, I am talking about the deck stains, console tables, built-in cabinetry, and even kitchen cabinets.
Yes – you can be as wild as possible (of course, with that fresh coat of paint)
So, let's see where and how to incorporate it in your home!
Cracked Pepper in Living and Dining Rooms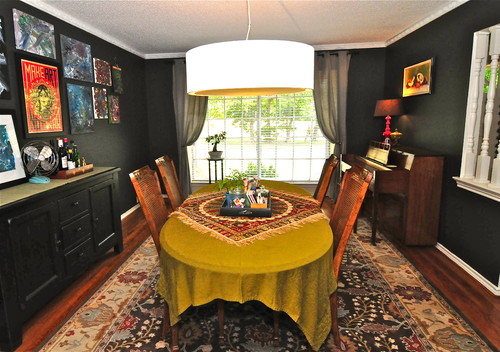 A wonderful option for your transitional, contemporary, farmhouse, and modern living rooms – this color makes a great option.
I recommend you paint the accent wall in this color and further pair it with off-whites on the adjacent wall.
A pro tip: Use a lighter color to feel the true beauty of Behr Cracked Pepper.
Secondly, you can always add wooden textures in amalgamation with gold or chrome metal accents and ample off-white linen fabrics on the couch and accent chairs.
As accents, add dusty brown or burnt oranges and mustards on the throw pillows and rugs to create a contrast.
Using in Bedrooms
You can absolutely have a coat of this paint in your bedroom – on the focal wall.
Don't take the risk of painting all your walls in this color – unless you have a very airy and large room per se.
Furthermore, pair it with lighter upholstery, white sheer curtains, and some amazing artworks to go!
You can also add accents through the media unit and curtain if using a white backdrop on your walls.
Lastly, do add tinges of gold for a luxe look.
A great way to add a touch of modern and contemporary in the kitchen.
You can either paint the cabinets in this color or choose vice versa for the walls.
Further, you must pair it with white countertop, white backsplash tiles, and golden or brass pull handles and drawers.
Pick your lighting fixtures in alignment with the accents.
Using on Exteriors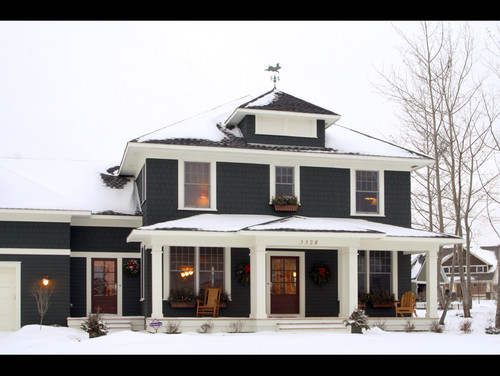 Whether you have a Victorian, Mid-Century Modern, Contemporary, or Modern style, this gray-black paint is the way to achieve a crisp look.
You can pick some accent color for the doors and shutters – well, something like red, plum, or even stark yellow.
In the case of columns on the patio and porch – you can use natural stone wainscotting to add an authentic detailed character to this facade!
So, how do you plan to use this color in your home – walls? Cabinetry? console?
Now that you know everything about this color – are you excited about painting your home in Cracked Pepper?
Should there be any questions or thoughts, let me know in the comments below!